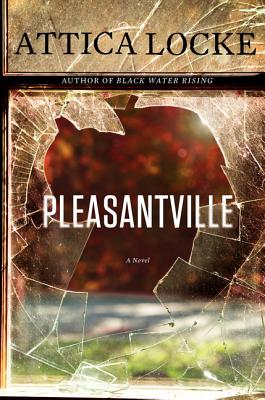 Pleasantville (Jay Porter Series #2)
Hardcover

* Individual store prices may vary.
Other Editions of This Title:
Digital Audiobook (6/3/2015)
Digital Audiobook (4/20/2015)
Paperback, Large Print (4/21/2015)
Paperback (4/12/2016)
Compact Disc (4/21/2015)
Compact Disc (4/21/2015)
Description
WINNER OF THE HARPER LEE PRIZE FOR LEGAL FICTION
Wall Street Journal BEST BOOK OF THE YEAR
LONGLISTED FOR THE BAILEY'S WOMEN'S PRIZE FOR FICTION
From Attica Locke, a writer and producer of FOX's Empire, this sophisticated thriller sees lawyer Jay Porter—hero of her bestseller Black Water Rising—return to fight one last case, only to become embroiled in a dangerous game of shadowy politics and a witness to how far those in power are willing to go to win.
Fifteen years after his career-defining case against Cole Oil, Jay Porter is broke and tired. That victory might have won the environmental lawyer fame, but thanks to a string of appeals, he hasn't seen a dime. His latest case—representing Pleasantville in the wake of a chemical fire—is dragging on, shaking his confidence and raising doubts about him within this upwardly mobile black community on Houston's north side. Though Jay still believes in doing what's right, he is done fighting other people's battles. Once he has his piece of the settlement, the single father is going to devote himself to what matters most—his children.
His plans are abruptly derailed when a female campaign volunteer vanishes on the night of Houston's mayoral election, throwing an already contentious campaign into chaos. The accused is none other than the nephew and campaign manager of one of the leading candidates—a scion of a prominent Houston family headed by the formidable Sam Hathorne. Despite all the signs suggesting that his client is guilty—and his own misgivings—Jay can't refuse when a man as wealthy and connected as Sam asks him to head up the defense. Not if he wants that new life with his kids. But he has to win.
Plunging into a shadowy world of ambitious enemies and treacherous allies armed with money, lies, and secrets, Jay reluctantly takes on his first murder trial—a case that will put him and his client, and an entire political process, on trial.
Praise For Pleasantville (Jay Porter Series #2)…
"Stellar…. As is Ms. Locke's creative wont, the crimes at hand prove a mere prelude to darker deeds."
— Wall Street Journal Best Books of the Year

"Outstanding…. Ms. Locke elegantly parcels out key information about her characters one piece at a time."
— Wall Street Journal

"Splendid…. A thoughtful, penetrating mystery."
— USA Today

"This taut thriller. . . is knitted with enough shock and awe and backroom politics to keep you reading and guessing all weekend long."
— Essence

"A nuanced and empathetic look at the unequal, contentious social layers of Houston's African-American population."
— Seattle Times

"Compelling.... Locke, a writer and co-producer of the Fox drama "Empire," gracefully melds politics and racial issues with greed and a family rooted in secrecy for a gripping, believable plot."
— Associated Press

"Locke knows how to craft a thrilling story…. With Pleasantville she's crafted a legal thriller that shifts between personal tragedy and political corruption always with an eye on the subtle detail or the big reveal."
— Milwaukee Journal Sentinel

"Locke, a sharp and gifted writer, delivers a complex, suspenseful legal thriller that offers a sophisticated appraisal of our deeply flawed political process, one that is likely to resound with readers."
— Starred Booklist

"A thriller wrapped in an involving story of community and family dynamics. Locke serves up a panorama of nuanced characters and writes with intelligence and depth."
— Kirkus Reviews

"Gripping…a twist-filled plot will keep readers eagerly turning the pages."
— Publishers Weekly

Locke makes every scene count with a complex plot that unfolds surprises at every turn and packs a satisfying conclusion.... Highly recommended for fans of fast-paced mysteries with strong geographic angles and appealing underdogs.
— Library Journal (starred)

"[A] deeply nuanced story . . . As Scott Turow has done, Ms. Locke uses small, incremental deceptions to draw her main character into big and dangerous mistakes . . . Subtle and compelling."
— New York Times

"Attica Locke's first novel, Black Water Rising, which Janet Maslin called 'subtle and compelling' in The New York Times, is an even better book than its author had in mind...The book cleverly replaces the kind of cold-war paranoia that used to animate thrillers with racial paranoia instead."
— New York Times

"Locke deftly moves between past and present action . . . [putting] her in the company of master thriller writers such as Dennis Lehane or Scott Turow. . . . Attica Locke [is] a writer wise beyond her years."
— Los Angeles Times

"Black Water Rising is a stylish, involving literary thriller with a strong emphasis on human politics and character. An auspicious debut from Attica Locke."
— George Pelecanos, author of The Turnaround

"I was first struck by Attica Locke's prose, then by the ingenuity of her narrative and finally and most deeply by the depth of her humanity. She writes with equal amounts grace and passion. . . . I'd probably read the phone book if her name was on the spine."
— Dennis Lehane

"The impressively astute Attica Locke writes . . . in much the same way that Mr. Lehane [does]. . . . Each is willing to use the murder mystery as a framework for much more ambitious, atmospheric fiction."
— New York Times

"Dripping with southern Gothic atmosphere. . . . Equal parts murder mystery and family drama, the novel also draws readers in through its considerations of African-American history and life in post-Katrina Louisiana."
— USA Today

"Compelling. . . . A mystery that expands the whole idea of the mystery, reaching from the present deeply into the past. . . . Great writing, the kind that gives you goose bumps."
— Los Angeles Times

"Absorbing. . . . As she managed to do so well in her first novel, Black Water Rising, Locke draws on the past to remind her characters how much it has shaped their identities and how much it continues to shape the choices they make."
— New York Times Book Review

"[A] haunting mystery, where the murder of a migrant worker brings past and present into hair's–breadth proximity. "
— People
Amistad, 9780062259400, 432pp.
Publication Date: April 21, 2015
About the Author
Attica Locke is the author of Black Water Rising, which was nominated for an Edgar Award, an NAACP Image Award, and a Los Angeles Times Book Prize, and was short-listed for the UK's Orange Prize, and also the national bestseller The Cutting Season, which won an Ernest Gaines Award for Literary Excellence. She is a producer and writer on the Fox drama Empire. She is on the board of directors for the Library Foundation of Los Angeles, where she lives.
Coverage from NPR
or
Not Currently Available for Direct Purchase