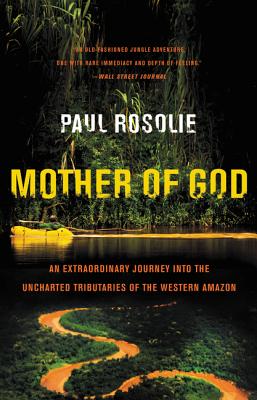 Mother of God
An Extraordinary Journey into the Uncharted Tributaries of the Western Amazon
Paperback

* Individual store prices may vary.
Other Editions of This Title:
Hardcover (3/18/2014)
MP3 CD (12/1/2015)
Description
For fans of The Lost City of Z, Walking the Amazon, and Turn Right at Machu Picchu comes naturalist and explorer Paul Rosolie's extraordinary adventure in the uncharted tributaries of the Western Amazon—a tale of discovery that vividly captures the awe, beauty, and isolation of this endangered land and presents an impassioned call to save it.
In the Madre de Dios—Mother of God—region of Peru, where the Amazon River begins its massive flow, the Andean Mountain cloud forests fall into lowland Amazon Rainforest, creating the most biodiversity-rich place on the planet. In January 2006, when he was just a restless eighteen-year-old hungry for adventure, Paul Rosolie embarked on a journey to the west Amazon that would transform his life.
Venturing alone into some of the most inaccessible reaches of the jungle, he encountered giant snakes, floating forests, isolated tribes untouched by outsiders, prowling jaguars, orphaned baby anteaters, poachers in the black market trade in endangered species, and much more. Yet today, the primordial forests of the Madre de Dios are in danger from developers, oil giants, and gold miners eager to exploit its natural resources.
In Mother of God, this explorer and conservationist relives his amazing odyssey exploring the heart of this wildest place on earth. When he began delving deeper in his search for the secret Eden, spending extended periods in isolated solitude, he found things he never imagined could exist. "Alone and miniscule against a titanic landscape I have seen the depths of the Amazon, the guts of the jungle where no men go, Rosolie writes. "But as the legendary explorer Percy Fawcett warned, 'the few remaining unknown places of the world exact a price for their secrets.'"
Illustrated with 16 pages of color photos.
Praise For Mother of God: An Extraordinary Journey into the Uncharted Tributaries of the Western Amazon…
"Rosolie is a gripping storyteller. . . . His enthusiasm for the wilderness and his ability to convey it poetically makes him an exceedingly persuasive advocate for conserving what's left of the natural world."
— BookPage

"Rosolie's solo adventures in the heart of the Amazon jungle, up close and personal with giant anacondas and jaguars, are gripping. And his dedication to preserving one of the earth's last wildernesses is where he really sets himself apart. Mother of God is an awe-inspiring read."
— Bear Grylls

"A great adventure with a great and enduring point: we simply must protect these last, vast slices of the planet that still work the way they're supposed to."
— Bill McKibben

"Thanks to fastidious journal-keeping that preserved a wealth of detail and emotion, Rosolie delivers an old-fashioned jungle adventure, one with rare immediacy and depth of feeling for the people and creatures he encounters."
— The Wall Street Journal

"Paul Rosolie's Mother of God is more than a thrilling adventure tale, it's an old-fashioned boy-meets-jungle love story. Be prepared to fall for it."
— Mark Adams, author of Turn Right at Machu Pichu

"An extraordinary book…His vivid writing immerses you in his adventures as he explores an ancient pristine forest where no white man has been, where he encounters amazing creatures, and experiences the relentless power of untamed nature…There are parts that will haunt you, scenes you will never forget."
— Jane Goodall

"A gripping adventure story filled with plenty of adrenaline-filled encounters with massive snakes, intimidating jaguars and other creatures. . . . A vividly written narrative of an amazingly diverse world still to be explored, whose destruction, as Rosolie wisely notes, would be a devastating loss for humanity."
— Kirkus

"A rousing eco-adventure. . . . This is old-school nature writing, unabashedly romantic and free of alienation. . . . Rosolie's powers of description are so vivid and engrossing that readers will be swept along in his passion."
— Publishers Weekly (starred review)

"Rosolie writes with intrepid curiosity and a passion for ecological preservation."
— Booklist

"A sobering account of an ecosystem hanging in the balance. . . . An insightful history of the region. . . . Entertaining and revelatory."
— The Wichita Eagle
Harper Paperbacks, 9780062259523, 336pp.
Publication Date: March 17, 2015
About the Author
Paul Rosolie is a naturalist and explorer who has specialized in the western Amazon for nearly a decade. Along with running a conservation project called Tamandua Expeditions that uses tourism to support rain forest conservation, Paul conducts research and expeditions that take him all over the world in search of ways to save wildlife and ecosystems. In 2014 he launched the first-ever study of anacondas in Amazonia with the Discovery Channel special Expedition Amazon. Mother of God is his first book.
or
Not Currently Available for Direct Purchase