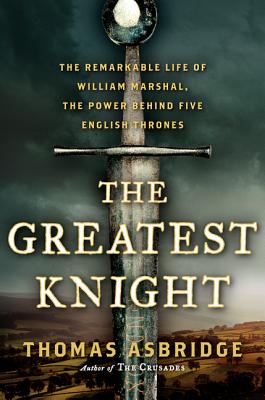 The Greatest Knight
The Remarkable Life of William Marshal, the Power Behind Five English Thrones
Hardcover

* Individual store prices may vary.
Other Editions of This Title:
Digital Audiobook (3/9/2015)
Paperback (11/10/2015)
MP3 CD (3/10/2015)
Compact Disc (3/10/2015)
Paperback (9/10/2015)
MP3 CD (3/10/2015)
Compact Disc (3/10/2015)
Description
A renowned scholar brings to life medieval England's most celebrated knight, William Marshal—providing an unprecedented and intimate view of this age and the legendary warrior class that shaped it.
Caught on the wrong side of an English civil war and condemned by his father to the gallows at age five, William Marshal defied all odds to become one of England's most celebrated knights. Thomas Asbridge's rousing narrative chronicles William's rise, using his life as a prism to view the origins, experiences, and influence of the knight in British history.
In William's day, the brutish realities of war and politics collided with romanticized myths about an Arthurian "golden age," giving rise to a new chivalric ideal. Asbridge details the training rituals, weaponry, and battle tactics of knighthood, and explores the codes of chivalry and courtliness that shaped their daily lives. These skills were essential to survive one of the most turbulent periods in English history—an era of striking transformation, as the West emerged from the Dark Ages.
A leading retainer of five English kings, Marshal served the great figures of this age, from Queen Eleanor of Aquitaine to Richard the Lionheart and his infamous brother John, and was involved in some of the most critical phases of medieval history, from the Magna Carta to the survival of the Angevin/Plantagenet dynasty. Asbridge introduces this storied knight to modern readers and places him firmly in the context of the majesty, passion, and bloody intrigue of the Middle Ages.
The Greatest Knight features 16 pages of black-and-white and color illustrations.
Praise For The Greatest Knight: The Remarkable Life of William Marshal, the Power Behind Five English Thrones…
"Mr. Asbridge has written a rip-roaring new life of Marshal, which will leave readers hungry… a generally splendid account of a great medieval life."
— Wall Street Journal

"The Greatest Knight gives us a moving portrait of one man's struggle, ascent and final (peaceful) demise."
— The Sunday Times (UK)

"Big, readable, and enlightening… a rousing history."
— The Dispatch

"Asbridge has fashioned a rare and fascinating tale: a biography of a medieval knight told with all the rich detail, dialogue, and action that is usually possible only for figures from later periods. Asbridge is a wonderful guide to the complex politics and history of medieval England."
— Christian Science Monitor

"The term 'medieval biography' doesn't necessarily conjure up a lot of excitement among the general book-loving population. But . . . it really should. This blood, guts, gore and gallantry romp through medieval history, following the great knight William Marshall . . . is way more fun than it should be."
— New York Post

"A rich and elaborate tapestry… a story about how medieval knighthood worked; the interlocking web of obligation and fealty, friendship and loyalty... [The Greatest Knight] will appeal to history buffs as well as fans of fiction set in the medieval period."
— Library Journal, starred review

"A valuable biography of an important figure in a distant, violent, barely comprehensible era."
— Kirkus Reviews

"A rare kind of history book ... There are enough epic journeys here to satisfy Tolkien lovers, enough backhanded politics to engage fans looking for the next Game of Thrones book, and enough excitement for any reader to believe that true history is the greatest story of all."
— Portland Book Review

"This is medieval history at its very best - a compelling story told by a historian whose knowledge is both thorough and extensive, and whose enthusiasm for the subject rings out on every page."
— Ian Mortimer, author of Time Traveler's Guide to Medieval England

"Captivatingly written and eye-openingly informative, The Greatest Knight is ... a first-rate history told by a master of the craft. Read this book, and you'll never forget the name William Marshal-nor will you ever think of the Middle Ages in the same way again."-
— Toby Lester, author of The Fourth Part of the World and Da Vinci's Ghost

"History doesn't come more exciting than this. Thomas Asbridge has written a page turner about William Marshal, the Zelig of English history, a man who was indispensable to five kings, and had a hand in practically every important event during those turbulent and eventful reigns."-
— Danny Danziger, author of 1215

"England's greatest knight puts 'Game of Thrones' to shame… A riveting new biography… Asbridge takes the reader through an eye-opening account… His account is an entertaining reminder that sometimes, the truth really is better than fiction."
— Daily Beast
Ecco, 9780062262059, 464pp.
Publication Date: December 2, 2014
About the Author
Thomas Asbridge is Reader in Medieval History at Queen Mary, University of London, and the author of 'The Greatest Knight: The Remarkable Life of William Marshal, the Power Behind Five English Thrones' (2014), 'The Crusades: The War for the Holy Land' (2010) and 'The First Crusade: A New History' (2004). He studied for a BA in Ancient and Medieval History at Cardiff University, and then gained his PhD in Medieval History at Royal Holloway, University of London.
Thomas wrote and presented a BBC documentary, 'The Greatest Knight: William Marshal', and a landmark three-part documentary series 'The Crusades' for the BBC, filmed on location across the Near East and Europe. He has also appeared in many other internationally broadcast television documentaries and radio programs, and has worked as a historical consultant for HBO and Company Pictures. He now lives in southern England.
or
Not Currently Available for Direct Purchase