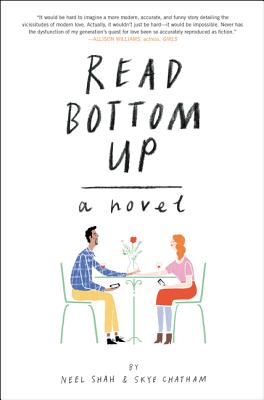 Read Bottom Up
A Novel
Hardcover

* Individual store prices may vary.
Other Editions of This Title:
Paperback (1/26/2016)
Description
A charming novel about falling in love (or like) in the digital age—the never-before-seen full story.
Madeline and Elliot meet at a New York City restaurant opening. Flirtation—online—ensues. A romance, potentially eternal, possibly doomed, begins.
And, like most things in life today, their early exchanges are available to be scrutinized and interpreted by well-intentioned friends who are a mere click away.
Madeline and Elliot's relationship unfolds through a series of thrilling, confounding, and funny exchanges with each other, and, of course, with their best friends and dubious confidants (Emily and David). The result is a brand-new kind of modern romantic comedy, in format, in content, and even in creation—the authors exchanged e-mails in real time, blind to each other's side conversations. You will nod in appreciation and roll your eyes in recognition; you'll learn a thing or two about how the other half approaches a new relationship . . . and you will cheer for an unexpected ending that just might restore your faith in falling in love, twenty-first-century style.
Praise For Read Bottom Up: A Novel…
"It's rare to pick up a book that perfectly captures love in the digital age, but that's exactly what Neel Shah and Skye Chatham's all-too-realistic novel succeeds in doing. . . . Anyone who has dated with technology will recognize themselves, or someone they've dated, in these pages."
— TIME

"Shah and Chatham pen a witty, inventive novel about a new couple's romance--told entirely through their emails and texts."
— Us Weekly

"Charming. . . . Shed(s) light on our digital dating habits and how they affect our happily-ever-afters."
— Cosmopolitan

"A charming, clever look at modern romance. . . . Resounds with anyone who has dated in the digital age."
— The Minneapolis Star Tribune

"A romance told via a couple's emails and texts to each other (and to their best friends), this insightful novel appeals to fans of (500) Days of Summer and How I Met Your Mother." --A
— In Touch

"You will smile and laugh at the romantic follies of Read Bottom Up - until you realize you are not reading this book, it is reading you - at which point you will speed dial your therapist."
— Michael H. Weber, co-screenwriter of (500) Days of Summer, The Spectacular Now, and The Fault In Our Stars

"Read Bottom Up is witty, inventive, and (sometimes wickedly) fun -- an addictive novel readers will devour in one go."
— Julie Schumacher, author of Dear Committee Members

"A fun and surprisingly poignant way to tell a love story in this era of instant digital communication. . . . All too familiar for anyone who has dated in the last 10 years."
— New York Daily News

"Shah and Chatham's story of an attraction between New Yorkers Madeline and Elliot—and the smartphone-facilitated ways it plays out—is smart, happy, and dead-on."
— Glamour.com

"A new novel that consists entirely of e-mails and texts through which the couple gets to know each other. . . . Shah a former Post reporter and Chatham deliver a fun, breezy take on dating in Internet age."
— New York Post

"One of the coolest rom-com books we've ever read. . . . Straight up, Shah and Chatham have brilliantly optimized the era of electronic intimacy to tell a story that's sweet, hopeful, heartbreaking, deeply relatable, and ultimately uplifting. Do yourself a ginormous favor and pick up a copy."
— Hello Giggles

"It would be hard to imagine a more modern, accurate and funny story detailing the vicissitudes of modern love. Actually, it wouldn't just be hard - it would be impossible. Never has the dysfunction of my generation's quest for love been so accurately reproduced as fiction."
— Allison Williams, actress, GIRLS

"Read Bottom Up is an honest look at dating in the iPhone age, and a charming story of the various ways that love finds us. You'll laugh, and you may even recognize your inbox."
— Cecelia Ahern, author of PS I Love You

"An enchanting, witty, and surprisingly realistic romp through romance in the digital age, with the grit of Girls, but the idealism of Sex and the City."
— Susan Shapiro, author of Five Men Who Broke My Heart and Speed Shrinking

"Charming."
— popsugar.com, 26 New Spring Romance Books You Need to Read This Month

"Move over The Game and He's Just Not That Into You. This new dating book is the last word on love in the digital age."
— InStyle UK
Dey Street Books, 9780062262134, 256pp.
Publication Date: April 7, 2015
About the Author
Neel Shah is a screenwriter in Los Angeles. He used to be a reporter at the New York Post and his work has appeared in Glamour, GQ, and New York magazine.
Skye Chatham is a writer living in New York. Her work has appeared in various publications, including GQ and Maxim.
or
Not Currently Available for Direct Purchase