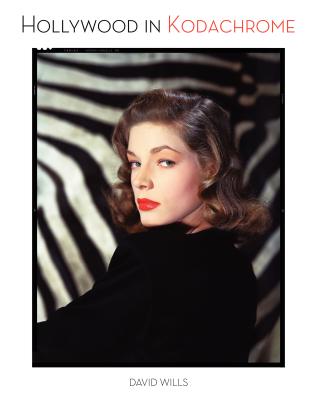 Hollywood in Kodachrome (Hardcover)
It Books, 9780062265548, 352pp.
Publication Date: November 5, 2013
* Individual store prices may vary.
Description
Hollywood in Kodachrome is a stunning portfolio of the stars of Hollywood's Golden Age, captured in rich, deeply saturated color photographs reproduced from original Kodachrome negatives and curated by collector David Wills and designer Stephen Schmidt, the creative team behind Marilyn Monroe: Metamorphosis and Audrey: The 60s.
From Elizabeth Taylor, Ava Gardner, and Rita Hayworth to Fred Astaire, Humphrey Bogart, and Gregory Peck—and many more—the silver screen's elite are all here, in the full blush of youth, captured as if they were taken yesterday. But the true star is the medium itself: late-1940s sheet Kodachrome, a film stock that remains legendary for its rich tonal range, precise color, and detail. 
Including a foreword by Golden Age star Rhonda Fleming, and featuring more than 200 photos from classic films and publicity shoots, Hollywood in Kodachrome is a magnificent tribute to Hollywood's most beloved icons, captured at their glamorous best.
About the Author
Australian-born David Wills is an author, independent curator, photographic preservationist, and editor who has accrued one of the world's largest independent archives of original photographs, negatives, and transparencies. He has contributed material to many publications and museums, including the Museum of Modern Art, the Metropolitan Museum of Art, the Phoenix Art Museum, and the Academy of Motion Picture Arts and Sciences.
Wills has produced a series of photography exhibitions based on images from his archive. His shows include Murder, Models, Madness: Photographs from the Motion Picture Blow-Up; Edie Sedgwick: Unseen Photographs of a Warhol Superstar; Blonde Bombshell; James Bond; Women with Issues: Photographs from the Motion Picture Valley of the Dolls; and Warhology.
Wills's books include Ara Gallant; Marilyn Monroe: Metamorphosis; Audrey: The 60s; Hollywood in Kodachrome; and Seventies Glamour. He is also the co-author of Veruschka.
His books and exhibitions have received major profiles in the Los Angeles Times, the New York Times, Vanity Fair, American Photo, Vogue, Interview, and Time. He has also written articles on photography and popular culture for publications including the Huffington Post, V Magazine, and Palm Springs Life.
A native of the San Francisco Bay Area, Stephen Schmidt is principal of the graphic design company Duuplex, which focuses on brand identity, Web and mobile UI design, and book design. Stephen has provided design and editorial contributions to numerous illustrated book projects. His design work includes the books Seventies Glamour, Hollywood in Kodachrome, Audrey: The 60s, Marilyn Monroe: Metamorphosis; Karim Rashid: Evolution; Florida Modern; Rome, the official companion book to the acclaimed HBO series; and Photo by Sammy Davis, Jr., which received a First Place Photography Book award from the New York Book Show.