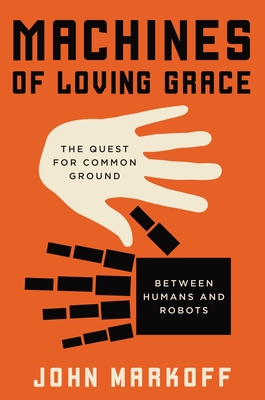 Machines of Loving Grace
The Quest for Common Ground Between Humans and Robots
Hardcover

* Individual store prices may vary.
Other Editions of This Title:
Digital Audiobook (8/24/2015)
Paperback (8/16/2016)
Compact Disc (8/25/2015)
Compact Disc (8/25/2015)
Description
As robots are increasingly integrated into modern society—on the battlefield and the road, in business, education, and health—Pulitzer-Prize-winning New York Times science writer John Markoff searches for an answer to one of the most important questions of our age: will these machines help us, or will they replace us?
In the past decade alone, Google introduced us to driverless cars, Apple debuted a personal assistant that we keep in our pockets, and an Internet of Things connected the smaller tasks of everyday life to the farthest reaches of the internet. There is little doubt that robots are now an integral part of society, and cheap sensors and powerful computers will ensure that, in the coming years, these robots will soon act on their own. This new era offers the promise of immense computing power, but it also reframes a question first raised more than half a century ago, at the birth of the intelligent machine: Will we control these systems, or will they control us?
In Machines of Loving Grace, New York Times reporter John Markoff, the first reporter to cover the World Wide Web, offers a sweeping history of the complicated and evolving relationship between humans and computers. Over the recent years, the pace of technological change has accelerated dramatically, reintroducing this difficult ethical quandary with newer and far weightier consequences. As Markoff chronicles the history of automation, from the birth of the artificial intelligence and intelligence augmentation communities in the 1950s, to the modern day brain trusts at Google and Apple in Silicon Valley, and on to the expanding tech corridor between Boston and New York, he traces the different ways developers have addressed this fundamental problem and urges them to carefully consider the consequences of their work.
We are on the verge of a technological revolution, Markoff argues, and robots will profoundly transform the way our lives are organized. Developers must now draw a bright line between what is human and what is machine, or risk upsetting the delicate balance between them.
Praise For Machines of Loving Grace: The Quest for Common Ground Between Humans and Robots…
"This thoughtful analysis by Markoff, a reporter for The New York Times, wades into the ethical and philosophical questions that such technological advances inevitably raise."
— New York Times Paperback Row

"Mr. Markoff focuses on the personalities, since technology depends on the values of its creators. The human element makes the subject accessible. (His chapter on the history of AI is superb.)"
— The Economist

"Neither alarmist nor affirmative [MACHINES OF LOVING GRACE] contain[s] urgent, compelling and relevant calls to consciously embed our values in the systems we design, and to critically engage with our choices…. Before welcoming our robotic overlords, read [this] book."
— New Scientist

"John Markoff of The New York Times highlights the compelling contrast between AI and intelligence amplification (IA). He chronicles the fascinating and often antagonistic evolution of these fields since 1956, when both terms were coined."
— Nature

"Markoff did his homework and capably tackles interesting things."
— San Francisco Chronicle

"[F]ascinating, informative, thought-provoking…"
— San Jose Mercury News

"A detailed, engrossing history of robotics…This revealing look at profound technological and economic developments will unsettle anyone who has a job to lose."
— Publishers Weekly

"Readers who like their history with a little personality will enjoy this detailed exploration of the development of computers and robotics as assistive or control technologies and the people who make it happen."
— Library Journal

"Will robots of the future be our partners or our Frankenstein's monster? You should read this book. As Markoff explains in this engrossing narrative filled with colorful characters and head-snapping insights, the answer is up to us."
— Walter Isaacson, author of Steve Jobs and The Innovators

"How should we balance what machines can do for us, and what they can help us do ourselves? Markoff hits on one of the central questions in technology today. A fascinating read."
— Tony Fadell, CEO of Nest

"Machines of Loving Grace is the first comprehensive study to place [robots] in the context of the cloud-based intelligence that throws a game-changer at the question: 'But what will they do for brains?'"
— George Dyson, author of Turing's Cathedral: The Origins of the Digital Universe

"I devoured this book like an espionage thriller because the fate of humanity is on the line, and Markoff's narrative is so engaging."
— Oren Etzioni, CEO of The Allen Institute for Artificial Intelligence

"John Markoff has been seeing around the corners of the technology revolution throughout his career. Now he uses his full range of vision and experience to examine whether humans can make peace with the coming wave of smart machines. His view is intelligent, illuminating and, yes, optimistic."
— John Hollar, president and CEO of the Computer History Museum
Ecco, 9780062266682, 400pp.
Publication Date: August 25, 2015
About the Author
John Markoff has been a technology and science reporter at the New York Times since 1988. He was part of the team of Times reporters that won the 2013 Pul-itzer Prize for Explanatory Reporting and is the author of What the Dormouse Said: How the Sixties Counterculture Shaped the Personal Computer. He lives in San Francisco, California.
Coverage from NPR
or
Not Currently Available for Direct Purchase