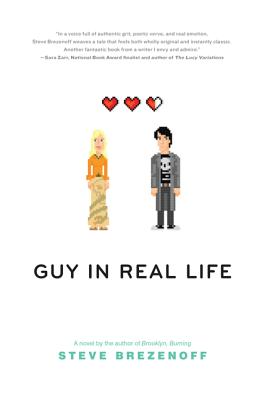 Guy in Real Life (Hardcover)
Balzer + Bray, 9780062266835, 400pp.
Publication Date: May 27, 2014
Other Editions of This Title:
Digital Audiobook (5/26/2014)
Paperback (5/26/2015)
Compact Disc (5/27/2014)
Compact Disc (5/27/2014)
* Individual store prices may vary.
Description
From the acclaimed author of Brooklyn, Burning comes Guy in Real Life, an achingly real and profoundly moving love story about two teens that National Book Award–finalist Sara Zarr has called "wholly original and instantly classic."
It is Labor Day weekend in Saint Paul, Minnesota, and boy and girl collide on a dark street at two thirty in the morning: Lesh, who wears black, listens to metal, and plays MMOs; Svetlana, who embroiders her skirts, listens to Björk and Berlioz, and dungeon masters her own RPG. They should pick themselves up, continue on their way, and never talk to each other again.
But they don't.
This is a story of the roles we all play—at school, at home, online, and with our friends—and the one person who might be able to show us who we are underneath it all.
About the Author
Steve Brezenoff is the author of the young adult novels The Absolute Value of -1, which won the IPPY Gold Medal for young adult fiction, and Brooklyn, Burning, which was named a Kirkus Reviews Best Book, was a Best Fiction for Young Adults selection by the American Library Association, and won the ForeWord Book of the Year Gold Medal for young adult fiction. Born on Long Island, Steve now lives in Minneapolis with his wife, Beth, and their son and daughter, Sam and Etta. His main is a Blood Elf monk, but he's been known to run a Night Elf priest from time to time.
Praise For Guy in Real Life…
"In a voice full of authentic grit, poetic verve, and real emotion, Steve Brezenoff weaves a tale that feels both wholly original and instantly classic. Another fantastic book from a writer I envy and admire."
— Sara Zarr, National Book Award finalist for Story Of a Girl

"In a first-person narration that alternates between the boy in black and the girl dungeon master, Brezenoff conjures a wry, wise and deeply sympathetic portrait of the exquisite, excruciating thrill of falling in love. This is not the teen love story you've read a thousand times before."
— Kirkus Reviews (starred review)

"Guy In Real Life is a remarkably original, addictive novel that illuminates the roles we play for others and, ultimately, ourselves. A must-read for anyone who questions who they truly are, and who they could be."
— Nova Ren Suma, author of Imaginary Girls and 17 & Gone

"An idiosyncratic romance that offers plenty of cultural food for thought."
— Publishers Weekly

"I suppose Steve Brezenoff will have to grow up one of these days and forget what it was like to be sixteen, but let's hope it doesn't happen too soon—at least not to the part of him that can write a book like Guy in Real Life."
— Pete Hautman, National Book Award-winning author of Godless

"Guy in Real Life is a fascinating, original take on the spaces that exist between who we are and who we hope to be. Virtually everyone will love this book."
— John Corey Whaley, Printz Award--winning author of Where Things Come Back

"The gaming motif adds an intriguing layer, as Brezenoff uses it to explore issues of gender identity. Has [Lesh] created this character because he wants to be with the real Svetlana or because he wants to be her? There is, he realizes, no simple answer."
— Chicago Tribune
or
Not Currently Available for Direct Purchase