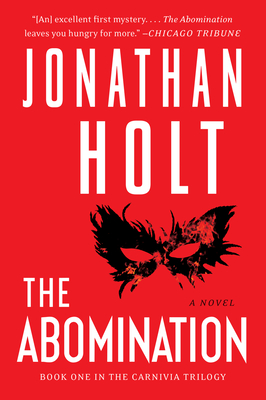 The Abomination (Paperback)
A Novel (Carnivia Trilogy, The #1)
Bourbon Street Books, 9780062267016, 448pp.
Publication Date: April 8, 2014
Other Editions of This Title:
Hardcover (6/18/2013)
* Individual store prices may vary.
Description
Set in two Venices, the modern physical world and its virtual counterpart, The Abomination by Jonathan Holt is a propulsive tale of murder, corruption, and international intrigue—the first book in an outstanding new trilogy in which Carabiniere Captain Kat Tapo must unravel a dark conspiracy linking the CIA and the Catholic Church.

By the stunning white dome of one of Venice's grandest landmarks a body with two slugs in the back of the head has been pulled from the icy waters. The victim is a woman, dressed in the sacred robes of a Catholic priest—a desecration that becomes known as the Abomination.

Working her first murder case, Captain Kat Tapo embarks on a trail that proves as elusive and complicated as the city's labyrinthine backstreets. What Kat discovers will test her loyalties and remind her of a simple truth: Unless old crimes are punished, corrupt forces will continue to repeat their mortal sins.

The Abomination is book one of Jonathan Holt's Carnivia Trilogy.
About the Author
When Jonathan Holt first traveled to Venice, he found it shrouded in thick fog and flooded with high water. This experience inspired him to write the Carnivia Trilogy, a series of thrillers based on Italy's hidden past. The Abomination and The Absolution, the first two books, have now become international bestsellers published in sixteen countries. The second novel in the trilogy was longlisted for a Crime Writers' Association Steel Dagger Award.
Praise For The Abomination: A Novel (Carnivia Trilogy, The #1)…
"Venetians love to dress up in costumes and masks.… Holt puts a breathtaking spin on this charming custom … by inventing Carnivia, an elaborate computer game. .…There is something truly haunting about those glimpses into the mysterious shadow world ."
— Marilyn Stasio, New York Times Book Review

"Don't be deceived by the title, The Abomination. There's nothing unreal about Jonathan Holt's excellent first mystery…. [He] writes in a deft engaging fashion.… The Abomination leaves you hungry for more."
— Chicago Tribune

"This remarkable debut novel… [is] a multi-stranded conspiracy thriller with plenty of pop. Think Dan Brown without the clunky prose and the pompous PhD hero but with the fascinating mix of history, paranoia, and real-live terror (drones on your tail)."
— Booklist (starred review)

"[This] first novel of a trilogy set in Venice…[has] more than enough plot and well-drawn characters to stir interest in the sequels…A skillfully rendered debut."
— Kirkus Reviews

"[A] diverting debut…Holt captures the allure of Venice and its creative cyber-counterpart, and creates two forceful . . . protagonists in Kat and Holly. The author gets carried away by throwing mystery on top of mystery, but, well, that's part of the fun."
— Publishers Weekly

"[A] beautifully complicated thriller…. A brilliant blend of fascinating story lines, serious issues, impeccable research, gripping intrigue, and engaging characters, Holt's debut is eminently satisfying from start to finish. Highly recommended for readers who enjoy intelligent thrillers (think Joseph Kanon)."
— Library Journal (starred review)

"Speedy, clever…. [A] very fun beach (or boat) read for fans of thrillers."
— MSN.com

"[A] tantalizing debut, a masterful melding of religious mystery, political intrigue and just a bit of fantasy/sci-fi."
— BookPage