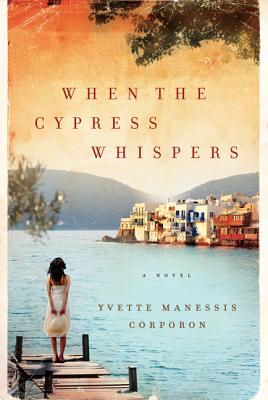 When the Cypress Whispers
Hardcover

* Individual store prices may vary.
Other Editions of This Title:
Paperback (3/31/2015)
Description
On a beautiful Greek island, myths, magic, and a colorful cast of characters come together in When the Cypress Whispers, Yvette Manessis Corporon's lushly atmospheric story about past and present, family and fate, love and dreams that poignantly captures the deep bond between an American woman and her Greek grandmother.
The daughter of Greek immigrants, Daphne aspires to the American Dream, yet feels as if she's been sleepwalking through life. Caught between her family's old-world traditions and the demands of a modern career, she cannot seem to find her place.
Only her beloved grandmother on Erikousa, a magical island off the coast of Greece, knows her heart. Daphne's fondest memories are of times spent in the kitchen with Yia-yia, cooking and learning about the ancient myths. It was the thought of Yia-yia that consoled Daphne in the wake of her husband's unexpected death.
After years of struggling to raise her child and pay the bills, Daphne now has a successful restaurant, a growing reputation as a chef, and a wealthy fiancé—everything she's ever wanted. But across the ocean, Yia-yia can see through the storybook perfection of Daphne's new life— and now she is calling her back to Erikousa. She has secrets about the past to share with her granddaughter— stories from the war, of loyalty and bravery in the face of death. She also has one last lesson to teach her: that security is not love, and that her life can be filled with meaning again. 
Praise For When the Cypress Whispers…
"There is just enough humor to balance the heartache, and a dash of history adds depth. Readers will be transported." — Booklist
"The power of family tradition and heritage is compassionately explored in Corporon's debut. . . [she] can tell a good tale, and her love for her Greek heritage permeates the story." — Publishers Weekly
"When the Cypress Whispersis a rich, emotionally-nuanced story about a woman's deeply held connection to her family and her past. With an evocative setting and finely-drawn characters, Corporon creates a beautiful world you won't soon forget." — Emily Giffin, New York Times bestselling author
"When The Cypress Whispers is an unforgettable book about what it truly means to love and be loved. . . Yvette has taken the myths, history and culture of our homeland and crafted a deeply moving story that will stay with you long after you've finished the last page." — Maria Menounos
"Exquisitely written. A profoundly beautiful love story of the magical Greek island of Erikousa and the undeniable love and bond between Daphne and her beloved Yia-yia. It's an enchanting read exploring Greek myths and the importance of understanding your fate and following your heart." — Laura Schroff, New York Times-bestelling author of An Invisible Thread
"When the Cypress Whispers is a beautiful story about family, friendship and faith—the things I value most in life. Yvette has done a wonderful blending the past and the present to write an unforgettable novel that will make you both laugh and cry." — Mario Lopez
"Sun-drenched, evocative and a wee bit magical, When the Cypress Whispers is both a perfect beach read and a compelling portrait of a family of strong women." — Shelf Awareness
"A compelling and beautiful novel." — Luxuryreading.com
Harper, 9780062267580, 368pp.
Publication Date: April 1, 2014
About the Author
Yvette Manessis Corporon is a senior producer with the syndicated entertainment news show Extra. In addition to her two Emmy Awards, Yvette has received a Silurian Award for Excellence in Journalism, and the New York City Comptroller and City Council's Award for Greek Heritage and Culture.
or
Not Currently Available for Direct Purchase