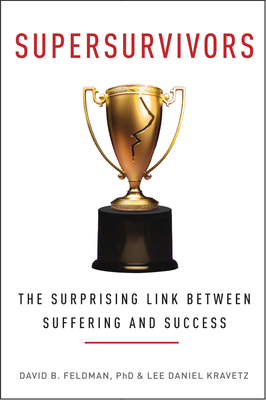 Supersurvivors
The Surprising Link Between Suffering and Success
Hardcover

* Individual store prices may vary.
Other Editions of This Title:
Digital Audiobook (6/23/2014)
Paperback (4/28/2015)
Compact Disc (6/24/2014)
Compact Disc (6/24/2014)
Description
Starting where resiliency studies leave off, two psychologists explore the science of remarkable accomplishment in the wake of trauma, revealing the surprising principles that allow people to transform their lives and achieve extraordinary things.
Over four billion people worldwide will survive a trauma during their lives. Some will experience severe post-traumatic stress. Most will eventually recover and return to life as normal. But sometimes, survivors do more than bounce back. Sometimes they bounce forward.
These are the Supersurvivors—individuals who not only rebuild their lives, but also thrive and grow in ways never previously imagined. Beginning where resilience ends, David B. Feldman and Lee Daniel Kravetz look beyond the tenets of traditional psychology for a deeper understanding of the strength of the human spirit. What they have found flies in the face of conventional wisdom—that positive thinking may hinder more than help; that perceived support can be just as good as the real thing; and that realistic expectations may be a key to great success.
They introduce the humble but powerful notion of grounded hope as the foundation for overcoming trauma. The authors interviewed dozens of men and women whose stories serve as the counterpoint to the latest scientific research. Feldman and Kravetz then brilliantly weave these extraordinary narratives with new science, creating an emotionally compelling and thought-provoking look at what is possible in the face of human tragedy. Supersurvivors will reset our thinking about how we deal with challenges, no matter how big or small.
Praise For Supersurvivors: The Surprising Link Between Suffering and Success…
"Turns out surviving the most dangerous situations has some good lessons we can use to learn how to be resilient in everyday life."
— Time magazine online

"This summer's Big Idea book!"
— Bloomberg Businessweek

"An inspirational read that's rooted in hard science."
— People

"Fascinating. . . . ultimately, we discover our ability to deal with unforeseen challenges and realize the remarkable potential of the human spirit."
— Diane Dreher, Ph.D., Psychology Today

"If you read Feldman and Kravetz, you will come away inspired and more attuned to the factors that influence resilience?including religious faith, the ability to forgive, and awareness of mortality."
— Harvard Business Review

"Hope for the endurance of the human spirit in the face of tragedy. Artfully described . . . intensely powerful . . . riving . . . uplifting!"
— Kirkus Reviews

"A charming and thoughtful mix of scientific thought and anecdotal evidence."
— Mindful Magazine

"Supersurvivors is a book you should uncover."
— Houston Style Magazine Online

"Supersurvivors might well be a how-to manual on taking adversity and turning it into an advantage. As I read it, I kept thinking: I wish I'd had this book ten years ago!"
— Aron Ralston, survivor, speaker, author, and subject of the film 127 Hours

"Supersurvivors provides the contemporary science about the biology of hope that is vital for all of us-all of us-as we daily confront challenge big and small, real and imagined."
— Walter M. Bortz, II M.D., Clinical Professor of Medicine, Stanford University, and author of The Roadmap to 100

"It's rare to find a book that appeals so well to both the head and the heart. Marrying eye-opening stories with thought-provoking science, Feldman and Kravetz open a powerful window into a world of forgiveness and hope."
— Frederic Luskin, Ph.D., author of Forgive for Good and Director of the Stanford Forgiveness Project

"Just surviving suffering is a form of success. But these people have done more than survive, and their stories are worth your time. One day you may need what they have."
— Linda Ellerbee, Peabody and Emmy Award-winning Journalist, TV Producer, and New York Times best-selling author

"Supersurvivors is a brilliant rethinking of the consequences of trauma. This book will change the meaning we give to survival, both for individuals and for our culture as a whole."
— Ethan Watters, Author of Crazy Like Us: The Globalization of the American Psyche

"This is a blockbuster that every leader, parent, doctor, teacher, student, coach, and caregiver needs to read. I can't remember the last time I was so fascinated and moved by a book-let alone one grounded in science."
— Adam Grant, Professor at the Wharton School of Business, and New York Times bestselling author of Give and Take

"Supersurvivors dares to ask, 'How, really, do we heal?' From real case studies and hard science, the answers it finds shake the foundations of the way we conceive recovery."
— Po Bronson, New York Times bestselling author of NurtureShock
Harper Wave, 9780062267856, 256pp.
Publication Date: June 24, 2014
About the Author
David B. Feldman, PhD, is among the top experts on hope in the field of psychology. An associate professor of counseling psychology at Santa Clara University, he has written for Psychology Today and the Huffington Post, published research in top scientific journals, and lectured around the world. He lives in the San Francisco Bay Area.
Lee Daniel Kravetz has a master's degree in counseling psychology and is a graduate of the University of Missouri–Columbia School of Journalism. He has written for Psychology Today, the Huffington Post, and the New York Times, among other publications. He lives in the San Francisco Bay Area with his wife and children.
or
Not Currently Available for Direct Purchase