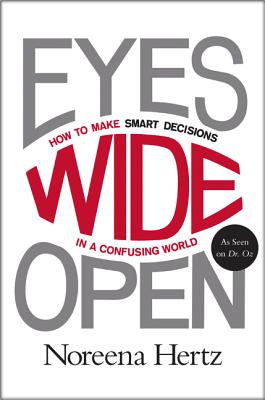 Eyes Wide Open
How to Make Smart Decisions in a Confusing World
Paperback

* Individual store prices may vary.
Other Editions of This Title:
Digital Audiobook (9/23/2013)
Hardcover (9/24/2013)
Description
Eyes Wide Open: How to Make Smart Decisions in a Confusing World is Noreen Hertz's practical, cutting-edge guide to help you cut through the data deluge and make smarter and better choices, based on her highly popular TED talk.
In this eye-opening handbook, the internationally noted speaker, economics expert, and bestselling author of IOU: The Debt Threat and Silent Takeover reveals the extent to which the biggest decisions in our lives are often made on the basis of flawed information, weak assumptions, corrupted data, insufficient scrutiny of others, and a lack of self-knowledge.
To avert such disasters, Hertz persuasively argues, we need to become empowered decision-makers, capable of making high-stakes choices and holding accountable those who advise us.
In Eyes Wide Open, she weaves together scientific research with real-world examples from Hollywood to Harry Potter, NASA to World War Two spies, to construct a path to more astute and empowered decision-making in ten clear steps. With a razor-sharp intellect and an instinct for popular storytelling, she offers counter-intuitive, actionable guidance for making better choices—whether you are a business-person, a professional, a patient, or a parent.
Praise For Eyes Wide Open: How to Make Smart Decisions in a Confusing World…
"With 10 sensible steps to take, Noreena Hertz charts a sound decision-making route for us through a world in hyper-drive. I'd recommend a prudent first step-get this book."
— Robert B. Cialdini, author of Influence

"[I]mpressively incisive....Readers interested in more information are well advised to peruse the author's detailed end notes. Properly applied, her straightforward suggestions will alert readers to logical and perceptive blinders, allowing them to make better decisions."
— Publishers Weekly

"Witty, well-researched and practical, Hertz's EYES WIDE OPEN is an invaluable guide for anyone facing tough decisions in today's complex world."
— Dominic Barton, Global Managing Director, McKinsey & Company

"The hieroglyphics that are our modern world just got a great translator, for in her fascinating new book, Noreena Hertz has given us a kind of Rosetta stone that permits us all a new perspective on the chaos we call life."
— Ken Burns, award-winning filmmaker

"Noreena Hertz brilliantly combines academic research with a pragmatic approach. At the movie studio, we often have to make very expensive decisions based on imperfect information. Eyes Wide Open will be of great help as we continue to rewire the process by which we make decisions."
— Michael Lynton , CEO, Sony Corporation of America

"Hertz's Eyes Wide Open is the go-to handbook for thinking intelligently and keeping your wits about you in an increasingly complicated and digital world."
— Don Tapscott , bestselling author of Wikinomics
Harper Business, 9780062268624, 352pp.
Publication Date: February 3, 2015
About the Author
Noreena Hertz is a bestselling author, academic, and thinker. She has provided keynote addresses at TED and the World Economic Forum, sits on the board of Warner Music Group, and advises a range of major corporations. She is an honorary professor at the Centre for the Study of Decision-Making Uncertainty at University College London.
or
Not Currently Available for Direct Purchase