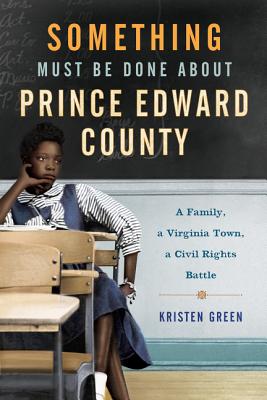 Something Must Be Done About Prince Edward County
A Family, a Virginia Town, a Civil Rights Battle
Hardcover

* Individual store prices may vary.
Other Editions of This Title:
Digital Audiobook (11/30/2020)
Paperback (4/26/2016)
Description
NEW YORK TIMES BESTSELLER
Combining hard-hitting investigative journalism and a sweeping family narrative, this provocative true story reveals a little-known chapter of American history: the period after the Brown v. Board of Education decision when one Virginia school system refused to integrate.
In the wake of the Supreme Court's unanimous Brown v. Board of Education decision, Virginia's Prince Edward County refused to obey the law. Rather than desegregate, the county closed its public schools, locking and chaining the doors. The community's white leaders quickly established a private academy, commandeering supplies from the shuttered public schools to use in their all-white classrooms. Meanwhile, black parents had few options: keep their kids at home, move across county lines, or send them to live with relatives in other states. For five years, the schools remained closed.
Kristen Green, a longtime newspaper reporter, grew up in Farmville and attended Prince Edward Academy, which did not admit black students until 1986. In her journey to uncover what happened in her hometown before she was born, Green tells the stories of families divided by the school closures and of 1,700 black children denied an education. As she peels back the layers of this haunting period in our nation's past, her own family's role—no less complex and painful—comes to light.
At once gripping, enlightening, and deeply moving, Something Must Be Done About Prince Edward County is a dramatic chronicle that explores our troubled racial past and its reverberations today, and a timeless story about compassion, forgiveness, and the meaning of home.
Praise For Something Must Be Done About Prince Edward County: A Family, a Virginia Town, a Civil Rights Battle…
"Both intimate and ambitious, this is a far-reaching account of the political and social history of segregation and desegregation in Virginia that also reveals the very real human costs of this history. Moving and clear-eyed, damning and hopeful: this is an essential read."
— Jesmyn Ward, author of Men We Reaped

"In an intimate memoir, a journalist explores 1950s school segregation in a small Virginia town, its effects on the children there, and her family's own connection to the racial divide."
— Entertainment Weekly

"An engaging and well-written book on the impact of school closures, told from a unique biographical perspective. Green delivers a deeply moving portrayal of one of the very sad histories in American race relations. Difficult to put down and a must-read."
— William Julius Wilson, Lewis P. and Linda L. Geyser University Professor, Harvard University

"Mystery wrapped in history with a touch of suspense and personal horror: Kristen Green's stunner of a book is a ride back into a past you'll wish had never happened. This is historical sleuthing at its finest."
— Chris McDougall, author of Born to Run

"The story of integrating American public schools has gotten drowned out by that of the Civil Rights movement. Return with Kristen Green to her hometown in Virginia to find out how people she loved and admired could have supported such injustice against children. You'll be wiser if you do."
— Charles J. Shields, author of Mockingbird: A Life of Harper Lee

"Absorbing. . . . A merger of history both lived and studied, Green's book looks beyond the publicized exploits of community leaders to reveal the everyday people who took great risks and often suffered significant loss during the struggle against change in one 'quaint, damaged community.'"
— Publishers Weekly

"Powerful. . . . The author movingly chronicles her discovery of the truth about her background and her efforts to promote reconciliation and atonement. A potent introduction to a nearly forgotten part of the civil rights movement and a personalized reminder of what it was truly about."
— Kirkus Reviews (starred review)

"What makes Ms. Green's book essential reading is that Prince Edward illuminates two instructive story lines that can become lost today amid the stirring commemorations of famous civil rights battles and the growing fury over the killing of unarmed African-Americans…. This is not just a work of history but also a story of how resistance to integration still shapes American life."
— New York Times

"Kristen Green was born to write this book…..[She] deftly interweaves the personal and the historical into a compelling narrative that leaves no stone unturned….[N]ot only fascinating but cinematic…[A]n award-worthy book."
— Booklist

"Green's work brims with real-life detail from the journalist's eye and ear and joins the likes of Diane McWhorter's Carry Me Home in further developing the dimensions of the South's desegregation struggle."
— Library Journal
Harper, 9780062268679, 336pp.
Publication Date: June 9, 2015
About the Author
Kristen Green has worked as a reporter for the Boston Globe, San Diego Union-Tribune, and Richmond Times-Dispatch. She holds a master's degree in public administration from the Harvard Kennedy School. This is her first book. She lives in Richmond, Virginia.
or
Not Currently Available for Direct Purchase