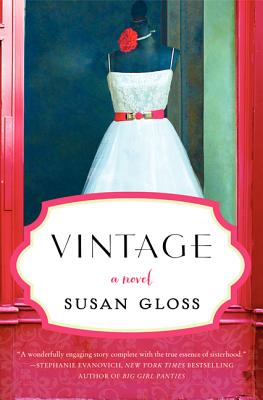 Vintage (Hardcover)
William Morrow & Company, 9780062270320, 320pp.
Publication Date: March 25, 2014
* Individual store prices may vary.
or
Not Currently Available for Direct Purchase
Description
At Hourglass Vintage in Madison, Wisconsin, every item in the boutique has a story to tell . . . and so do the women whose lives the store touches.
Yellow Samsonite suitcase with ivory, quilted lining, 1950s
A small-town girl with a flair for fashion, Violet Turner had always dreamed of owning a shop like Hourglass Vintage. But while she values the personal history behind each beautiful item she sells, Violet is running from her own past. Faced with the possibility of losing the store to an unscrupulous developer, she realizes that despite her usual self-reliance she cannot save it alone.
Taffeta tea-length wedding gown with scooped neckline and cap sleeves, 1952
Eighteen-year-old April Morgan is nearly five months along in an unplanned pregnancy when her hasty engagement is broken. When she returns the perfect vintage wedding dress to Violet's shop, she discovers a world of new possibilities, and an unexpected sisterhood with women who won't let her give up on her dreams.
Orange silk sari with gold paisley design, 1968
Betrayed by her husband, Amithi Singh begins selling off her vibrant Indian dresses, remnants of a life she's determined to leave behind her. After decades of housekeeping and parenting a daughter who rejects her traditional ways, she fears her best days are behind her . . . until she discovers an outlet for her creativity and skills with a needle and thread.
An engaging story that beautifully captures the essence of friendship and style, Vintage is a charming tale of possibility, of finding renewal, love, and hope when we least expect it.
Would Violet have become friends with April and Amithi under different circumstances? What do the three women have in common besides Hourglass Vintage?
Why do you think Violet is so fascinated by vintage items?
How did Violet's relationship with her Grandma Lou shape her life? What about Violet's relationship with Jed, her ex?
April fears becoming like her mother, Kat. From what we know of Kat, how is April like her and unlike her? Do you think April's fear is warranted?
How do the vintage inventory items at the beginning of the chapters work into the story? Are there particular items that stand out to you more than others? Why?
How does each of the three main characters come to terms with the negative aspects of her past? How do these women's past experiences help them to understand each other?
Betsy keeps her illness a secret from Violet. Why does she hide this information?
How did Amithi react to Naveen's affair? Would you have reacted in a similar or different manner if you were in her shoes?
Amithi's daughter, Jayana, says that when she was a child, her mother's sewing seemed "so antifeminist, so retro." How do Amithi and the other main characters embody or resist traditional feminine roles?
April gets back together with Charlie despite the fact that he allowed his mother to cancel their wedding without talking to April about it. Do you think she forgives him too easily? Do you think their relationship will persevere?
How is Jed's vandalism of Violet's shop symbolic of the other damage he has done to her life?
Violet breaks up with Sam because Sam doesn't want to have children. How do you think the decision about whether to have children impacts relationships?
What is the significance of Violet's phoenix and starfish tattoos?
At the end of the novel, Violet has married Sam, April has moved in with Charlie and had her baby, and Amithi is off to India with her daughter. Where do you see each of the characters in five years?
Advertisement