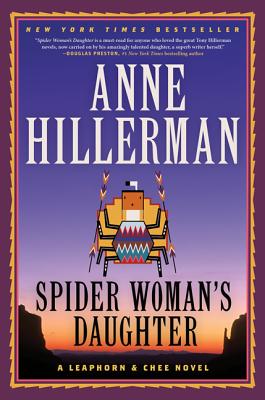 Spider Woman's Daughter (Hardcover)
A Leaphorn, Chee & Manuelito Novel
Harper, 9780062270481, 320pp.
Publication Date: October 1, 2013
Other Editions of This Title:
Digital Audiobook (9/30/2013)
Paperback (4/7/2015)
Compact Disc (7/8/2014)
Paperback, Large Print (10/1/2013)
Mass Market (6/24/2014)
Compact Disc (7/8/2014)
* Individual store prices may vary.
Description
Anne Hillerman, the talented daughter of bestselling author Tony Hillerman, continues his popular Leaphorn and Chee series with Spider Woman's Daughter, a Navajo Country mystery, filled with captivating lore, startling suspense, bold new characters, vivid color, and rich Southwestern atmosphere.
Navajo Nation Police Officer Bernadette Manualito witnesses the cold-blooded shooting of someone very close to her. With the victim fighting for his life, the entire squad and the local FBI office are hell-bent on catching the gunman. Bernie, too, wants in on the investigation, despite regulations forbidding eyewitness involvement. But that doesn't mean she's going to sit idly by, especially when her husband, Sergeant Jim Chee, is in charge of finding the shooter.
Bernie and Chee discover that a cold case involving his former boss and partner, retired Inspector Joe Leaphorn, may hold the key. Digging into the old investigation, husband and wife find themselves inching closer to the truth...and closer to a killer determined to prevent justice from taking its course.
About the Author
Anne Hillerman, the author of the Leaphorn-Chee-Manuelito series, began her career as a journalist and writer of nonfiction books. The daughter of New York Times bestselling author Tony Hillerman, she lives in Santa Fe, New Mexico. This is her sixth novel and the twenty-fourth in the Hillerman series.
Praise For Spider Woman's Daughter: A Leaphorn, Chee & Manuelito Novel…
"From the utterly shocking opening scene to the final twist, Anne Hillerman offers a thrilling Southwestern tale featuring the unforgettable characters of Jim Chee and Joe Leaphorn, set in the vivid landscapes of Navajo country. Spider Woman's Daughter is a must read for anyone who loved the great Tony Hillerman novels, now carried on by his amazingly talented daughter, a superb writer herself. I dearly hope this is the first of many."
— Douglas Preston, #1 New York Times bestselling author

"A worthy continuation of Tony Hillerman's Leaphorn & Chee series. His daughter Anne ably returns to Navajo Country in a colorful mystery that is both fascinating and vividly compelling. From its startling first scene to its gripping climax, Spider Woman's Daughter engages the reader in a complex web of intrigue and deception."
— David Morrell, New York Times bestselling author of Murder as a Fine Art

Spider Woman's Daughter is an intricately plotted, suspenseful, colorful, and unforgettable journey. Readers will fall in love with Bernie Manuelito and look forward to Anne Hillerman's next effort in what should be a long, enjoyable, successful series. Her depiction of the Navajo Nation is spot on. I loved this book.
— Jo-Ann Mapson, author of award-winning Solomon's Oak and Finding Casey

"Chip off the literary block—there are a lot of things Tony taught is daughter, Anne, and one of them was how to tell a good story. Spider Woman's Daughter is a proud addition to the legacy, capturing the beauty and breath of the Southwest as only a Hillerman can."
— Craig Johnson, author of the Walt Longmire Mysteries, the basis for A&E's hit television series Longmire

"You will love this novel! Not only are old friends Joe Leaphorn and Jim Chee back, we get to know the delightful, intrepid and thoroughly modern Navajo police officer, Bernadette Manuelito… Anne Hillerman comes naturally to writing mysteries, and Spider Woman's Daughter is nothing less than a smashing debut."
— Margaret Coel, author of Killing Custer

"Hillerman fans, rejoice! Joe Leaphorn and Jim Chee have returned, thanks to Tony's daughter Anne. She captures the feel of her father's books, the wonderful understanding of a place and a people that made his so popular, and she has an ear for his unique voice. It's a remarkable accomplishment."
— Charles Todd

A daughter takes on her famous father's legacy in resuming a series focused on Navajo culture…maintaining the integrity…throughout.
— Kirkus Reviews

"[H]eart-stopping, action-packed...VERDICT Fans of Southwestern mysteries will cheer this return of Leaphorn and Chee."
— Library Journal (starred review) on SPIDER WOMAN'S DAUGHTER

"Difficult to put down...If you love mysteries, this book is for you."
— Examiner.com on SPIDER WOMAN'S DAUGHTER
or
Not Currently Available for Direct Purchase