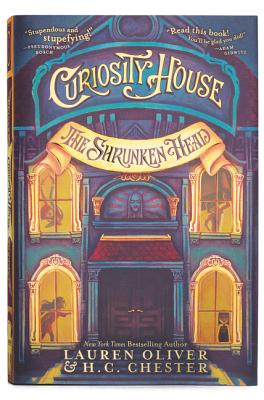 Curiosity House
The Shrunken Head
Hardcover

* Individual store prices may vary.
Other Editions of This Title:
Digital Audiobook (9/28/2015)
Paperback (5/3/2016)
Compact Disc (9/29/2015)
Compact Disc (9/29/2015)
Description
Edgar Award nominee for Best Juvenile Mystery
The book is about, among other things: the strongest boy in the world, a talking cockatoo, a faulty mind reader, a beautiful bearded lady and a nervous magician, an old museum, and a shrunken head.
Blessed with extraordinary abilities, orphans Philippa, Sam, and Thomas have grown up happily in Dumfrey's Dime Museum of Freaks, Oddities, and Wonders. But when a fourth child, Max, a knife-thrower, joins the group, it sets off an unforgettable chain of events.
When the museum's Amazonian shrunken head is stolen, the four are determined to get it back. But their search leads them to a series of murders and an explosive secret about their pasts.
This sensational new series—a 2016 Edgar nominee for Best Juvenile book and New York Times bestseller—combines the unparalleled storytelling gifts of Lauren Oliver with the rich knowledge of the notorious relics collector H. C. Chester.
What you will find in this book:
A rather attractive bearded lady
Several scandalous murders
A deliciously disgusting Amazonian shrunken head
Four extraordinary children with equally extraordinary abilities
A quite loquacious talking bird
What you will NOT find in this book:
An accountant named Seymour
A never-ending line at the post office
Brussel sprouts (shudder)
A lecture on finishing all your homework on time
A sweet, gooey story for nice little girls and boys
Learn more about the series online at www.thecuriosityhouse.com
Praise For Curiosity House: The Shrunken Head…
"Stupendous and stupefying! A riddle wrapped in a mystery inside a shrunken head. If you aren't curious about Curiosity House, somebody must have pickled your brain and put it in a jar. Read this book immediately." — Pseudonymous Bosch, New York Times bestselling author of the Secret Series and Bad Magic
"Step right up! Step right up! Mystery, murder, curses, and sideshow freaks! Or are they superheroes? There's only one way to find out... Read Curiosity House! You'll be glad you did!" — Adam Gidwitz, New York Times bestselling author of A Tale Dark and Grimm series
"A quick-paced plot is bolstered by the bonds of friendship these unusual yet endearing children form as they try to solve a mystery greater—and more personal—than they ever expected." — Publishers Weekly
"The continuous action, compelling mystery, and dark, brooding illustrations make this book impossible to put down. Perfect for kids who feel they're different or those simply after a freakishly good time." — Booklist (starred review)
"Will have readers lining up for their tickets to the next book." — Bulletin of the Center for Children's Books
PRAISE FOR LIESL & PO: "A wonderfully imaginative, startlingly moving and at times wickedly funny fantasy. With nods to Dahl, Dickens, the Grimms and even Burnett, the author has made something truly original. Acedera's frequent black-and-white illustrations are a perfect complement. An irresistible read: This book sings." — Kirkus Reviews (starred review)
PRAISE FOR LIESL & PO: "Classic fairy tale elements weave throughout this spirited, old-fashioned adventure. Invigorating and hopeful, this novel testifies to the power of friendship and generosity to conquer greed and depression." — Publishers Weekly (starred review)
PRAISE FOR THE SPINDLERS: "Richly detailed, at times poetic, ultimately moving; a book to be puzzled over, enjoyed and, ideally, read aloud." — Kirkus Reviews (starred review)
PRAISE FOR THE SPINDLERS: "This imaginative fantasy emphasizes individual initiative and the power of hope and friendship. With strong, self-reliant female characters and well-defined action, this is a strong addition to fantasy collections." — School Library Journal (starred review)
PRAISE FOR THE SPINDLERS: "Oliver's magical, mesmerizing quest affirms the saving power of story, friendship, and love." — Publishers Weekly (starred review)
HarperCollins, 9780062270818, 368pp.
Publication Date: September 29, 2015
About the Author
Lauren Oliver is the cofounder of media and content development company Glasstown Entertainment, where she serves as the President of Production.
She is also the New York Times bestselling author of the YA novels Replica, Vanishing Girls, Panic, and the Delirium trilogy: Delirium, Pandemonium, and Requiem, which have been translated into more than thirty languages. The film rights to both Replica and Lauren's bestselling first novel, Before I Fall, were acquired by Awesomeness Films. Before I Fall was adapted into a major motion picture starring Zoey Deutch. It debuted at the Sundance Film Festival in 2017, garnering a wide release from Open Road Films that year.
Oliver is a 2012 E. B. White Read-Aloud Award nominee for her middle-grade novel Liesl & Po, as well as author of the middle-grade fantasy novel The Spindlers and The Curiosity House series, co-written with H.C. Chester. She has written one novel for adults, Rooms.
Oliver co-founded Glasstown Entertainment with poet and author Lexa Hillyer. Since 2010, the company has developed and sold more than fifty-five novels for adults, young adults, and middle-grade readers. Some of its recent titles include the New York Times bestseller Everless, by Sara Holland; the critically acclaimed Bonfire, authored by the actress Krysten Ritter; and The Hunger by Alma Katsu, which received multiple starred reviews and was praised by Stephen King as "disturbing, hard to put down" and "not recommended…after dark."
Oliver is a narrative consultant for Illumination Entertainment and is writing features and TV shows for a number of production companies and studios.
Oliver received an academic scholarship to the University of Chicago, where she was elected Phi Beta Kappa. She received a Master of Fine Arts in Creative Writing from New York University.
www.laurenoliverbooks.com.
H. C. Chester is a collector of unusual relics who came into possession of the artifacts of the museum's estate and discovered the story of the four children.