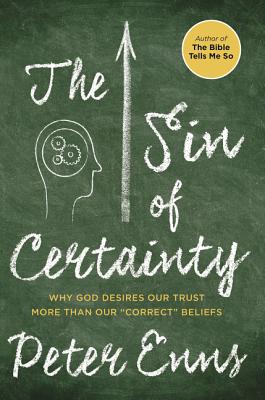 The Sin of Certainty
Why God Desires Our Trust More Than Our "Correct" Beliefs
Hardcover

* Individual store prices may vary.
Other Editions of This Title:
Digital Audiobook (4/4/2016)
Paperback (4/4/2017)
MP3 CD (4/5/2016)
MP3 CD (4/5/2016)
Compact Disc (4/5/2016)
Compact Disc (4/5/2016)
Description
The controversial evangelical Bible scholar and author of The Bible Tells Me So explains how Christians mistake "certainty" and "correct belief" for faith when what God really desires is trust and intimacy.
With compelling and often humorous stories from his own life, Bible scholar Peter Enns offers a fresh look at how Christian life truly works, answering questions that cannot be addressed by the idealized traditional doctrine of "once for all delivered to the saints."
Enns offers a model of vibrant faith that views skepticism not as a loss of belief, but as an opportunity to deepen religious conviction with courage and confidence. This is not just an intellectual conviction, he contends, but a more profound kind of knowing that only true faith can provide.
Combining Enns' reflections of his own spiritual journey with an examination of Scripture, The Sin of Certainty models an acceptance of mystery and paradox that all believers can follow and why God prefers this path because it is only this way by which we can become mature disciples who truly trust God. It gives Christians who have known only the demand for certainty permission to view faith on their own flawed, uncertain, yet heartfelt, terms.
Praise For The Sin of Certainty: Why God Desires Our Trust More Than Our "Correct" Beliefs…
"Enns is an acute reader of texts. His readers will welcome his puckish affirmation of the buoyant, sometimes outrageous, boundary-breaking capacity of biblical faith."
— Walter Brueggemann, Columbia Theological Seminary

"If you're afraid that your theological questions and doubts disqualify you from being a person of faith, theologian Peter Enns has good news for you. Really good news. And it's a delightful read too!"
— Brian D. McLaren, author of A New Kind of Christianity

"Enns is brilliant at taking the big topics, those Christian ideas that usually scare us or intimidate us or worry us, and then make those very places a meeting place with a God who is bigger and wilder and more wonderful and trustworthy than we ever could have guessed."
— Sarah Bessey, author of Out of Sorts and Jesus Feminist

"This book is accessible, freeing, empowering, and beautiful. I underlined almost every page. I only wish I had it in my hands fifteen years ago! I'm deeply thankful for Enns's work and his new book is right on time for many of us."
— Sarah Bessey, author of Out of Sorts and Jesus Feminist

"Seldom have I read a book that I so totally agree with! This is a very fine, very readable, often humorous, and much needed analysis of what Western Christianity is up against."
— Richard Rohr, author of Falling Upward

"The idea that at all times you must know what you believe, Enns writes, leads to having a closed heart to trusting God. I commend this book to you."
— Faith Matters

"Peter Enns' new book, The Sin of Certainty, will make you reflect on your life and question what you believe. That's a good thing."
— Joel Anderson, Resurrecting Orthodoxy

"Blending personal stories with Scripture, the book offers a new look at how the Christian life truly works."
— Publishers Weekly

"Enns has delivered yet another to-be-read-frequently volume to my library."
— Clarion Journal of Spirituality and Justice

"Virtually every page offers pithy and profound insight and wisdom… packed full of enough spiritual reflection, historical context, and biblical insight to keep me thinking about it long after I finished reading it."
— Patheos
HarperOne, 9780062272089, 240pp.
Publication Date: April 5, 2016
About the Author
Peter Enns is the Abram S. Clemens Professor of Biblical Studies at Eastern University, St. Davids, Pennsylvania. Enns speaks at schools, churches, and seminars across the country and is a frequent contributor to journals and encyclopedias. He is the author of several books, including The Sin of Certainty, The Bible Tells Me So, Inspiration and Incarnation, and The Evolution of Adam.
or
Not Currently Available for Direct Purchase