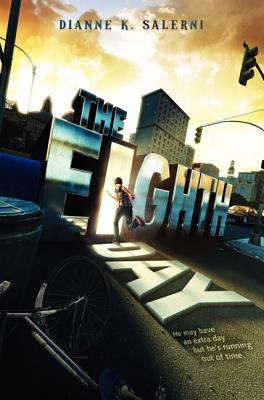 The Eighth Day
Hardcover

* Individual store prices may vary.
Other Editions of This Title:
Digital Audiobook (3/30/2020)
Paperback (1/6/2015)
Description
Fans of Percy Jackson will devour this first book in Dianne K. Salerni's time-bending series that combines exciting magic and pulse-pounding suspense. In this riveting fantasy adventure, thirteen-year-old Jax Aubrey discovers a secret eighth day with roots tracing back to Arthurian legend.
When Jax wakes up to a world without any people in it, he assumes it's the zombie apocalypse. But when he runs into his eighteen-year-old guardian, Riley Pendare, he learns that he's really in the eighth day—an extra day sandwiched between Wednesday and Thursday. Some people—like Jax and Riley—are Transitioners, able to live in all eight days, while others, including Evangeline, the elusive teenage girl who's been hiding in the house next door, exist only on this special day.
And there's a reason Evangeline's hiding. She is a descendant of the powerful wizard Merlin, and there is a group of people who wish to use her in order to destroy the normal seven-day world and all who live in it. Torn between protecting his new friend and saving the entire human race from complete destruction, Jax is faced with an impossible choice. Even with an eighth day, time is running out.
Stay tuned for The Inquisitor's Mark, the spellbinding second novel in the Eighth Day series!
Praise For The Eighth Day…
"Ancient magic pairs nicely with modern intrigue. Complicated alliances and ruthless villains keep the pages turning. A promising start to a new trilogy." — Kirkus Reviews (on The Eighth Day)
"[A] fast-paced, magical adventure. An unparalleled mix of evil villains, humor, and background that set this up for a likeable trilogy to be recommended for fans of Percy Jackson and Harry Potter. Absolutely necessary for middle grades." — Voice of Youth Advocates (VOYA)
"Fascinating…Melds Arthurian legend into present day. Fast paced and exciting." — School Library Journal
"Adventure, magic, and Arthurian legend combine in a roller-coaster ride of secrets. Perfect fodder for fans who adore mythology, legends, and series with more volumes yet to come." — ALA Booklist
"Suspense, stakes, and action. Enormously satisfying." — The Nerdy Book Club
Praise for the The Inquisitor's Mark: "The concept and the characters are strong, and should continue to entertain its audience who will now eagerly await book three." — School Library Journal
HarperCollins, 9780062272157, 320pp.
Publication Date: April 22, 2014
About the Author
Dianne K. Salerni attended the University of Delaware, where she earned her bachelor's degree in elementary education, and then went on to earn a master's in language arts education at the University of Pennsylvania. She was an elementary school teacher for over twenty years and has also written several books, including We Hear the Dead and The Caged Graves. The Inquisitor's Mark is the second book in the Eighth Day series. Although Dianne knows there's not really such a thing as a secret Eighth Day, discovering one would explain all the food that disappears in her house. Until then, she'll continue to blame her husband, Bob, her two teenage daughters, Gabrielle and Gina, and her dog, Sorcia. Dianne lives in Chester County, Pennsylvania.
or
Not Currently Available for Direct Purchase