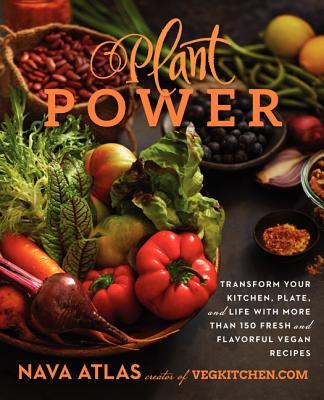 Plant Power
Transform Your Kitchen, Plate, and Life with More Than 150 Fresh and Flavorful Vegan Recipes
Hardcover

* Individual store prices may vary.
Description
Acclaimed and bestselling vegan author, cook, and creator of VegKitchen.com, Nava Atlas, delivers a beautiful must-have guide to transform your plate, your kitchen and your life with the best nature has to offer, including 125 delicious and versatile plant-based recipes for every day of the year.
Eating vegan doesn't have to be about sacrifice and substitutions. With Plant Power, Nava Atlas celebrates the bounty of natural foods and teaches everyone—from committed vegans to those who just want more plants in their diet—how to implement a plant-based approach to their lives—easily, practically, and joyfully, every day.
Illustrated with 75 gorgeous color photographs throughout, Plant Power focuses on the basics, from setting up a plant-powered pantry and fridge to choosing the best fresh foods for each season and streamlining daily meal preparation. Whether it's a stir-fry using leftover veggies in the crisper, a fajita dinner to please different taste buds, yummy hummus wraps, or a pot of chili to savor on a cold winter evening, Plant Power takes the challenge out of meal-planning and makes it fun. Each of the fresh and flavor-packed recipes is easy to make and customizable, with tips on variations from turning up the heat and mixing up ingredients, to kid-friendly, gluten-free, and seasonal options.
"By savoring and being grateful for the abundance of whole foods, a powerful message is conveyed," Nava writes. "This is what we choose to eat; this is sustainable. And best of all, eating this way makes the world a better and more compassionate place."
Praise For Plant Power: Transform Your Kitchen, Plate, and Life with More Than 150 Fresh and Flavorful Vegan Recipes…
"An absolute triumph. Full of mouth-watering, flexible, and easy recipes that serve as a foundation to inspire the home cook, this is the book I will give to anybody wanting to embark on a plant-based lifestyle."
— Tess Masters, author of The Blender Girl

"Nava Atlas understands natural foods and demystifies them completely. She welcomes you to the amazing world of plant-based dining and ensures that you'll dine divinely, whether you love cooking or simply need to make dinner in, ideally, no time."
— Victoria Moran, author of Main Street Vegan

Plant Power is sure to become an instant classic! Nava has given us a vegan roadmap that's comprehensive in scope, but easy to use. The outstanding recipes and tips are sure to inspire, and the gorgeous photos will whet your appetite for great plant-based food.
— Fran Costigan, author of Vegan Chocolate

"A must have for every kitchen in America! Comprehensive nutrition facts, shopping tips, meal planning, stunning food photos and of course healthy and innovative recipes from one of the world's most loved vegan cookbook authors. Plant Power will be your go-to cookbook."
— Laura Theodore, host of PBS's "Jazzy Vegetarian" and author of Jazzy Vegetarian Classics

"There's never been a better time to eat vegan, and Nava Atlas is your culinary guide. With Nava's expertise and food finesse, you will transition into this healthy and compassionate diet with ease... savoring every scrumptious bite along the way!"
— Dreena Burton, author of Let Them Eat Vegan!

"If any [readers] are looking for a primer, they have a good new source in Plant Power by Nava Atlas. Besides recounting her own journey, Atlas busts some common myths about plant-based eating ... and covers important nutritional considerations."
— Joe Yonan, Washington Post

"Plant Power deserves to be a best seller. It's one of those books that belong on every vegan cookbook shelf. If you haven't got a cookbook shelf, or you're not vegan (yet), start with Plant Power, by Nava Atlas. You'll be glad you did!"
— Judy Kingsbury, SavvyVegetarian.com

"I wish I had a copy of Nava's new book Plant Power back when I made the transition to vegan (or even vegetarian) eating, as it's packed with tons of tips on how to transition to plant-based eating, and it's full of delicious, yet simple recipes."
— Dianne Wenz, VeggieGirl.com and ChicVegan.com

"I am a Nava Atlas fan. Her latest book, Plant Power, is destined to become a vegan classic. With jaw-droppingly exquisite photos from gifted vegan food photographer, Hannah Kaminsky, readers will have a tough time deciding which vibrantly colorful recipe to make first."
— Gail Davis, Hungry Vegan

"Nava Atlas is back with this collection of 150 recipes that show how flavorful and colorful vegan food can be….featuring simple dishes that anyone can prepare and more-involved dishes for home cooks looking to push their kitchen skills to the next level; the photos are beyond gorgeous."
— The Oregonian (Portland)

"Plant Power is much more than a cook book. There's nothing prescriptive in this book; just straightforward, engaging, and well-written information. Whether you've been an avowed vegan for decades or you're just plant-curious, there's plenty for you to love in this book."
— Ricki Heller, cookbook author and holistic nutritionist

"Nava's easy and delicious recipes, helpful tips, and welcoming voice, along with lovely photos by Hannah Kaminsky, combine to make this a terrific book for new and longtime vegans alike."
— Robin Robertson, experienced chef and consultant

"We love Nava's practical plant-powered lessons as she shares approachable, joyful ideas that invite readers to accompany her on this delicious journey. "
— Oldways

"Containing more than 150 new and inspiring recipes, Plant POWER is much more than your average vegan cookbook. It's a primer and guide for regaining your health and vitality from the food at the end of your fork."
— Bring Your Own Lentils

"For more advice and delicious recipes than a hungry eater could imagine, you must check out the book."
— Bittersweet
HarperOne, 9780062273291, 384pp.
Publication Date: September 2, 2014
About the Author
Nava Atlas is an acclaimed vegan cook, creator of the popular VegKitchen.com, and bestselling author of Wild About Greens, Vegan Holiday Kitchen, Vegan Express, and The Vegetarian 5-Ingredient Gourmet. Atlas has also written for Vegetarian Times, VegNews, Cooking Light, and numerous other publications. She lives with her husband in New York's Hudson Valley.
or
Not Currently Available for Direct Purchase