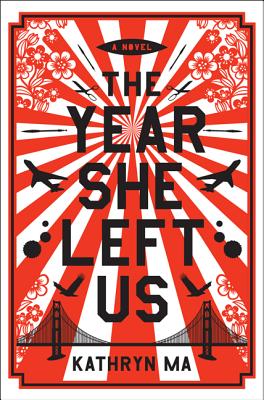 The Year She Left Us (Hardcover)
A Novel
Harper, 9780062273345, 336pp.
Publication Date: May 13, 2014
Other Editions of This Title:
Paperback (5/12/2015)
* Individual store prices may vary.
Description
From the winner of the 2009 Iowa Short Fiction Prize—comes the extraordinary, unexpected debut tale of three generations of Chinese-American women in a San Francisco family who must confront their past and carve out a future.
The Kong women are in crisis. A disastrous trip to visit her "home" orphanage in China has plunged eighteen-year-old Ari into a self-destructive spiral. Her adoptive mother, Charlie, a lawyer with a great heart, is desperate to keep her daughter safe. Meanwhile, Charlie must endure the prickly scrutiny of her beautiful, Bryn Mawr educated mother, Gran—who, as the daughter of a cultured Chinese doctor, came to America to survive Mao's Revolution—and her sister, Les, a brilliant judge with a penchant to rule over everyone's lives.
As they cope with Ari's journey of discovery and its aftermath, the Kong women will come face to face with the truths of their lives—four powerful intertwining stories of accomplishment, tenacity, secrets, loneliness, and love. Beautifully illuminating the bonds of family and blood, The Year She Left Us explores the promise and pain of adoption, the price of assimilation and achievement, the debt we owe to others, and what we owe ourselves.
About the Author
Kathryn Ma is the author of the story collection All That Work and Still No Boys, winner of the Iowa Short Fiction Award. The book was named a San Francisco Chronicle Notable Book and a Los Angeles Times Discoveries Book. She is also the recipient of the David Nathan Meyerson Prize for Fiction.
Praise For The Year She Left Us: A Novel…
"A deft, raw dissection of an American family….With great cleverness, Ma injects her Chinese family with American realism."
— Rebecca Liao, San Francisco Chronicle

"Kathryn Ma's first novel is electrified by the enraged tenderness of its alienated young protagonist. Part mystery, part odyssey, The Year She Left Us heralds the arrival of a fierce, subtle new American voice."
— Jennifer Egan, author of A Visit from the Goon Squad

"Full of secrets and obsessed with identity, this story of an adopted Chinese girl comes closer to the complexity of things than any other account I have read. It is moving and well told, and rings perfectly true."
— Gish Jen, author of World and Town

"The characters of Kathryn Ma's glittering debut novel are complicated, infuriating and hugely sympathetic. I couldn't wait to find out what they'd do next; I envy readers coming to these pages for the first time."
— Margot Livesey, author of The Flight of Gemma Hardy

"Haunting….The foundling may be a family figure in the history of the novel, most prominently in Dickens and the Brontës, but Ma gives us a striking 21st-century iteration…One of the stunning accomplishments of this book is Ma's tonal range."
— Mona Simpson, New York Times Book Review

"A sparklingly original fiction debut."
— O, the Oprah Magazine

"There's much to enjoy in The Year She Left Us….It's Ari's voice that sets this novel on fire….The magnetism exerted by Ari's chapters is all the more impressive because for much of the book, the character's misery seems to float free of her circumstances."
— Laura Miller, Salon

"In telling Ari Kong's quest, Ma succeeds in creating a deeply intelligent heroine as compelling as Holden Caulfield and Alexander Portnoy….The Year She Left Us is a fresh, compelling look at the ties that bind among all the kinds of families that we create."
— May-Lee Chai, Dallas Morning News

"In this provocative tale of a family pulled apart, Kathryn Ma proves herself a powerful storyteller and an astute observer of the complexities of human experience and the perils and possibilities of love."
— Karin Evans, author of The Lost Daughters of China and Not Quite Home

"Ma brings all sorts of relationships-mother-daughter, sister-sister, friend-friend-to vivid life. And she painstakingly conveys that we are never just one thing, and can never be fixed by just one formula."
— Booklist

"This story of strong women and their attachments is beautifully told, and is remarkably shrewd about familial love, cultural norms, and estrangement. A wonderfully rich first novel."
— Charles Baxter, author of The Feast of Love

"Incandescent….A stirring excavation of adolescent, familial and racial identity…The Year She Left Us is difficult and lovely, wild and endearing."
— Shelf Awareness

"A nuanced take on what it means to be Chinese-American….The novel questions the meaning of family, background and belonging….An impassioned, unapologetic look at tough, interesting subjects."
— Kirkus Reviews

"A sweeping success-a standout from the many novels about Chinese assimilation and the families of Chinese immigrants-with a fascinating protagonist with a troubling past….This is a family saga of insight, regret, and pathos, and it is not to be missed."
— Publishers Weekly, starred review

"Poignant and impressive….this novel is one that could be taught alongside a number of other outstanding Asian American narratives/memoirs concerning adoptees such as Jane Jeong Trenka's Fugitive Visions and Monique Truong's Bitter in the Mouth."
— Stephen Hongsohn, Asian American Literature Fans

"Uniquely articulated and refreshing."
— Stanford Magazine

"With subtle intelligence and wry humor, Kathryn Ma brings us characters whose lives are complicated-in all the best ways-by family, race, immigration, and quirks of personality. These wonderful stories have the resonance of truth even as they make you see the world in new ways."
— Curtis Sittenfeld on All That Work and Still No Boys

"Ma's stories are layered…there are no good guys, no bad guys, just the deep suffering that ripples through families-the things that everyone knows and no one talks about."
— Los Angeles Times on All That Work and Still No Boys

"Kathryn Ma is a wonderful writer. Subtle, complex, funny, touching, these stories deliver a world of characters I shall not forget."
— Lynn Freed on All That Work and Still No Boys
or
Not Currently Available for Direct Purchase