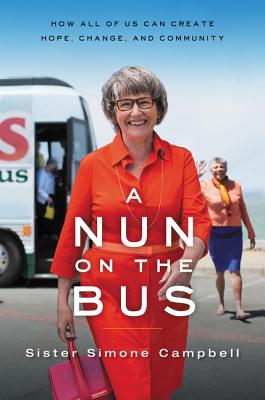 A Nun on the Bus
How All of Us Can Create Hope, Change, and Community
Paperback

* Individual store prices may vary.
Description
Driving for faith, family, and fairness
In the summer of 2012, Sister Simone Campbell and a group of fellow Roman Catholic nuns toured parts of the country to rally support against Congressman Paul Ryan's budget, a plan that cut vital social programs for the hurting poor and the struggling middle class. Prayer groups turned into rallies, and small town meetings became national media events. Sister Simone became a galvanizing force for progressives of all stripes and remains a driving force for programs and policies that support tolerance, equality, and justice.
Rooted in a deep spirituality of compassion and service, Sister Simone gives voice to the hunger, isolation, and fear that so many people in America feel. She shows how we can create real transformation in our communities through the contemplative life of prayer. These powerful, inspiring stories from the Nuns on the Bus tour and from Sister Simone's own life offer a fresh vision for a lived spirituality that is at the heart of today's progressive Christian movements working for change.
Praise For A Nun on the Bus: How All of Us Can Create Hope, Change, and Community…
"If there's a single phrase to describe Sister Simone, it is 'compassionate conviction.' With bravery, with courage, with optimism, she is focused on the common good. She is a champion for the cause of peace and justice. She has the will and the drive to do right." — Congresswoman Nancy Pelosi
"I truly believe that the Nuns on the Bus campaign changed the national conversation on our national priorities and our budget. .Let me also congratulate one of my personal "sheroes," and a clear and compelling voice for social justice: Sister Simone Campbell." — Senator Richard "Dick" Durbin
"Who doesn't love a feisty nun? The Catholicism of Sister Campbell…is the faith of social justice activists like Dorothy Day and Thomas Merton, the church whose pope pleaded for relief of the 'misery and wretchedness pressing so unjustly on the majority of the working class.'" — New York Times
"[Campbell] is an unusual combination of hard–hitting political strategist and poetry–writing spiritual figure…Campbell's style of engagement on the Hill is part Zen master, part political tactician." — Washington Post
"Campbell's advocacy is rooted in her faith, in doing what Jesus says we should do." — Chicago Tribune
"Nuns have played many roles in Catholic history, from convent monastics to street activists, but it's difficult to think of another nun like Sister Simone Campbell. A registered lobbyist and political strategist, she has exercised quiet but important influence in advancing liberal Catholic causes in Washington." — Time magazine
"The Nuns on the Bus rolled into South Bend, Ind., on Thursday evening to find the same sort of enthusiastic crowds that often greet Notre Dame teams coming home after big wins on the road." — National Catholic Reporter
"And on the fourth day…Nuns on the Bus came to South Bend, Indiana…the women religious involved in this nine-state pilgrimage met with 300 adoring, sign-waving supporters…" — Commonweal
"My conservative friends insist Paul Ryan's Roadmap is the answer to our economy to ensure a rosy future for our children… These courageous nuns decided to follow their conscience and report what the real effects would mean for Americans. Nuns on the Bus are hitting the road with the facts…" — Detroit News
"Nuns on the Bus share a gospel of community and collective responsibility…The Nuns on the Bus speak with the kind of moral authority that politicians simply do not have, no matter how much they try to dress up Ayn Rand's philosophy in religious rhetoric." — Examiner
"Nuns on the Bus travel the continent on behalf of justice. It is hard to choose a word to describe the interaction between the crowd and the travelers. One could say 'enthusiastic,' or 'excited,' but none of those words really captures the mood. The only word that fits is love." — People's World
"NETWORK's projects, as well as Sister Simone's undertakings, draw on a history that is both feminist-positive, respectful of both diversity and tradition, and intended to provide justice for all." — Booklist
HarperOne, 9780062273550, 224pp.
Publication Date: April 7, 2015
About the Author
Sister Simone Campbell is the executive director of NETWORK, a nonprofit Catholic social justice lobby in Washington, D.C. In 2012, Sister Simone organized NETWORK's Nuns on the Bus campaign that has attracted an avalanche of media attention in the United States and other parts of the world. Sister Simone, who in 1978 became an attorney and founded a community law center that served the legal needs of the working poor, is a long-standing member of the Sisters of Social Service and has appeared on The Daily Show with Jon Stewart, The Colbert Report, The O'Reilly Factor, PBS with Bill Moyers, and all of the national radio and TV networks, and spoke at the 2012 Democratic National Convention.