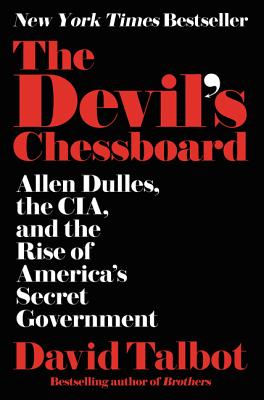 The Devil's Chessboard
Allen Dulles, the CIA, and the Rise of America's Secret Government
Hardcover

* Individual store prices may vary.
Other Editions of This Title:
Digital Audiobook (10/12/2015)
Paperback (9/6/2016)
Compact Disc (10/13/2015)
Compact Disc (10/13/2015)
Description
An explosive, headline-making portrait of Allen Dulles, the man who transformed the CIA into the most powerful—and secretive—colossus in Washington, from the founder of Salon.com and author of the New York Times bestseller Brothers.
America's greatest untold story: the United States' rise to world dominance under the guile of Allen Welsh Dulles, the longest-serving director of the CIA. Drawing on revelatory new materials—including newly discovered U.S. government documents, U.S. and European intelligence sources, the personal correspondence and journals of Allen Dulles's wife and mistress, and exclusive interviews with the children of prominent CIA officials—Talbot reveals the underside of one of America's most powerful and influential figures.
Dulles's decade as the director of the CIA—which he used to further his public and private agendas—were dark times in American politics. Calling himself "the secretary of state of unfriendly countries," Dulles saw himself as above the elected law, manipulating and subverting American presidents in the pursuit of his personal interests and those of the wealthy elite he counted as his friends and clients—colluding with Nazi-controlled cartels, German war criminals, and Mafiosi in the process. Targeting foreign leaders for assassination and overthrowing nationalist governments not in line with his political aims, Dulles employed those same tactics to further his goals at home, Talbot charges, offering shocking new evidence in the assassination of President John F. Kennedy.
An exposé of American power that is as disturbing as it is timely, The Devil's Chessboard is a provocative and gripping story of the rise of the national security state—and the battle for America's soul.
Praise For The Devil's Chessboard: Allen Dulles, the CIA, and the Rise of America's Secret Government…
"A Cold War villain of realpolitik whose successes and blunders were unrivaled. As framed by Talbot, Dulles's extra-legal interventions, coups, slush funds, and ex-Nazi collaborations were as much pro-corporate as anti-Communist, more Cheneyish than Nixonian.... He'd fit right into our globalized, subcontracted, and hypersurveilled era."
— New York Magazine

"Dulles is unmasked as the backstage manipulator of US policy (foreign and domestic) from the Cold War up to his skillful defense of the highly suspect Warren Commission report. Those who scoff at conspiracy theories might have a change of mind after reading this book."
— Boston Globe, Pick of the Week

"A frightening biography of power, manipulation, and outright treason…The story of Allen Dulles and the power elite that ran Washington, D.C., following World War II is the stuff of spy fiction…All engaged American citizens should read this book and have their eyes opened."
— Kirkus, starred review

"A damning biography—of the CIA's longest standing director—and an exposé of American politics…. One would be hard pressed to find a book that is better at evoking the strange and apocalyptic atmospherics of the early Cold War years in America.... Neither le Carré nor Graham Greene could do any better."
— Daily Beast

"Offers a portrait of a black-and-white Cold War-era world full of spy games and nuclear brinkmanship."
— Mother Jones

"This year's best spy thriller isn't fiction — it's history…. By the time 'The Devil's Chessboard' eventually climaxes with the events that unfolded in Dallas in 1963, Talbot's argument that Dulles had both the power and temperament to execute such a plot is more than believable."
— Salon

"A chilling psychological depiction.... The vast surveillance system so dramatically revealed to the world by Edward Snowden could never have come to pass without the culture of fanatical secrecy and habitual lawlessness handed down by Dulles and his loyal agents."
— Justyn Dillingham, Bookslut.com

"This aptly titled book portrays Allen Dulles as the dark prince of the Cold War who manipulated the media, deceived presidents, helped stir up coups... [and might] have been involved in Kennedy's assassination. Readers who enjoy espionage's dark history will have a tough time putting this book down."
— Library Journal

"Essential reading, especially for readers with even a passing interest in post-WW2 U.S. foreign policy."
— CounterPunch
Harper, 9780062276162, 704pp.
Publication Date: October 13, 2015
About the Author
David Talbot is the author of the New York Times bestseller Brothers: The Hidden History of the Kennedy Years and the acclaimed national bestseller Season of the Witch: Enchantment, Terror, and Deliverance in the City of Love. He is the founder and former editor in chief of Salon, and was a senior editor at Mother Jones and the features editor at the San Francisco Examiner. He has written for The New Yorker, Rolling Stone, Time, The Guardian, and other major publications. Talbot lives in San Francisco, California.
or
Not Currently Available for Direct Purchase