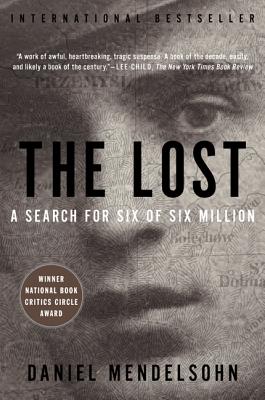 The Lost (Paperback)
The Search for Six of Six Million
Harper Perennial, 9780062277770, 688pp.
Publication Date: November 12, 2013
* Individual store prices may vary.
Description
In this rich and riveting narrative, a writer's search for the truth behind his family's tragic past in World War II becomes a remarkably original epic—part memoir, part reportage, part mystery, and part scholarly detective work—that brilliantly explores the nature of time and memory, family and history.
About the Author
Daniel Mendelsohn a frequent contributor to The New York Review of Books and The New Yorker, is the author of the international bestseller The Lost: A Search for Six of Six Million. He teaches at Bard College.
Praise For The Lost: The Search for Six of Six Million…
"Epic and personal, meditative and suspenseful, tragic and at times hilarious, The Lost is a wonderful book."
— Jonathan Safran Foer

"An excellent memoir. . . . The Lost . . . brings to life the struggle of an entire generation."
— People (four stars)

"A stunning memoir. . . . As suspenseful as a detective thriller, and as difficult to put down."
— Francine Prose, O, The Oprah Magazine

"A beautiful book, beautifully written."
— Michael Chabon

"The Lost is a sensitively written book that constantly asks itself the most difficult questions about history and memory."
— BookForum

"A grand book, an ambitious undertaking fully realized."
— The Forward

"A magnificent and deeply wise book. . . . Mesmerizing. . . . Mendelsohn's accomplishment is enormous."
— The Los Angeles Times Book Review

"The Lost is the most gripping, the most amazing true story I have read in years."
— Charles Simic, The New York Review of Books

"Daniel Mendelsohn has written a powerfully moving work of a "lost" family past. . . . A remarkable achievement."
— Joyce Carol Oates

"A stunning achievement. . . . Extraordinary."
— Rebecca Goldstein, The New York Observer

"Hugely ambitious yet intensely engaging. . . . Absorbing, novelistic. . . . Thought-provoking and original."
— Ron Rosenbaum, The New York Times Book Review (front cover)

"A stirring detective work, The Lost is … deepened by reflections on the inescapable part that chance plays in history."
— J. M. Coetzee

"Mendelsohn, a classicist, creates a stunning Odyssey here, an epic world-wandering."
— Garry Wills

"Stunning. . . . A singular achievement, a work of major significance and pummeling impact."
— Samuel G. Freedman, The Chicago Tribune