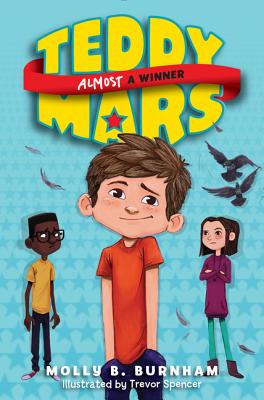 Teddy Mars Book #2
Almost a Winner
Paperback

* Individual store prices may vary.
Description
Teddy goes from record breaker to friendship fixer in the heartwarming and hilarious follow-up to Molly B. Burnham's 2016 Sid Fleischman Humor Award-winning debut, Teddy Mars: Almost a World Record Breaker, now in paperback.
Win or lose, friends stick together. But when Teddy's whole class decides to break a bigger, better world record, friends turn into enemies. And Teddy feels stuck in the middle. To fix this mess, Teddy will have to do something he's never done before—try NOT to break a record! Can he win at losing before his whole class misses out? Humor and grit triumph in this story of one boy's struggle to make peace in a class full of record breakers, a coop full of pigeons, and a world full of wonders.

Told in short, accessible sections with fun lists and highly rambunctious illustrations, the heartwarming Teddy Mars series is perfect for reading aloud. Teddy's never-give-up attitude will have readers laughing out loud and striving to break world records of their own.
Praise For Teddy Mars Book #2: Almost a Winner…
Praise for TEDDY MARS: ALMOST A WINNER: "Young readers with siblings will identify with Teddy's realistic struggles with his younger brother and older sisters. Short chapters and the subject matter make this a perfect book for reluctant readers as well as those who enjoy a laugh. Here's hoping for more Teddy Mars adventures!" — School Library Journal
"Teddy's fresh perspective, aided by spot-on middle-grade humor… will win over readers in no time flat." — Bulletin of the Center for Children's Books
"A hilarious story that revolves around school, friends, and family." — Booklist
Praise for TEDDY MARS: ALMOST A WOLRD RECORD BREAKER: 2016 Sid Fleischman Humor Award winner — .
"Teddy Mars is the everyman kind of anti-hero, with a stubborn hope and determination to find his own place in the world. It is this quality of resilience in the face of adversity... that makes him such an irresistible and adorable character who is easy to root for." — Johanna McKenna M.Ed., for The Nerdy Book Club
"Engaging first-person narration, ample drama and bizarre actual world records. Fans of world-record quests will savor Teddy's efforts." — Kirkus Reviews
"A highly entertaining debut. Delightfully rambunctious black and white sketches elevate the comedy, while Teddy's hard-nosed perseverance with the aid of friends new and old, takes world record-making to hilarious new heights." — Publishers Weekly
"This heartwarming story starts the Teddy Mars series on a hilarious foot, tracing one boy's struggle to stand out in a big family, one failed record-breaking attempt after another. Once the wreckage is cleared, what's left is a loving family that celebrates one another for exactly who they are." — Booklist
"Teddy is so amiable and put-upon, he'll find plenty of fans who'll want to read more in the promised series." — School Library Journal
"There's a lot to love here: a quirky family, an eccentric next door neighbor, best friends, and a dream come true." — Literacy Daily
Katherine Tegen Books, 9780062278142, 288pp.
Publication Date: February 21, 2017
About the Author
Molly B. Burnham has been a dog walker, ice-cream scooper, and elementary school teacher. She lives in Massachusetts with her husband, two daughters, and a dog named Pepito. Pigeons really do live next door to her. Sadly, Grumpy Pigeon Man does not. Molly earned an MFA in children's writing from Hamline University. This is her first book, but not her last. She has not broken a world record—yet!
Trevor Spencer loves animated films almost as much as Teddy Mars loves world records. Trevor fills his days with making toys and drawing books with his lovely wife in California. His evenings are dedicated to bringing Teddy Mars to life, and he couldn't be happier.
or
Not Currently Available for Direct Purchase