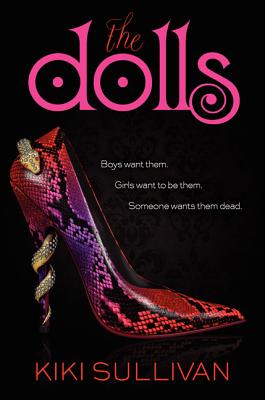 The Dolls
Paperback

* Individual store prices may vary.
Description
Pretty Little Liars meets Beautiful Creatures in this steamy southern suspense novel about a group of powerful teen voodoo queens who will do anything to get what they want.
Eveny Cheval has just moved back to Carrefour, Louisiana—a town she left fourteen years ago in the wake of her mother's suicide. An outsider at first, Eveny quickly finds herself embroiled in a web of intrigue, betrayal, and lies. Enter Peregrine Marceau, Chloe St. Pierre, and their group of rich, sexy friends collectively known as the Dolls. They want to bring Eveny into their circle and share their darkest truths with her.
Eveny is wary of these girls, but after murder strikes and she discovers that everything she believes about herself, her family, and her life is a lie, she's forced to turn to the Dolls for answers. Something's wrong in paradise, and it's up to Eveny, Chloe, and Peregrine to save Carrefour and make it right.
Praise For The Dolls…
"With its spooky Southern setting, magic and mayhem, and a heroine I'd invite to my slumber party any time, THE DOLLS is shivery fun at its finest!" — Rachel Hawkins, New York Times bestselling author of the Hex Hall series
"Sullivan capitalizes on the Southern setting here to spine-tingling effect as the story moves in a surprising direction involving voodoo magic and sinister forces at work around Carrefour. Sure to be popular with fans of the "Vampire Academy", "Hex Hall", "Caster Chronicles" or "Pretty Little Liars" series." — School Library Journal
"Sullivan's talent for moving the action forward makes for a breezy, engaging read." — Publishers Weekly
Balzer + Bray, 9780062281487, 384pp.
Publication Date: September 2, 2014
About the Author
Kiki Sullivan is the author of The Dolls. Like her main character, Eveny Cheval, Kiki used to live in New York and now calls the American South home. Unlike Eveny, she finds it impossible to keep her rose garden alive and has been singlehandedly responsible for the unfortunate demise of countless herbs. She may or may not have hung out with queens of the dark arts, strolled through creepy New Orleans cemeteries at night, and written this series with a redheaded Louisiana voodoo doll beside her computer.