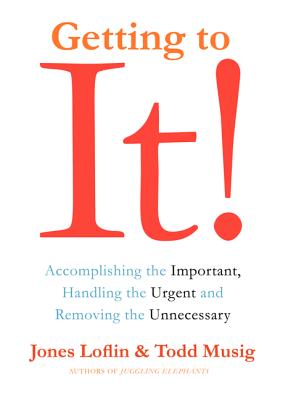 Getting to It (Hardcover)
Accomplishing the Important, Handling the Urgent, and Removing the Unnecessary
Harper Business, 9780062282422, 240pp.
Publication Date: October 1, 2013
* Individual store prices may vary.
Description
From Jones Loflin and Todd Musig, the authors of Juggling Elephants, comes Getting to It—a practical guide to sorting through the many priorities in your life, showing you how to carefully and consistently evaluate what your IT (Important Thing) should be, and how to get IT done.
How busy are you? In the daily struggle to get it all done, what are you forgetting? Is your mind constantly racing with lists of all the things you could and should be doing? Does your day often feel like you're treading water in an ocean of rushes and deadlines, trying to keep from drowning while handling increasing work and life demands?
Don't give up—help is on the way. You just have to find your It. The Important Thing. Define It. Plan It. Focus on It. Get excited about It.
Identifying It isn't just the first step in the process of getting focused and heading in the right direction, it's every step. Getting to It: Accomplishing the Important, Handling the Urgent, and Removing the Unnecessary provides the necessary tools to accomplish the important, handle the urgent, and get rid of the unnecessary. Want to enjoy a more fulfilling life? Get to It.
About the Author
Jones Loflin is an internationally recognized speaker/trainer and the coauthor of the award-winning book Juggling Elephants. He has developed and delivered solutions for many Fortune 500 companies in the areas of time management, focus, motivation, and work-life balance. Jones has also worked as the trainer of trainers for Who Moved My Cheese? LLC. He lives in North Carolina.
Todd Musig is a senior training industry executive and consultant, with extensive experience in marketing and business operations. He has been associated with FranklinCovey, AchieveGlobal, and Who Moved My Cheese? LLC; has worked with Hyrum W. Smith, Stephen Covey, and Spencer Johnson, MD; and is the coauthor of the award-winning book Juggling Elephants. He lives in Utah.
Praise For Getting to It: Accomplishing the Important, Handling the Urgent, and Removing the Unnecessary…
"If you really want to achieve IT, then get this book. The authors detail a simple but powerful approach to achieving more of what really matters in your work and life."
— Mark Sanborn, bestselling author of The Fred Factor and You Don't Need a Title to be a Leader

"For readers with endless to-do lists and more tasks than time in a day, the authors offer a practical guide to sorting out the important thing that eludes them....[A] practical guide that counsels balance between the personal and professional in the process of accomplishing IT."
— Booklist

"Loflin and Musig believe it is important to define and focusing on "it." "It" is The Important Thing....By following the advice in their new book, it should be easier to sort through our many priorities to determine what is most important and downgrade the rest."
— Tuscon Citizen
or
Not Currently Available for Direct Purchase