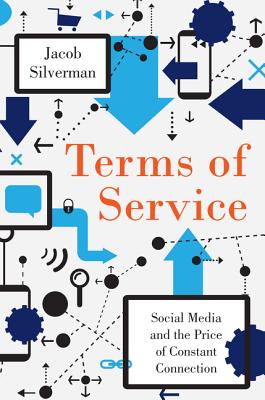 Terms of Service
Social Media and the Price of Constant Connection
Hardcover

* Individual store prices may vary.
Other Editions of This Title:
Paperback (3/8/2016)
Description
Social networking has grown into a staple of modern society, but its continued evolution is becoming increasingly detrimental to our lives. Shifts in communication and privacy are affecting us more than we realize or understand. Terms of Service crystalizes this current moment in technology and contemplates its implications: the identity-validating pleasures and perils of online visibility; our newly adopted view of daily life through the lens of what is share-worthy; and the surveillance state operated by social media platforms—Facebook, Google, Twitter, and others—to mine our personal data for advertising revenue, an invasion of our lives that is as pervasive as government spying.
Jacob Silverman calls for social media users to take back ownership of their digital selves from the Silicon Valley corporations who claim to know what's best for them. Integrating politics, sociology, national security, pop culture, and technology, he reveals the surprising conformity at the heart of Internet culture—explaining how social media companies engineer their products to encourage shallow engagement and discourage dissent. Reflecting on the collapsed barriers between our private and public lives, Silverman brings into focus the inner conflict we feel when deciding what to share and what to "like," and explains how we can take the steps we need to free ourselves from its grip.
Praise For Terms of Service: Social Media and the Price of Constant Connection…
"For readers who need regular reminding about the threat posed by social media's fake friendliness, Jacob Silverman's "Terms of Service: Social Media and the Price of Constant Connection" is a good scare… a mix of history, science fiction and news you can use". — Janet Maslin, New York Times
"Important and valuable. . . . Well-reported and carefully argued. . . . A serious, erudite appraisal of social media is exactly what we need right now." — The San Francisco Chronicle
"Provocative and troubling." — Flavorwire
"A deep and disquieting plunge into digital culture. . . . Relentlessly skeptical, Silverman captures beautifully the surreal aspects of the social media experience. . . . Intelligent, provocative and illuminating." — Kirkus (starred review)
"When I started reading Jacob Silverman's Terms of Service I wanted to tweet all about this brilliant new book. By the time I finished, I couldn't tweet for the rest of the day. Silverman will redefine how you look at social media." — Gary Shteyngart
"Silverman has made a name for himself in recent years as a thoughtful critic of our evolving digital lifestyles. . . . Unsparing. . . . Essential reading for anybody who's ever 'liked' or 'shared' anything on social media." — The Los Angeles Times
"Terms of Serviceis the literary equivalent of taking the red pill while inside the Matrix — the reality is hard to swallow, but the call to free ourselves from digital serfdom is too compelling to ignore. . . . Silverman's work stays with you." — The Washington Post
"Silverman writes in the shadow of Christopher Lasch's Culture of Narcissism, Susan Sontag's On Photography, and John Berger's Ways of Seeing: his work, like theirs, squints into the bright fascinations of our time. . . . Profound, pragmatic and compassionate." — The Christian Science Monitor
"An absorbing look at the conflict between privacy and social media." — Booklist
"Many tech books are either naively optimistic or full of nostalgic gloom. Jacob Silverman's critique of our technologically-mediated world is pitch-perfect -- relentlessly principled, insightful, and readable." — Astra Taylor
"Silverman is a careful observer of how we spend our time online. . . . A measured judgment of the Internet's first 25 years and a cautious look at its future." — Pacific Standard
"As social media platforms and other technologies diffuse into our everyday lives, Silverman acts as a much-needed digital skeptic. . . . Silverman proves himself an astute cultural critic as he addresses the complexity of the current moment in technology." — Publishers Weekly
"Essential. . . . Though there are myriad other books on this topic, Silverman astutely points out that this is a conversation that needs to be had more than once. A serious consideration of the issues for people on both sides of the argument." — Library Journal
"An incredibly detailed and eye-opening account of the state of social media. . . . Stunning in both its breadth and depth." — Shelf Awareness
Harper, 9780062282460, 448pp.
Publication Date: March 17, 2015
About the Author
Jacob Silverman's work has been published in the New York Times, the Los Angeles Times, Slate, the Atlantic, the New Republic, and many other publications. In 2008 the Virginia Quarterly Review recognized him as one of the top literary critics under thirty, and in 2012 he became a three-time Jeopardy! champion. He is on the board of Deep Vellum, a publisher of international literature. He lives in Brooklyn, New York.
or
Not Currently Available for Direct Purchase