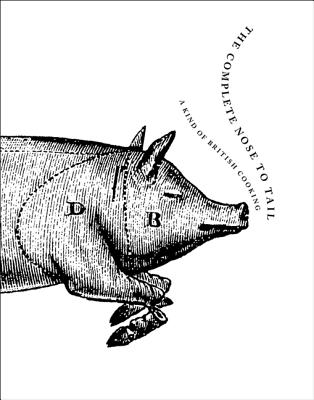 The Complete Nose to Tail
Hardcover

* Individual store prices may vary.
Description
"A cult masterpiece." -Anthony Bourdain
The Complete Nose to Tail is an exhilarating compendium that brings together maverick chef Fergus Henderson's two acclaimed cookbooks—Whole Beast and Beyond Nose to Tail. 
Adventurous palates as well as some of the most famous names in the food world—including Mario Batali, Anthony Bourdain, Jamie Oliver, and Daniel Boulud—flock to Fergus Henderson's London restaurant, St. John, to indulge in his culinary artistry. A conscientious and resourceful chef who lives by the motto "Nose to Tail," Henderson advocates using everything that is possibly edible of fowl, beast, and fish, creating dishes that fuse high sophistication with a strong tradition of rustic thriftiness.
The Complete Nose to Tail presents Henderson's complete culinary oeuvre: recipes that offer a unique and delicious eating experience. Both refined and curious eaters can enjoy a taste of the wild side with such dishes as Pig's Trotter Stuffed with Potato, Rabbit Wrapped in Fennel and Bacon, and Roast Bone Marrow and Parsley Salad, as well as sumptuous familiar fare, including Deviled Crab; Smoked Haddock, Mustard, and Saffron; and Green Beans, Shallots, Garlic, and Anchovies. There are desserts, too: sublime puddings, such as the St. John Eccles Cakes, and the timeless favorite Chocolate Ice Cream.
"It would be disingenuous to the animal not to make the most of the whole beast; there is a set of delights, textural and flavoursome, which lie beyond the fillet." -Fergus Henderson

Praise For The Complete Nose to Tail…
Henderson's London restaurant St. John - and arguably the cookbooks that came out of it - is almost entirely responsible for the modern nose-to-tail movement.[...] Either book is a must for chefs and home cooks alike, and now you can get them in a shelf-space-saving single volume. — Eater
With recipes including rabbit wrapped in fennel and bacon, Henderson takes what otherwise might be considered 'eating as extreme sport' and gives it a refined touch in his new compendium, THE COMPLETE NOSE TO TAIL." — Bookish (Cookbook Roundup)
Ecco, 9780062282613, 416pp.
Publication Date: October 1, 2013
About the Author
Fergus Henderson trained as an architect before becoming a chef, opening the French House Dining Room in 1992 and St. John in 1995, which has won numerous awards and accolades, including Best British and Best Overall London Restaurant at the 2001 Moët & Chandon Restaurant Awards. The Whole Beast won the 2000 Andre Simon Award.