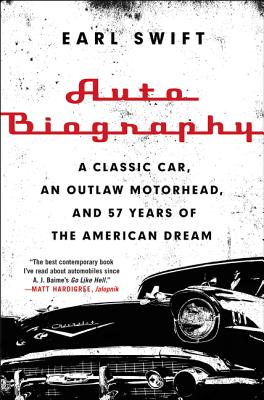 Auto Biography
A Classic Car, an Outlaw Motorhead, and 57 Years of the American Dream
Paperback

* Individual store prices may vary.
Other Editions of This Title:
Digital Audiobook (5/5/2014)
Compact Disc (5/6/2014)
Compact Disc (5/6/2014)
Description
A brilliant blend of Shop Class as Soulcraft and The Orchid Thief, Earl Swift's wise, funny, and captivating Auto Biography follows an outlaw auto dealer as he struggles to save a rusted '57 Chevy—a car that has already passed through twelve pairs of hands before his—while financial ruin, government bureaucrats and the FBI close in on him.
Slumped among hundreds of other decrepit hulks on a treeless, windswept moor in eastern North Carolina, the Chevy evokes none of the Jet Age mystique that made it the most beloved car to ever roll off an assembly line. It's open to the rain. Birds nest in its seats. Officials of the surrounding county consider it junk.
To Tommy Arney, it's anything but: It's a fossil of the twentieth-century American experience, of a place and a people utterly devoted to the automobile and changed by it in myriad ways. It's a piece of history—especially so because its flaking skin conceals a rare asset: a complete provenance, stretching back more than fifty years.
So, hassled by a growing assortment of challengers, the Chevy's thirteenth owner—an orphan, grade-school dropout and rounder, a felon arrested seventy-odd times, and a man who's been written off as a ruin himself--embarks on a mission to save the car and preserve long record of human experience it carries in its steel and upholstery.
Written for both gearheads and Sunday drivers, Auto Biography charts the shifting nature of the American Dream and our strange and abiding relationship with the automobile, through an iconic classic and an improbable, unforgettable hero.
Praise For Auto Biography: A Classic Car, an Outlaw Motorhead, and 57 Years of the American Dream…
"The best contemporary book I've read about automobiles." — Matt Hardigree, Jalopnik
"I've never met Earl Swift, but from the very first page of this book I like him. Auto Biography is exuberant, big-spirited, and more than occasionally profound." — TRACY KIDDER, Pulitzer Prize winning author of Mountains Beyond Mountains
"Earl Swift has done something astonishing. He has let us see the unwinding of the American Dream through the windshield of a single 1957 Chevy-and through the stories of every one of its owners. Auto Biography is funny and sad and wise, an ingenious joyride of a book." — BILL MORRIS, author of Motor City Burning
"Fascinating... The author tells Arney's story deftly and with great, often raw, humor, and it rarely loses momentum." — Booklist
"A true tall tale that doubles as a complicated fable, Auto Biography is the wild and woolly saga of a 1957 Chevrolet station wagon, its 13 owners, and Tommy Arney, the appetite-forward, contradictorily honorable character who restores the four-door chariot to a glory even greater than its original." — Christian Science Monitor
"[A] must read … It's the bromance of the ages: a ruined man and and a ruined '57 Chevy find happiness in each other's arms." — New York Post
"Engrossing and entertaining.... The narrative tactfully unfolds with deeply human stories of struggle, ambition, hopes, dreams.... Swift is a wonderful guide and the stories he relates are engaging in their own right." — Publishers Weekly
"Dazzling. … Many readers likely will feel the description Swift paints of Arney in the first page and a half of the book is worth the $26.99 price tag alone." — Daily Progress (Charlottesville, VA)
"A good fun read. … There's rust, havoc, renovation and redemption, for the car and several of its owners. … The car talk is interesting and accurate; an easy and well written read. Swift is a big name, award-winning writer, and his chops show well here." — Matt Stone, former editor, Motor Trend Classic
"A fresh, personal perspective on America's love affair with the automobile." — Joe Bargmann, of Popular Mechanics, Road & Truck, and the wildly popular blog, "Backseat Driver"
"Full of crackerjack reporting and fuel-injected mirth... Swift's lengthy step-by-step description of the disassembly and recreation process is as nail-biting as any drugstore action-thriller. It's hard to conceive of a more riveting (or unriveting) work on the subject than Auto Biography." — Atlanta Journal-Constitution
"Swift delivers on the ambitious scope of his subtitle, and will capture the imagination of classic car fans and non-fans alike. Highly recommended." — Jason Fogelson of Forbes
"Entertaining and enlightening." — Fort Worth Star-Telegram
"Swift negotiates a phrase like a car with a tight turning radius." — The Durham Herald Sun
"An entertaining, surprisingly informative and action-packed tale." — Houston Chronicle
"Swift excels at such descriptions of autos and people, as well as observations on society and pop culture." — Dallas Morning News
"A great read, with the cast, dialogue and drama of a novel." — Detroit Free Press
Mariner Books, 9780062282682, 384pp.
Publication Date: March 17, 2015
About the Author
Journalist Earl Swift has written seven books and hundreds of major features for newspapers and magazines, all distinguished by evocative language and deeply immersive reporting. Since 2012, he has been a fellow of Virginia Humanities at the University of Virginia. Swift has a 26-year-old daughter, Saylor, who is his neighbor in the Blue Ridge mountains west of Charlottesville.