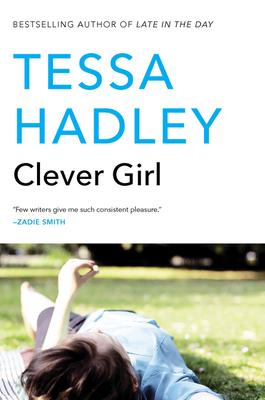 Clever Girl
A Novel
Paperback

* Individual store prices may vary.
Other Editions of This Title:
Hardcover (3/4/2014)
Description
An indelible story of one woman's life, revealed in a series of beautifully sculpted episodes that illuminate an era, moving from the 1960s to today, from one of Britain's leading literary lights—Tessa Hadley.
"Clever Girl is…what could be called a 'sensibility' novel—a story that doesn't overreach, about a character who feels real, told in prose that isn't ornate yet is startlingly exact. The effect is a fine and well-chosen pileup of experiences that gather meaning and power."—Meg Wolitzer, New York Times Book Review


Clever Girl is a powerful exploration of family relationships and class in modern life, witnessed through the experiences of an Englishwoman named Stella. Unfolding in a series of snapshots, Tessa Hadley's involving and moving novel follows Stella from childhood, growing up with her single mother in a Bristol bedsit, into the murky waters of middle age. It is a story vivid in its immediacy and rich in drama—violent deaths, failed affairs, broken dreams, missed chances.
Yet it is Hadley's observations of everyday life, her keen skill at capturing the ways men and women think and feel and relate to one another that elevate this tale into "a beautiful and precisely drawn portrait of an everywoman, both extraordinary and ordinary" (Minneapolis Star Tribune).
Praise For Clever Girl: A Novel…
"Irresistibly charming."
— Vogue

"Hadley's prose is both precise and imaginative….Her genteel style belies the many pointed insights she has to offer about female ambition and desire."
— New York Times

"Looking for the next Kate Atkinson or Alice Munro? Pick up this lovely novel."
— People

"Subtle....A story that doesn't overreach, about a character who feels real, told in prose that isn't ornate yet is startlingly exact. The effect is a fine and well-chosen pileup of experiences that gather meaning and power….Stella may not stand out, but Tessa Hadley certainly does."
— Meg Wolitzer, New York Times Book Review

"Involving…. Intrigues and engages…. The smooth narrative echoes Hadley's cool and precise prose.... There's plenty of family drama (including murder) but Hadley's strength is in describing what is often left unnoticed."
— Financial Times (London)

"Ultimately, this is a beautiful and precisely drawn portrait of an everywoman, both extraordinary and ordinary."
— Melanie Cremins, Minneapolis Star Tribune

"One woman's story comes to exemplify a whole era in this marvelous novel. Tessa Hadley writes with a poet's attentiveness to language, and finds the profound and wondrous in the seemingly quietest of lives."
— Ron Rash, author of Serena

"With Clever Girl, Tessa Hadley examines the blunt force of young adulthood. She deftly portrays this short stretch of time in which we make many of the most important decisions of our lives, all while driving under the influence of ignorance and inchoate sexuality."
— Carol Anshaw, author of Carry the One

"A rich, absorbing novel."
— Anne Landsman, Vanity Fair

"Quietly brilliant….Hadley has always been adept at drawing out the unrecognisable from the everyday….Domestic fiction is often disparaged as less than serious, but Hadley demonstrates admirably that the genre can carry weight."
— Sunday Times, London

"Lives which are unsophisticated yet experienced intensely, and gorgeously erudite prose are the distinguishing features of Tessa Hadley's writing."
— Daily Telegraph, London

"Like Munro, Hadley is a writer both exact and lyrical, and there are many pleasures to be found along the way, particularly her sensual descriptions of nature, adolescence, and maternity."
— The Guardian, London

"Compelling….For all Stella's spikiness and grittiness, there is a sensuousness to Hadley's writing which revels in richly prolix descriptions of sights and states of mind….Hadley has a genius for pithy analysis….The result consistently rings true despite its very literary artistry."
— The Times, London

"Tessa Hadley is a clever writer who likes to play with form. Like Amish quilts, her novels are made up of homespun, domestic material, delicately worked over. Then you step back and see the bold structural decisions behind their composition"
— New Statesman, London

"It's this very ordinariness that makes Hadley's book so captivating. Clever Girl is one of those glorious novels about nothing in particular and everything there is in life, all at the same time."
— The National, London

"This is Hadley's extraordinary skill as a novelist: to navigate and narrate the fleeting moments in an individual's life when the future crystallises, by choice and circumstance, for good or for bad....Clever Girl is a remarkable novel by one of this country's finest, if most unassuming talents."
— Literary Review, London

"Accomplished, elegant....This novel is the life story of an ordinary, middle-aged woman-Stella. Only that she is not ordinary because Tessa Hadley is writing her into existence and is behind her like a following wind….Hadley writes as a masterly illustrator might draw."
— The Observer, London

"Hadley remains so fixed in Stella's viewpoint that whatever this stubborn, lonely, eloquent character has to tell us, we accept....Subtle, intelligent, and realistic storytelling."
— Evening Standard, London

"An intimate, engrossing and eminently English coming of middle-age story from one of Britain's finest writers….The narrative is episodic and deeply personal, but slowly coalesces to form a mosaic of British life over the past 50 years."
— The Independent, London

"Tessa Hadley is wonderful at surprising us with the domestic dramas that stir the embers of everyday life….Her reminiscences can resemble little bombs….Hadley can make even English weather seem enthralling."
— Toronto Star

"Told in a series of perfectly observed moments, Clever Girl is not about what you want your life to be, but what you do with what life hands you….An elegant, accomplished novel."
— Lauren Bufferd, BookPage

"The simplicity of its story is one of this novel's great strengths: the uncluttered plot allows for Stella's pains, humiliations, and instances of self-discovery to be confidently inhabited and rendered with emotional precision….This carefully wrought novel transcends mere character study."
— Sinéad O'Shea, Publishers Weekly (starred review)

"Hadley displays the keen insight and masterful portrayal of the domestic life for which she has become known."
— Michele Leber, Booklist

"A uniquely gifted writer, Hadley, never vague, possesses a narrative voice that moves the characters through their phases with parenthetic irony. Like an artist dabbing in precise luminous details, she has a masterly grasp of pivotal moments and renders them with brilliant economy."
— Joyce Townsend, Library Journal (starred review)

"Like Alice McDermott's Someone, it's the story of an ordinary woman's life, so closely observed it becomes sublime…..It's Hadley's brilliance to show how the jarring desires, the pieces that don't fit together, nonetheless make a full life."
— Tricia SpringstubbCleveland Plain Dealer

"Tessa Hadley gives us everyday people, and makes their lives seem like works of art. Here, in her latest, we follow Stella through life, where Hadley gets all of her failings and little triumphs to shine like prized gems."
— Jason Diamond, Flavorwire

"Hadley's prose is delightful to read."
— Adela Kim, Harvard Crimson

"Hadley achieves a good balance between subtlety and romance, the domestic and the sensational. Though each chapter could stand alone...they add up to a complete, nuanced portrait of a woman who feels as knowable and real as a fictional character can."
— Christine Pivovar, Kansas City Star

"Masterful, understated….Clever Girl, like the fiction of V.S. Pritchett or Alice McDermott, is devoted to capturing personality through small actions and expressions, to sparking characters into a vivid flame with a few exact descriptions and to distilling domestic settings into precious, even exalted significance."
— Sam Sacks, Wall Street Journal
Harper Perennial, 9780062282880, 288pp.
Publication Date: January 21, 2020
About the Author
Tessa Hadley is the author of six highly acclaimed novels, including Clever Girl and The Past, as well as three short-story collections, most recently Bad Dreams and Other Stories, which won the Edge Hill Short Story Prize. Her stories appear regularly in The New Yorker; in 2016 she was awarded the Windham Campbell Prize and the Hawthornden Prize. She lives in London.