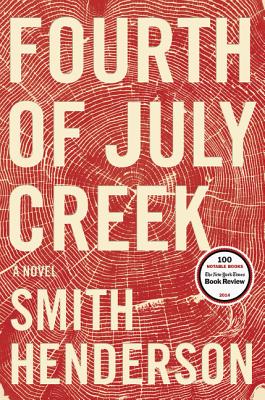 Fourth of July Creek (Hardcover)
A Novel
Ecco, 9780062286444, 480pp.
Publication Date: May 27, 2014
Other Editions of This Title:
Digital Audiobook (5/26/2014)
Paperback (3/10/2015)
Pre-Recorded Audio Player (6/3/2014)
Compact Disc (5/27/2014)
Compact Disc (5/27/2014)
* Individual store prices may vary.
Description
In this shattering and iconic American novel, PEN prize-winning writer, Smith Henderson explores the complexities of freedom, community, grace, suspicion and anarchy, brilliantly depicting our nation's disquieting and violent contradictions.
After trying to help Benjamin Pearl, an undernourished, nearly feral eleven-year-old boy living in the Montana wilderness, social worker Pete Snow comes face to face with the boy's profoundly disturbed father, Jeremiah. With courage and caution, Pete slowly earns a measure of trust from this paranoid survivalist itching for a final conflict that will signal the coming End Times.
But as Pete's own family spins out of control, Pearl's activities spark the full-blown interest of the F.B.I., putting Pete at the center of a massive manhunt from which no one will emerge unscathed.
About the Author
Smith Henderson is the recipient of a PEN Emerging Writers Award in fiction. He was a Philip Roth Resident in Creative Writing at Bucknell University, a Pushcart Prize winner, and a Fellow at the Michener Center for Writers in Austin, Texas. He currently works at the Wieden+Kennedy advertising agency. His fiction has appeared in American Short Fiction, One Story, New Orleans Review, Makeout Creek, and Witness. Born and raised in Montana, he now lives in Portland, Oregon.
Praise For Fourth of July Creek: A Novel…
"First novels don't come much more confidently written or fully imagined than this."
— New York Times

"This is a hell of a great book."-
— Esquire

"Breathtaking...heartbreaking…Henderson's immersive, colorful style makes this scenic journey worthwhile. He's a curious kind of hard-boiled poet - part Raymond Chandler, part Denis Johnson."
— Entertainment Weekly (Grade A)

"The best book I've read so far this year...Henderson choreographs these parts so masterfully that the novel is never less than wholly engaging… All week I was looking for opportunities to slip back into these pages and follow the trials of this rural social worker."
— Washington Post

"...a masterful debut...we find ourselves rooting for these deeply human characters in the end."
— The Oregonian (Portland)

"Fourth of July Creek is an extremely dark book, but Henderson's lyrical sentences lend an elegance-an importance-to the lives of his fictional children. By tenderly portraying horrible family secrets, Henderson is able to illuminate the richness and possibility in even the most painful lives."
— Kirkus Reviews

"On a political level, Henderson skillfully presages the contemporary political environment in his portrayal of the America of three decades ago. On a deeper level, this dark, compassionate novel finds in Jeremiah's-and Pete's-pain a mirror of everyone's. This is a significant debut."
— Library Journal

"Born and raised in Montana, author Smith Henderson knows the terrain and its people, crafting a profoundly American tale that explores our love for freedom, our individualism and the price people sometimes pay."
— AARP

"[A] remarkable first novel..."
— Shelf Awareness

"This book left me awestruck; a stunning debut which reads like the work of a writer at the height of his power…Fourth of July Creek is a masterful achievement and Smith Henderson is certain to end up a household name."
— Philipp Meyer, New York Times bestselling author of The Son

"Fourth of July Creek knocked me flat. This gorgeous, full-bodied novel seems to contain all of America at what was, in retrospect, a pivotal moment in its history...Smith Henderson has delivered nothing less than a masterpiece of a novel."
— Ben Fountain, author of Billy Lynn's Long Halftime Walk

"Fourth of July Creek cannot possibly be Smith Henderson's first book. Its scope is audacious, its range virtuosic, its gaze steady and true. A riveting story written in a seductive and relentlessly authentic rural American vernacular, this is the kind of novel I wish I'd written."
— Claire Vaye Watkins, author of Battleborn

"Fourth of July Creek is an astonishing read. The writing is energetic and precise. Henderson has a mastery of scale that allows this particular place and these particular people to illuminate who we are as Americans...I could not recommend this book more highly."
— Kevin Powers, bestselling author of The Yellow Birds

"Tremendously satisfying—think Daniel Woodrell's Winter's Bone...or Jimmy McNulty...set...in...another kind of violent American wilderness...[a] mesmerizing accomplishment. I cannot think of a finer first novel; it's hard, in fact, to think of a finer second, third, or fourth one, either."
— Antonya Nelson

"A soul-wrenching debut novel... Henderson's talents lie in the tenderness and empathy he extends to (almost) every character in the book, no matter how damaged."
— O, the Oprah Magazine

"Henderson, a Montana native, is a nimble wordsmith… His debut novel gives us flawed people, a bleak setting, and a story that's impossible to forget."
— Parnassus Books / Musing

"This is an impressive, bold, ambitious book, an unforgettable epic that confidently navigates big themes and breaks your heart with small tragedies."
— Miami Herald

"I was blown away by Smith Henderson's debut novel, Fourth of July Creek...."
— Dallas Morning News

"In Henderson's impressive novel, an overburdened social worker becomes involved with a near-feral boy and his survivalist father in 1980 Montana."
— New York Times Book Review, Notable Book

"[A] stunningly accomplished debut novel … Henderson's narrative enthralls, his dialogue crackles, and on the considerable strength of this, a promising literary career beckons."
— Minneapolis Star Tribune

"The myth of rugged individualism crumbles…at the side of the body of water that gives Henderson's debut novel, Fourth of July Creek, its name…Henderson's saga of looking for salvation by way of saving others is lyrical, suspenseful, and heartbreaking. Not all can be rescued, but we can all be redeemed."
— Entertainment Weekly, #3, Year's Best Fiction

"Another big, gripping novel and fine feat of naturalistic storytelling."
— Janet Maslin, NYT, Top Ten Books of 2014

"My favorite book of 2014, Smith Henderson's Fourth of July Creek, is out in paperback... which gives me another chance to recommend it. This exciting, beautifully written debut novel describes the travails of Pete Snow, a social worker in Montana struggling to save damaged families - including his own."
— Washington Post, Ron Charles

"Fourth of July Creek is the beautifully written story of a flawed man trying to save children from bad people like himself… a richly satisfying novel and well worth its reader's time."
— Tullahoma News

"Probably the most significant book to come from a Portland writer in the past year is Smith Henderson's Fourth of July Creek… one of the most assured and accomplished debut novels in recent memory, right up there with Zadie Smith's White Teeth. The book… is both savage and beautiful."
— Willamette Week (Portland)

"Henderson's firm understanding of rural Montana and its residents reminds one of Kent Haruf's novels set in Colorado, but, as if Cormac McCarthy has come to town, there's an undercurrent of violence and vice throbbing throughout the story. Henderson understands the explosive possibilities of having those tensions surface."
— Cleveland Plain Dealer