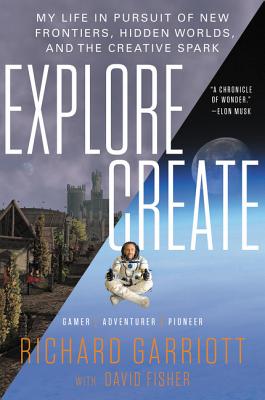 Explore/Create
My Life in Pursuit of New Frontiers, Hidden Worlds, and the Creative Spark
Paperback

* Individual store prices may vary.
Other Editions of This Title:
Digital Audiobook (1/9/2017)
Hardcover (1/10/2017)
MP3 CD (1/10/2017)
Compact Disc (1/10/2017)
Compact Disc (1/10/2017)
Description
An inventor, adventurer, entrepreneur, collector, and entertainer, and son of legendary scientist-astronaut Owen Garriott, Richard Garriott de Cayeux has been behind some of the most exciting undertakings of our time. A legendary pioneer of the online gaming industry—and a member of every gaming Hall of Fame—Garriott invented the multi-player online game, and coined the term "Avatar" to describe an individual's online character.
A lifelong adventurer and member of the Explorers Club, Garriott has used the fortune he amassed from the gaming business to embark on a number of thrilling expeditions. He has plumbed the depths of the Atlantic ocean to see the remains of the Titanic, hunted for meteorites in Antarctica, and in 2008 became one of the first private citizens to be launched into space. Richard has been one of the foremost pioneers of the private space industry, investing his time and energy into making space travel more accessible.
In this fascinating memoir, Garriott invites readers on the great adventure that is his life. Yet his is no ordinary autobiography; throughout, Garriott engages readers with interactive activities and challenges them with "secret codes" for his games. An audacious genius with an insatiable curiosity and an irrepressible playfulness, Garriott takes readers on an unforgettable intellectual experience that is enlightening, adventurous, and fun.
Praise For Explore/Create: My Life in Pursuit of New Frontiers, Hidden Worlds, and the Creative Spark…
"Richard Garriott has inspired me to explore and create since I was a teenager. I never would've written Ready Player One if I hadn't grown up playing the games he created as Lord British. This is the book I've been waiting to read for a long, long time."
— Ernest Cline, New York Times bestselling author of Ready Player One

"Fascinating.... Demystifies an industry and a man so instrumental in it.... A rich compendium of stories from an extraordinary life."
— Eurogamer.net

"Lively and entertaining.... [Garriott] embeds puzzles and games in the book for those who want to take it beyond the simple experience of reading.... Those looking for glimpses into an adventurous life should be pleased."
— Kirkus Reviews

"Explore/Create is a chronicle of wonder, and the many wondrous things the future may hold. Richard and I have long shared a passion for space. Perhaps one day our kids will create and play games on a new world!"
— Elon Musk, CEO, SpaceX and Tesla Motors

"Richard and his partners at Zero-G took me on my first flight into weightlessness. ... I applaud his spirit and have enjoyed the fruits of his labor."
— Stephen Hawking

"I was so taken by Richard Garriott's game Ultima that I was nearly speechless when I met him at a pizza joint in Chicago. Now finally, Richard has shared his compelling story with the rest of us in Explore/Create."
— Steve Wozniak, co-founder of Apple

"Richard and I are both among the first private astronauts, and we have used our unbound power of imagination to take us to new heights. This book will take you on an insider's journey into Richards fascinating mind from creating virtual worlds and characters to exploring the cosmos. Buckle up!"
— Anousheh Ansari, 1st Muslim woman to go into space

"Garriott's enthusiasm for his passions is evident and... even inspirational."
— Booklist Online

"Telling. ... Learn [Garriott's] secret to staying creative and gain valuable insight into his crazy-interesting history."
— Brit + Co

"An entertaining book that describes Garriott's twin passions to explore (not just space but also the deep sea and Antarctica, among other places) and create."
— The Space Review
William Morrow Paperbacks, 9780062286666, 304pp.
Publication Date: January 9, 2018
About the Author
Richard Garriott founded the gaming companies Origin Systems, Destination Games, and most recently Portalarium. His Ultima series has sold millions of copies worldwide. In 2008, Richard rode Soyuz TMA-13 to the International Space Station, becoming the first American second-generation space traveler. He lives in New York City with his wife, Laetitia, and their two children.
David Fisher is the author or coauthor of dozens of books, including 22 New York Times bestsellers. He has worked with George Burns, Johnnie Cochran, and Terry Bradshaw, among others. He lives in New York City.
or
Not Currently Available for Direct Purchase