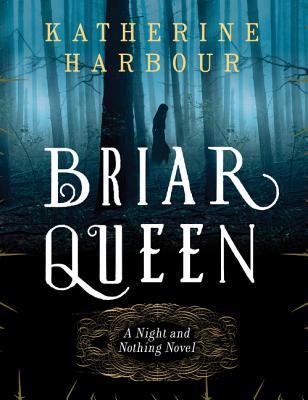 Briar Queen
A Night and Nothing Novel (Night and Nothing Novels)
Paperback

* Individual store prices may vary.
Description
The dark, moody, and mystical fantasy begun in Thorn Jack, the first novel in the Night and Nothing series, continues in this bewitching follow up—an intriguing blend of Twilight, Buffy the Vampire Slayer, Alice in Wonderland, and A Midsummer Night's Dream—in which Finn Sullivan discovers that her town, Fair Hollow, borders a dangerous otherworld . . .
Serafina Sullivan and her father left San Francisco to escape the painful memory of her older sister Lily Rose's suicide. But soon after she arrived in bohemian Fair Hollow, New York, Finn discovered a terrifying secret connected to Lily Rose. The placid surface of this picture-perfect town concealed an eerie supernatural world—and at its center, the wealthy, beautiful, and terrifying Fata family.
Though the striking and mysterious Jack Fata tried to push Finn away to protect her, their attraction was too powerful to resist. To save him, Finn—a girl named for the angels and a brave Irish prince—banished a cabal of malevolent enemies to shadows, freeing him from their diabolical grip.
Now, the rhythm of life in Fair Hollow is beginning to feel a little closer to ordinary. But Finn knows better than to be lulled by this comfortable sense of normalcy. It's just the calm before the storm. For soon, a chance encounter outside the magical Brambleberry Books will lead her down a rabbit hole, into a fairy world of secrets and legacies . . . straight towards the shocking truth about her sister's death.
Lush and gorgeously written, featuring star-crossed lovers and the collision of the magical and the mundane, Briar Queen will appeal to the fans of Cassandra Clare's bestselling Mortal Instruments series and Melissa Marr's Wicked Lovely.
Praise For Briar Queen: A Night and Nothing Novel (Night and Nothing Novels)…
"Steeped in well-researched Celtic lore, [BRIAR QUEEN] is stylish, with lush descriptions of the beautiful fata and their dangerous worlds." — Library Journal
"The lilting, whimsical new adult fantasy, balanced by impressively detailed and dark vignettes, is fueled by a goth-emo-scenester aesthetic...The magic is mysterious, the drama is aching, and the people are beautiful." — Booklist
"You might...think of Stephanie Meyer's Twilight a time or two, as a few of the story's bones are similar, but I never once felt like I was reading Twilight...which goes to show you tropes need not be poiston if woven into a good tale." — Fantasy Literature
"An intriguing story filled with mystery, enchantment and darkness." — A Bookish Escape
"Combining the sorcery of The Night Circus with the malefic suspense of A Secret History...a beguiling fusion of love, fantasy, and myth that echoes the imaginative artistry of the works of Neil Gaiman, Cassandra Clare, and Melissa Marr." — Good Books and Good Wine
Harper Voyager, 9780062286765, 368pp.
Publication Date: June 2, 2015
About the Author
Katherine Harbour was born in Albany, New York, and has been writing since she was seventeen. She is the author of Thorn Jack and Briar Queen, the first two books in the Night and Nothing series, and is a bookseller in Sarasota, Florida.
or
Not Currently Available for Direct Purchase