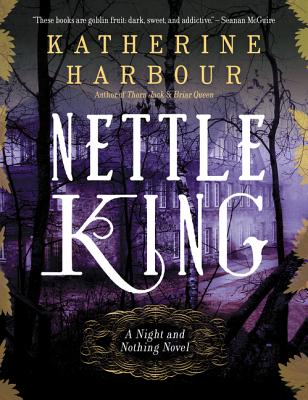 Nettle King (Night and Nothing Novels)
Paperback

* Individual store prices may vary.
Description
The mesmerizing conclusion to the Night and Nothing series—a blending of Scottish fairy tale and modern magic that is part Buffy the Vampire Slayer and part Alice in Wonderland—finds Finn fighting against the land of the dead.
When her beloved Jack disappears, Finn vows to find him—even if it means a daring odyssey into the land of the dead. But saving Jack comes at a terrible price: a dangerous fissure has opened, giving the dead access to the true world.
The lines between worlds are more blurred than ever. Finn's sister, Lily, recently returned from the Ghostlands, seems to bear no scars from her time there. But then their friend Moth returns from Sombrus, the magical house once owned by Seth Lot, bearing shocking news. Something evil—a fearsome creature bearing a striking resemblance to Jack—has escaped Sombrus and is now stalking Fair Hollow, killing everyone it encounters, transforming them into terrifying Jacks and Jills and recruiting the Unseelie.
It will not stop until it gets what it wants . . .
Finn.
Praise For Nettle King (Night and Nothing Novels)…
"Harbour makes love, suffering, and sacrifice the most poignant parts of her worlds, and readers with even the barest knowledge of fairy lore and legends will be pulled deep into this tale of sharp magic and its ruthless children. " — Publishers Weekly
"Combining the sorcery of The Night Circus with the malefic suspense of The Secret History...a beguiling fusion of love, fantasy, and myth that echoes the imaginative artistry of the works of Neil Gaiman, Cassandra Clare, and Melissa Marr." — Good Books and Good Wine
"You might...think of Stephanie Meyer's Twilight a time or two, as a few of the story's bones are similar, but I never once felt like I was reading Twilight...which goes to show you tropes need not be poison if woven into a good tale." — Fantasy Literature
Harper Voyager, 9780062286789, 320pp.
Publication Date: April 19, 2016
About the Author
Katherine Harbour was born in Albany, New York, and has been writing since she was seventeen. She is the author of Thorn Jack and Briar Queen, the first two books in the Night and Nothing series, and is a bookseller in Sarasota, Florida.
or
Not Currently Available for Direct Purchase