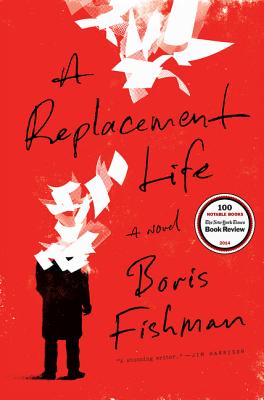 A Replacement Life (Hardcover)
A Novel
Harper, 9780062287878, 336pp.
Publication Date: June 3, 2014
* Individual store prices may vary.
Description
Winner of the VCU Cabell First Novelist Award
Winner of the American Library Association's Sophie Brody Medal
Finalist for the National Jewish Book Award
A singularly talented writer makes his literary debut with this provocative, soulful, and sometimes hilarious story of a failed journalist asked to do the unthinkable: Forge Holocaust-restitution claims for old Russian Jews in Brooklyn, New York.
Yevgeny Gelman, grandfather of Slava Gelman, "didn't suffer in the exact way" he needs to have suffered to qualify for the restitution the German government has been paying out to Holocaust survivors. But suffer he has—as a Jew in the war; as a second-class citizen in the USSR; as an immigrant to America. So? Isn't his grandson a "writer"?
High-minded Slava wants to put all this immigrant scraping behind him. Only the American Dream is not panning out for him—Century, the legendary magazine where he works as a researcher, wants nothing greater from him. Slava wants to be a correct, blameless American—but he wants to be a lionized writer even more.
Slava's turn as the Forger of South Brooklyn teaches him that not every fact is the truth, and not every lie a falsehood. It takes more than law-abiding to become an American; it takes the same self-reinvention in which his people excel. Intoxicated and unmoored by his inventions, Slava risks exposure. Cornered, he commits an irrevocable act that finally grants him a sense of home in America, but not before collecting a price from his family.
A Replacement Life is a dark, moving, and beautifully written novel about family, honor, and justice.
About the Author
Boris Fishman was born in Minsk, Belarus, and immigrated to the United States in 1988 at the age of nine. His journalism, essays, and criticism have appeared in The New Yorker, The New York Times Magazine, The Wall Street Journal, and many other publications. His first novel, A Replacement Life won the VCU Cabell First Novelist Award and the American Library Association's Sophie Brody Medal, was one of The New York Times' 100 Notable Books, and was a Barnes & Noble Discover Great New Writers Pick. He lives in New York.
Praise For A Replacement Life: A Novel…
"Bold, ambitious and wickedly smart…A REPLACEMENT LIFE is full of descriptive treasures…The only problem with this novel is that its covers are too close together. I wanted more of Slava, his bumpy love life, his venal grandfather."
— Patricia T. O'Conner, New York Times Book Review

"[An] ingenious debut...the novel is often very funny, but its most rewarding moments come as Slava, listening to the war stories of...elderly strangers, finds himself drawing closer to the grandmother whose secrets once seemed lost to him."
— The New Yorker

"Fishman, like his protagonist, is a born storyteller with a tremendous gift for language on all brow levels, making for a captivating and rare first novel that is tender, learned, funny and deeply soulful - frequently all at the same time."
— San Francisco Chronicle

"Powerful yet tender…real and vibrant…Fishman never loses the reader's trust. No line in this book rings false, no character is unheard, no event seems like a plot device."
— Newsweek

Sly and subversive...smart and sardonic...a touching story about a tenacious way of life disappearing amid the prosperity of America."
— Wall Street Journal

"Fishman's firm yet light authorial hand, his gift for character and plot development, and his searing use of the English language belie his youth and his novice-novelist status. His witty dialogue and wry, believable descriptions leaven the dark, dense bread of the tale."
— Chicago Tribune

"In the way the he presents these [truths] to us with feeling, humor and eyes wide open, novelist Fishman doesn't miss a beat."
— NPR/All Things Considered

"Mordantly funny and moving… Justice is eventually served in A REPLACEMENT LIFE along with plenty of black comedy, but the book is less about doing right or wrong than about where absolutes, moral or otherwise, do not apply … impressive."
— New York Times

"Tova Reich and Shalom Auslander have delivered witty, nervy books on the subject. Add to their ranks Boris Fishman…Fishman humanizes the participants so well. Contemporary novelists have a bad habit of making immigrants appear monolithically earthy and good-natured, but Fishman knows better…deft and funny."
— Minneapolis Star Tribune

"A memorable debut by a wonderfully gifted young writer...Boris Fishman has written a beautifully nuanced, tender, and often very funny novel about conscience and familial loyalty that will linger long in the memory."
— Joyce Carol Oates

"Fishman is a stunning writer, and A REPLACEMENT LIFE deserves a wide audience."
— Jim Harrison

"Boris Fishman fearlessly tackles the grandest subjects, among them the nature of honor and the transferability of suffering. That he succeeds this well, and with so much style and grace, marks him as a writer not only to watch but envy."
— Tom Bissell

"A terrific talent dealing in serious themes… Fishman is a gifted and accomplished writer, an honest one, grounded in the real."
— Salvatore Scribona

"A novel that works beautifully on many levels. It's about the compromises involved in telling any story…Boris Fishman finds a new way to negotiate these tensions, a new language, even as he sometimes shows how he does it, a little magic act all its own."
— Arthur Phillips

"A REPLACEMENT LIFE is a hell of a book. Told with amazing virtuosity, fun and serious, funny and sad, profound and eminently readable, it will make you happy until it's over. And then you will be sad."
— Darin Strauss

"A Replacement Life deftly straddles the line of a plot-driven novel of ideas and a moving account of a writer's maturation…Fishman's debut is suffused with elegant language and sly humor and composed with the authority of a novelist on intimate terms with both his subject matter and art form."
— Teddy Wayne, author of THE LOVE SONG OF JONNY VALENTINE

"With a sense of humor and a sense of tragedy, A REPLACEMENT LIFE explores a hidden New York…There's a touch of Gogol here, a touch of Babel, a touch of Dostoyevsky, but out of these materials Boris Fishman has fashioned something distinctively and triumphantly his own."
— Brian Morton, author of STARTING OUT IN THE EVENING

"Boris Fishman's A REPLACEMENT LIFE is so strong in voice, humor, and compassion that it transcends fiction's limitations to become something wilder and more contained--like life. What a remarkable debut--true and resonant, humorous and real."
— Hilton Als

"Beautifully written and occasionally quite funny…[a] complicated paradox of remaining loyal to one's community while moving bravely into a new world."
— BookPage

"Delightful…though the subject matter is largely dark, when you least expect it there is also humor which comes up and bites you in a most pleasant way… A REPLACEMENT LIFE is a brilliant first novel by a talented writer."
— Examiner.com

"The debut novel from Fishman shines with a love for language and craft... Writers like Slava, and like Fishman, have a responsibility to do justice to the beauty in the details, and Fishman achieves that handily here."
— Publishers Weekly (starred review)

"An ambitious young writer compromises his integrity for the sake of his Russian forebears in Fishman's darkly comic, world-wise debut… Fishman thoughtfully raises questions of what Holocaust-era suffering is deserving of recompense. A smart first novel that's unafraid to find humor in atrocity."
— Kirkus Reviews

"Fishman has talent galore, and an attractive love interest, funny set-pieces, a brochure-beautiful Big Apple, and spectacular, acutely self-conscious prose are all most enjoyable."
— Booklist

"Fishman, an émigré from Belarus, captures the complexities of family, nationality, and history as he cleverly ties the loose ends of truth, justice, morality, and family into a tidy bow in his first novel."
— Library Journal

"Fishman invests Slava's moral quandary with realism and pathos, while resolving it in a way that's simultaneously unpredictable and satisfying…Like his protagonist, Fishman manages to keep all these plates spinning, finally bringing them to a clean stop with impressive style."
— Shelf Awareness

"A sharp, darkly funny debut novel…Irreverent but loving…Fishman explores themes of loyalty, morality, and history, and asks the sorts of questions that don't have easy answers.""
— The Oregonian

"[Fishman's] tales offer the most powerful reckoning with the immigration experience by a Soviet-born American Jewish author this year-and, perhaps, to date."
— Tablet Magazine

"Scintillating…a surprisingly wise novel that's also full of more or less guilty laughs, a book that joins Shalom Auslander's Hope: A Tragedy as the first true post-Holocaust novels of our time. It's highly recommended."
— OpenLettersMonthly.com

"Boris Fishman's 'wickedly smart' debut visits an immigrant culture readers have explored before, but it brims with descriptive brilliance and 'crackles with irony.'"
— The Week

"Boris Fishman's A REPLACEMENT LIFE is one of the year's most memorable Jewish novels."
— Howard Freedman, JWeekly.com (San Francisco)
Coverage from NPR
or
Not Currently Available for Direct Purchase