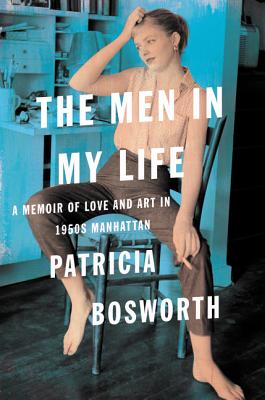 The Men in My Life
A Memoir of Love and Art in 1950s Manhattan
Hardcover

* Individual store prices may vary.
Other Editions of This Title:
Paperback (1/30/2018)
Compact Disc (4/4/2017)
MP3 CD (4/4/2017)
Compact Disc (4/18/2017)
Description
Acclaimed biographer Patricia Bosworth recalls her emotional coming of age in 1950s New York in this profound and powerful memoir, a story of family, marriage, tragedy, Broadway, and art, featuring a rich cast of well-known literary and theatrical figures from the period.
From Bosworth—acclaimed biographer of Montgomery Clift, Diane Arbus, Marlon Brando, and Jane Fonda—comes a series of vivid confessions about her remarkable journey into womanhood. This deeply-felt memoir is the story of a woman who defied repressive 1950s conventions while being shaped by the notable men in her life.
Born into privilege in San Francisco as the children of famous attorney Bartley Crum and novelist Gertrude, Patricia and her brother Bart Jr. lead charmed lives until their father's career is ruined when he defends the Hollywood Ten. The family moves to New York, suffering greater tragedy when Bart Jr. kills himself. However, his loving spirit continues to influence Patricia as she fights to succeed as an actress and writer.
Married and divorced from an abusive husband before she's twenty, she joins the famed Actors Studio. She takes classes with Lee Strasberg alongside Marilyn Monroe, Paul Newman, and others; she works on Broadway opposite Paul Muni, Helen Hayes, and Elaine Stritch; Gore Vidal and Elia Kazan become her mentors. Her anecdotes of theatre's Golden Age have never been told before. At the zenith of her career, about to film The Nun's Story with Audrey Hepburn, Patricia faces a decision that changes her forever.
The Men in My Life is about survival, achieving your goals, and learning to love. It's also the story of America's most culturally pivotal era, told through the lens of one insider's extraordinary life.
Praise For The Men in My Life: A Memoir of Love and Art in 1950s Manhattan…
"Bosworth's command of detail…makes the book more than merely a dishy showbiz memoir."
— New Yorker

"Scorchingly honest."
— AARP Magazine

"Somewhat harrowing, always complex, and deeply wrought..."
— Harper's Bazaar (best book of January)

"Highbrow and brilliant."
— New York magazine (approval matrix)

"Deliciously vivid."
— New York Times Book Review

"Bosworth is perhaps best known as a biographer of stars like Diane Arbus and Montgomery Clift; her autobiography follows her navigating a glamorous career and sexual coming-of-age. But she doesn't give short shrift to what she calls "the bereaved creature inside me," mourning her brother and father."
— New York Times Book Review, Editor's Choice

"In this moving follow-up to her 1997 memoir, Anything Your Little Heart Desires, Bosworth comes into her own as a memoirist."
— Publishers Weekly (starred)

"Looking back to her rampaging twenties, Bosworth chronicles how she repressed her grief and guilt, recklessly threw herself into harrowing situations, and embraced exhilarating opportunities, all of which she describes with stunning immediacy and valiant candor…. Lush with tales of Lee Strasberg, Marilyn Monroe, Gore Vidal, Elaine Stritch, Audrey Hepburn, and many more, and spiked with arresting observations about glamour and about toxic sexism and homophobia, Bosworth's riveting memoir brings the covertly wild 1950s into startlingly close focus."
— Booklist (starred)

"[Bosworth] recounts the glamorous highs and frustrating lows of trying to succeed as an actress, offering juicy anecdotes featuring a large cast of the actors, directors, and playwrights who comprised the important men in her young life…. A forthright memoir of pain and aspirations enlivened by sharp portraits of a host of colorful celebrities."
— Kirkus

"What an emotional and remarkable journey! Bosworth is a dazzling writer—I came under her spell years ago when I read her biographies. Now, in her new book, Patricia has reached into the depths of her adventurous, sometimes terrifying life, to tell us a story that could not be fiction—too sad, too wildly happy at times, and in every way challenging. Bosworth tells us how it is live a life of creativity and beauty when the hard times come, and when the good times roll. She has lived through both and come up shining and brilliant. Read this book!! I loved it!"
— Judy Collins, author of Sweet Judy Blue Eyes

"I couldn't stop reading this book. It's terrific. There are fascinating characters throughout, and so much glamour and excitement, but also loss and tragedy. That unsettling combination fuels Patricia Bosworth's amazing story."
— Gay Talese, author of High Notes

"Honesty in writing is rare and precious. In telling us the previously untold story of her extraordinary life, Patricia Bosworth has added an important testament to the history of women. I read this book with tears in my eyes and a smile on my face."
— Erica Jong, author of Fear of Dying

"This memoir is so passionate, so discerning, so emotionally textured. Set in the 50s and early sixties, when constricting beliefs and traditions battled an urgent need for authenticity and experiment, the young women of Bosworth's generation were searching for their own destinies, fighting to do more than play supporting roles in the lives of powerful men. And yet, as she shows so poignantly, men like her brilliant, father and her gifted tragic brother were also trapped. This is the kind of memoir we need now: the story of a life that's also the story of a culture."
— Margo Jefferson, author of Negroland

"Graced with a talent for delving into the truths of creative lives, Patricia Bosworth has now taken the truth serum herself. The result is a powerful, gutsy, tender, and mesmerizing memoir, wherein Bosworth bravely restores her romantic past to the jagged intensity of the present tense."
— Brad Gooch, author of Smash Cut

"Patricia Bosworth, one of our most accomplished biographers, has led a life that few could survive, including the suicides of her brother and father; an acting career marked by exhilarating highs and crushing lows; an abusive first husband, and many other heart-pounding and—destroying events recounted in this utterly absorbing memoir. Through it all, Bosworth remains ebullient, self-aware, even funny, and without dissembling. This is who she is, a bright spirit in love with life, whatever it throws at her."
— James Atlas, author of My Life in the Middle Ages

"In The Men in My Life Patricia Bosworth, who has given us such fine biographies of Montgomery Clift, Diane Arbus, and Jane Fonda, turns her lens on her own 20-something self, and on the men—and women—she encountered during those extraordinary years.The result is a moving, revealing, unsparing and enthralling book."
— Amanda Vaill, author of Hotel Florida and Everybody Was So Young Amanda Vaill, author of Hotel Florida and Everybody Was So Young Amanda Vaill, author of Hotel Florida and Everybody Was So Young

"A fascinating, vivid story. The Men in My Life is not only a page-turning self-portrait, but also a nuanced cultural history of America in the 1950s."
— Phillip Lopate, critic and author of To Show and to Tell: The Craft of Literary Nonfiction

"As memoirs go, this one is TOPS. Vivid, beautifully written, evocative and SO refreshingly frank about sex."
— Andre Bishop, Artistic Director of Lincoln Center Repertory Theatre
Harper, 9780062287908, 400pp.
Publication Date: January 31, 2017
About the Author
Patricia Bosworth is a contributing editor at Vanity Fair. She has taught literary nonfiction at Columbia University and Barnard College, and is a winner of the Front Page Award. A longtime board member of the Actors Studio, she ran the Playwrights/Directors Unit there. Her first memoir, Anything Your Little Heart Desires: An American Family Story, was about her family and the Hollywood Blacklist. She is also the author of bestselling biographies of Montgomery Clift, Marlon Brando, Jane Fonda, and the photographer Diane Arbus. Her Arbus biography inspired the 2006 film Fur, starring Nicole Kidman and Robert Downey Jr.
or
Not Currently Available for Direct Purchase