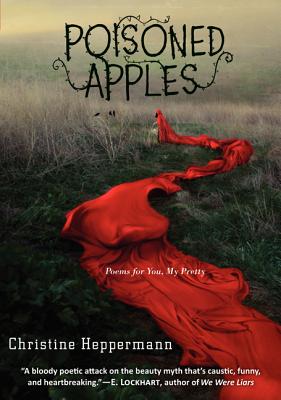 Poisoned Apples
Poems for You, My Pretty
Hardcover

* Individual store prices may vary.
Description
Every little girl goes through her princess phase, whether she wants to be Snow White or Cinderella, Belle or Ariel. But then we grow up. And life is not a fairy tale.
Christine Heppermann's collection of fifty poems puts the ideals of fairy tales right beside the life of the modern teenage girl. With piercing truths reminiscent of Laurie Halse Anderson and Ellen Hopkins, this is a powerful and provocative book for every young woman. E. Lockhart, author of We Were Liars, calls it "a bloody poetic attack on the beauty myth that's caustic, funny, and heartbreaking."
Cruelties come not just from wicked stepmothers, but also from ourselves. There are expectations, pressures, judgment, and criticism. Self-doubt and self-confidence. But there are also friends, and sisters, and a whole hell of a lot of power there for the taking. In fifty poems, Christine Heppermann confronts society head on. Using fairy tale characters and tropes, Poisoned Apples explores how girls are taught to think about themselves, their bodies, and their friends. The poems range from contemporary retellings to first-person accounts set within the original tales, and from deadly funny to deadly serious. Complemented throughout with black-and-white photographs from up-and-coming artists, this is a stunning and sophisticated book to be treasured, shared, and paged through again and again.
Praise For Poisoned Apples: Poems for You, My Pretty…
"Caustic, witty, sad, and angry, Heppermann articulates . . . the false promises, seductions, and deathly morass of popular culture's imagery of girls' bodies. What makes Heppermann's poetry exceptional, however, is not the messages it carries but the intense, expressive drive that fuels it."
— Horn Book (starred review)

"Lacing traditional fairy tales through real-life perils, Heppermann produces short poems with raw pain, scathing commentary and fierce liberation. . . . Full of razors that cut—and razors to cut off shackles: a must."
— Kirkus Reviews (starred review)

"Revisionist views of such traditional fairy tales as Snow White, Rapunzel, Little Red Riding Hood . . .offered in the context of the modern lives of young women, who must confront the difference between the promises of sugar-coated fantasy and the bitter lessons of real life. "
— Michael Cart, Booklist (starred review)

"It's a bit of a mystery how a slender, subversive book of flayed fairy tale poetry can chronicle how the world tries to rob young women of power, while at the same time handing them back that power. Teen girls should read this—so should their mothers, their aunts, their grandmothers…"
— Gayle Forman, author of the New York Times-bestselling Just One Day/Just One Year duet

"Many of the poems read like something you might find on a smart, funny contemporary women's website, probably going viral. . . . They each pack their own literary punch; she is, after all, a poet riffing on fairy tales."
— Elle.com

"A bloody poetic attack on the beauty myth that's caustic, funny, and heartbreaking."
— E. Lockhart, author of We Were Liars

"Deft deployment of fairy-tale motifs and sharp-edged humor . . . Accompanied by stylized fantasy photographs as piercing as the poems themselves, this is sure to be passed around among readers thoroughly tired of being picked, prodded, pimped and primped to achieve an impossible perfection."
— Bulletin of the Center for Children's Books (starred review)

"Over and over again, Christine Heppermann's poems reveal the worm in the messages young women get about love, sex, food, and bodies. These poems cast a harrowing but irresistible disenchantment."
— Sara Zarr, author of National Book Award finalist Story of a Girl

"Simply phenomenal. Heppermann's honest voice grabs the reader with urgency. This collection is a champion for teens and adults who see our world as an advertisement for perfection that doesn't exist. Readers will want to read these poems aloud over and over again."
— A.S. King, Printz Honor author of Reality Boy and Ask the Passengers

"Heppermann's collection of teen angst is like a velvet bag full of gems to be poured out into the palm, held up to the light, studied, and saved to be brought out again and again on fitting occasions."
— Karen Hesse, Newbery Medal-winning author of Out of the Dust

"This powerful and provocative exploration of body image, media, and love broke my heart and made me gasp aloud with its relentless truth. Dark, unsettling, and altogether brilliant, Poisoned Apples is not to be missed."
— Rae Carson, author of the best-selling Girl of Fire and Thorns trilogy

"Anyone can read these wonderful poems, but I know women and girls especially will open Poisoned Apples and immediately tell their friends, show their friends, loan the book out, get it back, read it again and again until the cover falls off ."
— Ron Koertge, author of Stoner & Spaz
Greenwillow Books, 9780062289575, 128pp.
Publication Date: September 23, 2014
About the Author
Christine Heppermann is the author of Poisoned Apples: Poems for You, My Pretty, which received five starred reviews and was named to five best of the year lists in 2014, and Ask Me How I Got Here. She lives with her husband and two daughters in Highland, New York.