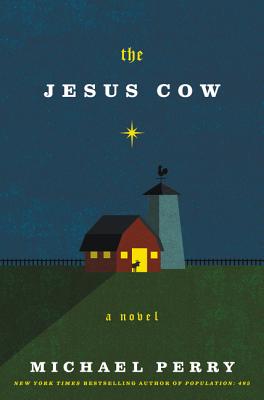 The Jesus Cow
A Novel
Hardcover

* Individual store prices may vary.
Other Editions of This Title:
Digital Audiobook (5/18/2015)
Paperback (5/17/2016)
Compact Disc (5/19/2015)
Description
New York Times bestselling humorist Michael Perry makes his fiction debut with this hilarious and big-hearted tale, a comic yet sincere exploration of faith and the foibles of modern life that blends the barbed charm of Garrison Keillor, the irreverent humor of Christopher Moore, and the audacious insight of Chuck Klosterman.
Life is suddenly full of drama for low-key Harley Jackson: A woman in a big red pickup has stolen his bachelor's heart, a Hummer-driving predatory developer is threatening to pave the last vestiges of his family farm, and inside his barn is a calf bearing the image of Jesus Christ. His best friend, Billy, a giant of a man who shares his trailer house with a herd of cats and tries to pass off country music lyrics as philosophy, urges him to avoid the woman, fight the developer, and get rich off the calf. But Harley takes the opposite tack, hoping to avoid what his devout, dearly departed mother would have called "a scene."
Then the secret gets out—right through the barn door, and Harley's "miracle" goes viral. Within hours pilgrims, grifters, and the media have descended on his quiet patch of Swivel, Wisconsin, looking for a glimpse (and a percentage) of the calf. Does Harley hide the famous, possibly holy calf and risk a riot, or give the people what they want—and raise enough money to keep his land—and, just possibly, win the woman and her big red pickup truck?
Harley goes all in, cutting a deal with a major Hollywood agent that transforms his little farm into an international spiritual theme park—think Lourdes, only with cheese curds and t-shirts. Soon, Harley has lots of money . . . and more trouble than he ever dreamed.
Praise For The Jesus Cow: A Novel…
"A fun commentary on small-town America and today's insatiable appetite for goofy stories to fill the Web." — New York Post (Required Reading — lead pick)
A hilarious glimpse into small-town life and cowboy/farmer/"Scandihoovian" philosophy, combined with meditations on the meanings of faith, environmentalism, development, and romance. Highly recommended for fans of Christopher Moore." — Library Journal, starred review
"Perry once again delivers his own brand of outlandishness through rich, endearing characterizations of quirky small-town folks....By deploying humor in depicting the often painful truths and absurdities of life, Perry successfully makes much larger statements about society and the human condition." — Shelf Awareness
"A loveable, kind-hearted, and hilarious romp. Michael Perry has done it again - written another winning book that will satisfy his legions of already devout fans, and bring many more new devotees into the fold. Perry is a small-town American treasure." — Nickolas Butler, author of Shotgun Lovesongs
"After successful memoirs such as Population: 485 and Truck: A Love Story, this is Michael Perry's first novel for adults, and it's a good one. The tale....is laugh-out-loud funny and propelled by plot lines that come together in an explosive climax." — Minneapolis Star Tribune
"The Jesus Cow, is a fun, effortless read that lends itself to audible chortles in readers. It's populated with average folks who could....be standing in line at the local grocery store or filling their gas tanks next to you at the all-night Kwick Pump." — Eagle Tribune (Mass.)
"The Jesus Cow is Michael Perry at his best." — VolumeOne
"Perry's simple pleasures grow mighty complicated as his aw-shucks pastoral dabbles in love, riches, barn sex, local politics, and finally a municipal catastrophe. And all because of a special cow, er, steer." — Milwaukee Magazine
"Perry's novel wrestles with some big issues-religion, environmentalism, community-but he resists letting his narrative get too bogged down in them. The result is a purposeful story that doesn't overwhelm, an often charming read that rarely takes itself too seriously." — Publishers Weekly
"Humorist Perry's first novel combines irreverence with just the right amount of sweetness in a genuinely funny satire of religion and morality in small-town, contemporary America." — Booklist
"Good fun abounds." — Kirkus
"A wildly comic and deeply felt examination of faith, combining politics, scandal, farming, love, environmentalism and rural philosophy. This is a novel only Michael Perry could have written." — Julie Schumacher, author of Dear Committee Members
"Readers of Perry's nonfiction books will want to know that this is perfect Perry-as-usual, only in novel form. If you're a fan, in fact, you'll eat this up. If you're not a fan yet, well, The Jesus Cow will change that." — Bookworm Sez
Harper, 9780062289919, 304pp.
Publication Date: May 19, 2015
About the Author
Michael Perry is a humorist, radio host, songwriter, and the New York Times bestselling author of several nonfiction books, including Visiting Tom and Population: 485, as well as a novel, The Jesus Cow. He lives in northern Wisconsin with his family and can be found online at www.sneezingcow.com.
or
Not Currently Available for Direct Purchase