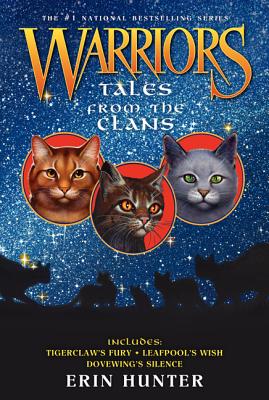 Warriors (Paperback)
Tales from the Clans (Warriors Novella)
HarperCollins, 9780062290854, 320pp.
Publication Date: November 4, 2014
* Individual store prices may vary.
Description
Three novellas featuring the cats of Erin Hunter's #1 bestselling Warriors series—together in print for the first time! In Warriors: Tales from the Clans, experience three stand-alone adventures, previously available as individual digital-only titles:
Tigerclaw's Fury: Cast out of ThunderClan as a traitor, Tigerclaw will not rest until he has his revenge on Bluestar, Fireheart, and the rest of his former Clanmates. First, though, he must become Tigerstar of ShadowClan. . . .
Leafpool's Wish: Leafpool always knew medicine cats weren't meant for love . . . until she fell for the WindClan warrior Crowfeather. But how will she keep her greatest secret?
Dovewing's Silence: In the aftermath of the battle with the Dark Forest, Dovewing's powers have faded—and she struggles to adjust to life as an ordinary warrior.
About the Author
Erin Hunter is inspired by a love of cats and a fascination with the ferocity of the natural world. In addition to having great respect for nature in all its forms, Erin enjoys creating rich mythical explanations for animal behavior. She is also the author of the Seekers, Survivors, and Bravelands series.
Wayne McLoughlin studied art at San Diego State University and has worked as a writer and illustrator for such magazines as
Esquire
and
National Lampoon.
His books for children include
Fireflies,
by Alice Hoffman,
Here is the Wetland,
by Madeleine Dunphy (both Hyperion), and
Loch,
by Paul Zindel. He lives with his wife and daughter in Bellows Falls, Vermont.