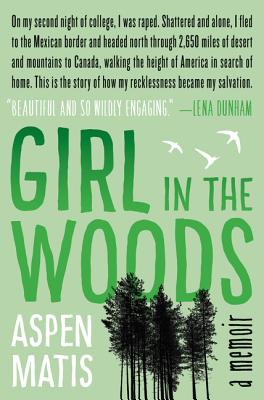 Girl in the Woods
A Memoir
Hardcover

* Individual store prices may vary.
Other Editions of This Title:
Digital Audiobook (9/7/2015)
Paperback (6/14/2016)
Compact Disc (9/8/2015)
Compact Disc (9/8/2015)
Description
Girl in the Woods is Aspen Matis's exhilarating true-life adventure of hiking from Mexico to Canada—a coming of age story, a survival story, and a triumphant story of overcoming emotional devastation. On her second night of college, Aspen was raped by a fellow student. Overprotected by her parents who discouraged her from telling of the attack, Aspen was confused and ashamed. Dealing with a problem that has sadly become all too common on college campuses around the country, she stumbled through her first semester—a challenging time made even harder by the coldness of her college's "conflict mediation" process. Her desperation growing, she made a bold decision: She would seek healing in the freedom of the wild, on the 2,650-mile Pacific Crest Trail leading from Mexico to Canada.
In this inspiring memoir, Aspen chronicles her journey, a five-month trek that was ambitious, dangerous, and transformative. A nineteen-year-old girl alone and lost, she conquered desolate mountain passes and met rattlesnakes, bears, and fellow desert pilgrims. Exhausted after each thirty-mile day, at times on the verge of starvation, Aspen was forced to confront her numbness, coming to terms with the sexual assault and her parents' disappointing reaction. On the trail and on her own, she found that survival is predicated on persistent self-reliance. She found her strength. After a thousand miles of solitude, she found a man who helped her learn to love and trust again—and heal.
Told with elegance and suspense, Girl in the Woods is a beautifully rendered story of eroding emotional and physical boundaries to reveal the truths that lie beyond the edges of the map.
Praise For Girl in the Woods: A Memoir…
"Beautiful and so wildly engaging."
— Lena Dunham

"Brave and poetic. Aspen Matis is one of the few genetic writers."
— Ben Folds, frontman of Ben Folds Five

"A lovely tribute to the healing power of wilderness."
— Nicholas Kristof, winner of the Pulitzer Prize

"This is a very brave book—because there is an open wound in Girl in the Woods, and it never really closes. It becomes a new organ—of doubt, questioning—that remakes both the body and the mind."
— Greil Marcus, Rolling Stone rock critic and New York Times bestselling author

"Aspen Matis reveals wisdoms that are gems—bright and inspiring. This book will astonish you."
— Shelly Oria, author of New York 1, Tel Aviv 0

"Soulful, heartfelt, and transcendent. Girl in the Woods teaches us that writing is a way to heal, empower ourselves, and turn our worst experiences into beautiful art."
— Kenan Trebincevic, author of The Bosnia List

Mercy. I love this story.
— Cheryl Strayed, #1 New York Times bestselling author of Wild

"Girl in the Woods is a breathtaking, gorgeous and profoundly wise book. I cried my way through it. Every young woman, old woman, man and boy should read it."
— Bonnie Nadzam, author of Lamb, winner of the Center for Fiction's First Novel Prize

"A mesmerizing journey from tragedy to triumph. Aspen shows us how any girl—even the once lost and disempowered—can transform herself and become the director of her own life."
— Caity Lotz, actress, award-winning AMC show Mad Men

"Told with exceptional beauty and extraordinary confidence. Matis is a once-in-a-generation talent."
— Bryan Hurt, author of Everyone Wants to Be an Ambassador to France

"Compelling and intense... should be essential reading in dorm rooms across the country."
— Interview Magazine

"Gripping...a must-read."
— Cosmopolitan

"Matis writes vividly of the culture of the PCT—the special treats the locals put out for hikers to find, called 'trail magic,' or the 'trail angels' who host hikers in small towns along the way—and she is bold in her willingness to expose her psychic wounds."
— Kirkus Reviews

"Engrossing...suspenseful....rewarding."
— Booklist

"A brave book by a brave wild child writer. Matis's journey is more than a riveting trip up the Pacific Crest Trail, it's a story of a young woman who won't let anything -be it rattlesnakes or ignorance about the trauma of rape-stop her from rediscovering her own power."
— Leigh Newman, author of Still Points North

"…Rebirth is palpable."
— Library Journal

"An important book of hope and healing."
— Abby Sher, author of Amen, Amen, Amen

"With the pacing of a page-turning novel, Matis has written an emotionally honest, poignant and poetic debut memoir."
— Alice Feiring, author of The Battle for Wine and Love

"Girl In The Woods is eminently compelling, and taken as a whole is a valuable portrait of an actual human's experience that hides in a rape statistic."
— AV Club

"[An] excellent memoir."
— Dover Post

"...a triumphant journey that ELLE readers found "beautifully written," gripping," and "brave."
— Elle

"...a story about the power to overcome a crippling emotional trauma..."
— Pop Sugar

"...a bold story of a woman finding her strength and self-reliance that's told with honesty and intensity."
— Bust Magazine

"Matis writes with a rawness that refuses to hold back...filled with small moments of awe...I was struck by how far she had come…she seemed years more mature than the young woman at the start of the journey. Girl in the Woods is a touching memoir that...unleashes clarity."
— Ms. magazine
William Morrow, 9780062291066, 384pp.
Publication Date: September 8, 2015
About the Author
Aspen Matis is a writer living in Greenwich Village, where she's finishing her degree at The New School and working on a novel.
or
Not Currently Available for Direct Purchase