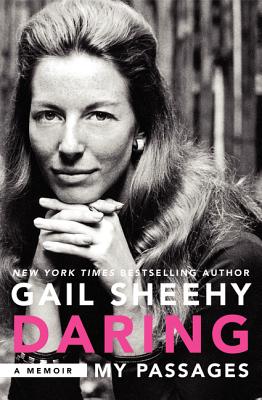 Daring
My Passages: A Memoir
Hardcover

* Individual store prices may vary.
Other Editions of This Title:
Compact Disc (9/9/2014)
Compact Disc (9/9/2014)
Description
The author of the classic New York Times bestseller Passages returns with her inspiring memoir—a chronicle of her trials and triumphs as a groundbreaking "girl" journalist in the 1960s, to iconic guide for women and men seeking to have it all, to one of the premier political profilers of modern times.
Candid, insightful, and powerful, Daring: My Passages is the story of the unconventional life of a writer who dared . . . to walk New York City streets with hookers and pimps to expose violent prostitution; to march with civil rights protesters in Northern Ireland as British paratroopers opened fire; to seek out Egypt's president Anwar Sadat when he was targeted for death after making peace with Israel.
Always on the cutting edge of social issues, Gail Sheehy reveals the obstacles and opportunities encountered when she dared to blaze a trail in a "man's world." Daring is also a beguiling love story of Sheehy's tempestuous romance with and eventual happy marriage to Clay Felker, the charismatic creator of New York magazine. As well, Sheehy recounts her audacious pursuit and intimate portraits of many twentieth-century leaders, including Hillary Clinton, Presidents George H. W. and George W. Bush, and the world-altering attraction between Margaret Thatcher and Mikhail Gorbachev.
Sheehy reflects on desire, ambition, and wanting it all—career, love, children, friends, social significance—and lays bare her major life passages: false starts and surprise successes, the shock of failures and inner crises; betrayal in a first marriage; life as a single mother; flings of an ardent, liberated young woman; her adoption of a second daughter from a refugee camp; marriage to the love of her life and their ensuing years of happiness, even in the shadow of illness.
Now stronger than ever, Sheehy speaks from hard-won experience to today's young women. Her fascinating, no-holds-barred story is a testament to guts, resilience, smarts, and daring, and offers a bold perspective on all of life's passages.
Praise For Daring: My Passages: A Memoir…
"[R]emarkable ... a fascinating narrative with Gail's voice, breathless and intense, as she tries to make sense of everything she's done—her work, her travels, her wild giddy adventures, her sometimes intensely painful experiences."
— Vanity Fair

"Sheehy gives readers a distinct glimpse into some of the most important events of the last 40 years, and, for many, this will be enough reason to read on. Her perspective on the women's movement and the decline of print journalism is especially compelling."
— Library Journal

"Here, [Sheehy] looks back on her remarkable life with unflinching candor."
— O, the Oprah Magazine

"Daring is an inspiring portrait of a resilient woman who fought hard to live an authentic life, and won."
— More.com

"Its familiarity captivates. ...The book is a thorough remembrance of [Sheehy's] life . . . her entire life. And she's had a big life."
— East Hampton Star

"The love story of two superstars in the final great moment of American magazine journalism."
— Tom Wolfe, journalist & bestselling author

"Gail Sheehy's work always combines the care of a scholar and the sensibility of a novelist. Her memoir is a thrilling read."
— Erica Jong, #1 New York Times bestselling author of Fear of Flying

"Daring by Gail Sheehy is the anecdotal life of a pioneering and hardworking journalist who plunges into everything with energy and curiosity. After a lifetime of writing about other people, she takes on the most difficult assignment - herself. It's an irresistible read."
— Gloria Steinem

"Gail Sheehy says that what she cares about most is honesty, and this remarkable memoir is proof. ...I dare you to put it down. I couldn't."
— Meredith Vieira, journalist and news correspondant

"Gail takes us behind the scenes of New York magazine as only one who was there could do."
— Milton Glaser, cofounder of New York magazine

"An astonishing book! ...Those were the days, my friend; we thought they'd never end. They did, but Gail Sheehy brings them alive again."
— Richard Reeves, lecturer, syndicated columnist, and author

"Ardent, approachable, forthright, and empathetic ... a riveting account of one woman's exhilarating trajectory, a page-turning, powerhouse testament to resilience, perseverance, and hope."
— Booklist (starred review)

"[Sheehy's] exuberance leaps off the page as she maps out her professional highs - interviews with world leaders, her best-seller Passages - against the backdrop of a failed first marriage and her decades-long relationship with New York magazine founder Clay Felker. A-"
— Entertainment Weekly
William Morrow, 9780062291691, 496pp.
Publication Date: September 2, 2014
About the Author
Gail Sheehy is the author of seventeen books, including the classic New York Times bestseller Passages, named one of the ten most influential books of our times by the Library of Congress. A multiple-award-winning literary journalist, she was one of the original contributors to New York magazine and has been a contributing editor to Vanity Fair since 1984. A popular lecturer, Sheehy was named AARP's Ambassador of Caregiving in 2009.
Book Videos
Coverage from NPR
or
Not Currently Available for Direct Purchase