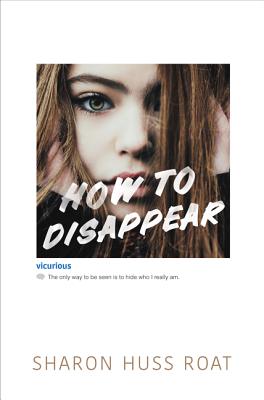 How to Disappear
Hardcover

* Individual store prices may vary.
Other Editions of This Title:
Paperback (5/7/2019)
Description
From the author of Between the Notes comes a story that shines a light on our love of social media and how sometimes being the person you think you want to be isn't as great as being the person you truly are. Perfect for fans of Vivi Greene's Sing and Susane Colasanti's Now and Forever.
Vicky Decker's social anxiety has helped her to master the art of hiding in plain sight, appearing only to her best friend, Jenna. But when Jenna moves away, Vicky's isolation becomes unbearable. So she decides to invent a social life by Photoshopping herself into other people's photos and posting them on Instagram under the screen name Vicurious.
Instantly, she begins to get followers, and soon, Vicky has made a whole new life for herself without ever leaving her bedroom. But the more followers she amasses online, the clearer it becomes that there are a lot of people out there who feel like her—#alone and #ignored in real life. To help them, and herself, she must stop living vicariously and start bringing the magic of Vicurious back to life. 
Praise For How to Disappear…
"A witty, hard-to-put-down novel. Those who enjoy Laurie Halse Anderson's works and Sophie Kinsella's Finding Audrey will want to snap up this funny, important, touching, and, at times, profound title." — School Library Journal (starred review)
"In this engagingly plot-driven crusade of kindness, Roat turns the voyeuristic isolation of social media on its ear to launch a community-building campaign that accommodates her message of kindness and acceptance. Just like the protagonist's virtual foil, this should have wide appeal to the Gen-Z crowd." — Kirkus Reviews
"The dichotomy between Vicky and her online persona will ring true to many teen readers. Roat explores both the impulse to create an enhanced digital self and the desperation of those seeking connection through online platforms. Recommend to fans of Zoe Sugg's Girl Online." — Booklist
"How to Disappear is a heartfelt and heartwarming story for anyone who's ever wanted to be someone else; for anyone who's ever felt like they were on the outside looking in; for anyone who's ever felt alone in a room full of people." — Jeff Zentner, author of Morris Award Winnter The Serpent King and Goodbye Days
"Through Vicky's moving journey, Roat brilliantly captured everything beautiful and terrible about social media, and all the ways it can't possibly compete with real life. If you're a fan of Dear Evan Hansen or if you're a human being living in the 21st century, you need to read this." — Lance Rubin, author of Denton Little's Deathdate and Denton Little's Still Not Dead
"This book. THIS BOOK. It punched me in the heart in the best possible way, reducing me to a small puddle of feels by the end. Flawlessly plotted. Gorgeously written. Absolutely perfect." — Marci Lyn Curtis, author of The One Thing
"Perfectly captures the agony and ecstasy of sharing who you are, whether online or IRL… how it feels to get attention, not knowing whether it will make you or break you. Powerful, tender, and real, Sharon Huss Roat provides a voice for every girl reaching out from the comments section." — Maggie Thrash, author of Honor Girl
"A beautifully touching, relevant book about who we are and who we pretend to be to feel connected. It's a tribute to anyone who's ever felt invisible, yet aching to be seen." — Lauren Gibaldi, author of The Night We Said Yes and Autofocus
"Eloquently captures the feeling of fear and loneliness we all experience when we part ways with our first real friend. Readers will root for Vicky as she finds strength through her online persona. Uplifting, empowering, romantic-it's everything you want in a contemporary read." — Paula Stokes, author of Girl Against the Universe and Liars, Inc.
"Hopeful, relatable, and deeply empathetic How to Disappear is a bighearted story for the Instagram generation." — Kerry Kletter, author of The First Time She Drowned
Praise for Between the Notes — ;
"When it comes to heart and finding home, this novel hits the right notes." — Booklist
"This demonstrates that between the lines resides truth about perception, others, and most importantly oneself." — Kirkus Reviews
"Teens will find a true champion in Ivy" — Voice of Youth Advocates (VOYA)
"Sweet and satisfying debut." — The Horn Book
"A top-notch book. Vicky is a well-developed, believable character supported by a cast that readers could easily meet in any high school. This book will attract a wide range of readers, especially teens who enjoy realistic fiction." — Voice of Youth Advocates (VOYA)
HarperTeen, 9780062291752, 384pp.
Publication Date: August 15, 2017
About the Author
Sharon Huss Roat grew up in Lancaster County, Pennsylvania, and now lives in Delaware with her family. Between the Notes, her debut novel, was followed by How to Disappear. When she's not writing (or reading) books for young adults, you might find her planting vegetables in her backyard garden or sewing costumes for a school musical. Sharon loves hearing from readers, so visit her online at www.sharonroat.com or on Twitter @sharonwrote.
or
Not Currently Available for Direct Purchase