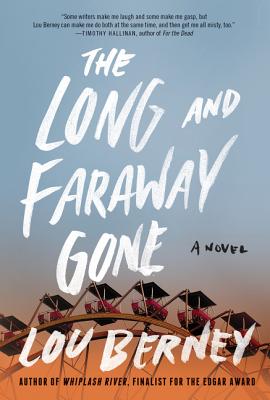 The Long and Faraway Gone
A Novel
Paperback

* Individual store prices may vary.
Other Editions of This Title:
Digital Audiobook (6/3/2019)
Compact Disc (7/6/2021)
Compact Disc (7/6/2021)
MP3 CD (7/6/2021)
Description
WINNER OF THE EDGAR AWARD, THE MACAVITY AWARD, THE ANTHONY AWARD, AND THE BARRY AWARD FOR BEST PAPERBACK ORIGINAL
NOMINATED FOR THE 2015 LA TIMES BOOK PRIZE
With the compelling narrative tension and psychological complexity of the works of Laura Lippman, Dennis Lehane, Kate Atkinson, and Michael Connelly, Edgar Award-nominee Lou Berney's The Long and Faraway Gone is a smart, fiercely compassionate crime story that explores the mysteries of memory and the impact of violence on survivors—and the lengths they will go to find the painful truth of the events that scarred their lives.
In the summer of 1986, two tragedies rocked Oklahoma City. Six movie-theater employees were killed in an armed robbery, while one inexplicably survived. Then, a teenage girl vanished from the annual State Fair. Neither crime was ever solved.
Twenty-five years later, the reverberations of those unsolved cases quietly echo through survivors' lives. A private investigator in Vegas, Wyatt's latest inquiry takes him back to a past he's tried to escape—and drags him deeper into the harrowing mystery of the movie house robbery that left six of his friends dead.
Like Wyatt, Julianna struggles with the past—with the day her beautiful older sister Genevieve disappeared. When Julianna discovers that one of the original suspects has resurfaced, she'll stop at nothing to find answers.
As Wyatt's case becomes more complicated and dangerous, and Julianna seeks answers from a ghost, their obsessive quests not only stir memories of youth and first love, but also begin to illuminate dark secrets of the past. But will their shared passion and obsession heal them, or push them closer to the edge? Even if they find the truth, will it help them understand what happened, that long and faraway gone summer? Will it set them free—or ultimately destroy them?
Praise For The Long and Faraway Gone: A Novel…
"The two key players in Lou Berney's superb regional mystery suffer from separate but equally crushing cases of survivor guilt . . . Berney tells both their stories with supreme sensitivity, exploring the 'landscape of memory' that keeps shifting beneath our feet." — Marilyn Stasio, New York Times Book Review
"The Long and Faraway Gone is that rare literary gem -- a dark, quintessentially cool noir novel that is both deeply poignant, and very funny . . . as hip, hilarious, and entertaining as it is wrenching, beautiful, and ultimately redemptive." — Huffington Post
"Berney's novel is most truly a thoughtful exploration of memory and what it means to be a survivor. Elegiac and wistful, it is a lyrical mystery . . . with a deep, wounded heart. Read it." — Kirkus Reviews (starred review)
"Focused, very insightfully, on love, loss, and memory . . . fully realized creations that readers won't soon forget. A genuinely memorable novel of ideas." — Booklist (starred review)
"Will raise a lump in the throat . . . the leads' struggles are portrayed with painful complexity, and Berney, fittingly, avoids easy answers." — Publishers Weekly (starred review)
"A tour de force built around two tragedies ripped from the headlines of this newspaper . . . should top the bestseller lists in our local bookstores, but is deserving of national acclaim." — Oklahoma City Oklahoman
"This is crime fiction at its absolute best . . . deeply insightful and beautifully written . . . squarely in the ranks of powerhouses such as Lippman and Lehane." — Crimespree Magazine
"So much to love here . . . easy to read yet difficult to forget. . . Berney is a mighty fine wordsmith whose name should be mentioned more often than it is during discussions of new bright lights in the literary world." — Bookreporter.com
"Multi-faceted, layered, intense, alive—if you read only one crime novel this year, this should be the one." — Sara J. Henry, Anthony Award-winning author of A Cold and Lonely Place
"With sharp wit and prose that brings the 80s to life in all its stone-washed glory, Lou Berney tells a complex story of characters struggling to make sense of life . . . Affecting, funny, and unfailingly honest, The Long and Faraway Gone is an extraordinary book." — M.P. Cooley, author of Ice Shear
"Berney takes you places you're not sure you want to go and brings you out again with a sure hand. It's a satisfyingly complete deep-dive into a complicated history, with not only suspense but a compelling resolution." — Carrie La Seur, author of The Home Place
William Morrow Paperbacks, 9780062292438, 464pp.
Publication Date: February 10, 2015
About the Author
Lou Berney is the author of three previous novels, Gutshot Straight, Whiplash River, and multiple prize-winning The Long and Faraway Gone. His short fiction has appeared in publications such as The New Yorker, Ploughshares, and the Pushcart Prize anthology. He lives in Oklahoma City, Oklahoma.