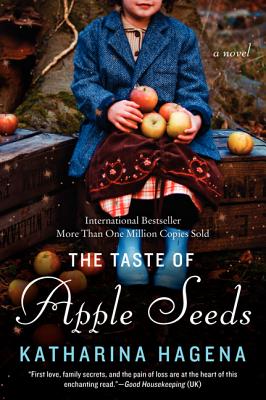 The Taste of Apple Seeds
A Novel
Paperback

* Individual store prices may vary.
Description
Shimmering with the incandescence and irresistible magic of the novels of Alice Hoffman, Joanne Harris, and Aimee Bender, Katharina Hagena's smash international bestseller, The Taste of Apple Seeds, is a story of love and loss that will captivate your heart.
When Iris unexpectedly inherits her grandmother's house in the country, she also inherits the painful memories that linger there. Should she keep it or sell it? The choice is not easy, for the cottage is a place of enchantment and sensual mystery where currant jam tastes of tears, blue sparks crackle at the touch of fingertips, love makes apple trees bloom—and dark secrets pulsate in the house's nooks and shadows. . . .
Praise For The Taste of Apple Seeds: A Novel…
"Hagena writes in sensual, poetic prose, bringing a fairy-tale quality to her gothic tale of family secrets and deceits." — Booklist
"This melancholy novel about lifting the layers of history is packed with gorgeous imagery and undertones of buried secrets...Sultry, tragic and intensely atmospheric." — The Times (London)
Beautifully phrased, artful and sometimes ingenious...The Taste of Apple Seeds is atmospheric and sensual...Hagena ingrains the creaking old house--and the book--with melancholy; every word, every place is weighted with memories. — The Independent
Hagena's sensitivity and attention to detail, and a narrator whose honesty and comical clumsiness keep the story light and engaging, have universal appeal. — Sunderland Echo
The Taste of Apple Seeds is a pure masterpiece. Germany has had a triumph with the debut of this unknown author last year. — Le Nouvel Observateur
Between the lines, you smell the odor "of apples and old stones"...You eat her apple entirely, even with the apple seeds. — Elle (FR)
Trespassing from emotion to tenderness, from laughing to tragedy. Katharina Hagena retraces subtly the destiny of each of her characters who are all related to each other. In a fluid and delicate writing style she intertwines remembering and forgiving, a moving story. — Notes Bibliographiques
"There is an enchantment about this book which is almost like a fable...With seamless flash-backs Katharina Hagena retellst he story of this friendship." — Ballarat Courier
"Intriguing and carefully written." — Daily Mail (London)
"Unbearably moving but ultimately uplifting." — Good Housekeeping, UK
"Hagena's sensitivity and attention to detail, and a narrator whose honesty and comical clumsiness keep the story light nad engaging, have a universal appeal." — Irish News
"The book works a slow charm as Iris chronicles the love life of one aunt after another." — Metro London
"It's easy to see why this riveting gothic saga spent two years on the German bestseller list." — Saga Magazine
"[This] almost has a magical feel to it, and many will find it to be extremely moving and thought-provoking. This hidden gem is utterly engrossing — RT Book Reviews
William Morrow Paperbacks, 9780062293473, 256pp.
Publication Date: February 4, 2014
About the Author
Katharina Hagena is the author of On Sleep and Disappearing. She lives in Hamburg, Germany.