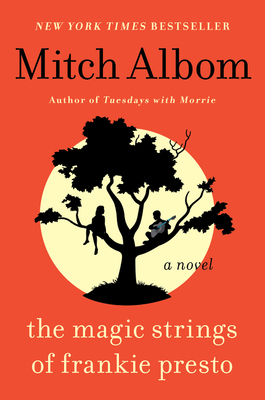 The Magic Strings of Frankie Presto
A Novel
Paperback

* Individual store prices may vary.
Other Editions of This Title:
Digital Audiobook (11/9/2015)
Paperback, Large Print (11/10/2015)
Hardcover (11/10/2015)
CD-Audio (11/8/2016)
Paperback, Chinese (12/1/2015)
Compact Disc (11/10/2015)
Description
From the beloved author of the #1 New York Times bestsellers Tuesdays with Morrie and The Five People You Meet in Heaven comes his most critically acclaimed novel yet—a stunningly original tale of love: love between a man and a woman, between an artist and his mentor, and between a musician and his God-given talent.
Narrated by the voice of Music itself, the story follows Frankie Presto, a war orphan born in a burning church, through his extraordinary journey around the world. Raised by a blind guitar teacher in Spain and gifted with a talent to change people's lives—using six mysterious blue strings—Frankie navigates the musical landscape of the twentieth century, from the 1950s jazz scene to the Grand Ole Opry to Elvis mania and Woodstock, all the while searching for his childhood love.
As he becomes a famous star, he loses his way, until tragedy steals his ability to play the guitar that had so defined him. Overwhelmed by his loss, Frankie disappears for decades, reemerging late in life for one spectacular yet mystifying farewell.
Part love story, part magical mystery, The Magic Strings of Frankie Presto is Mitch Albom at his finest, a Forrest Gump-like epic about one man's journey to discover what truly matters and the power of talent to change our lives.
Praise For The Magic Strings of Frankie Presto: A Novel…
"Albom's fable about the power of song carries you along like a beautiful melody." — People
"Albom's The Magic Strings of Frankie Presto hits the right notes. Albom's love for music is richly apparent... and his maxims about life will no doubt bring readers on a pleasantly sentimental journey about the bandmates in their lives." — USA Today
"A beautiful story that forces us to think about the concept of a life well lived…Albom brings his literary magic once again." — Huffington Post
"Albom can say in one sentence what others can spend a lifetime trying to convey." — The Book Wheel
"Within a few pages, you'll be as delighted with this sparkling book as I was. Start it, stick with it, and you'll find 'The Magic Strings of Frankie Presto to be a book of note." — Yankton Daily Press
"As always, Albom's novel has a larger message...and The Magic Strings of Frankie Pesto resonates with a kind of cosmic connection." — Miami New Times
"What an entertainer! Mitch Albom, author, playwright, screenwriter, nationally syndicated columnist - and philanthropist, as his audience learned, was a charmer…There seemed to be no end to this man's talents." — NorthJersey.com
Harper Paperbacks, 9780062294432, 368pp.
Publication Date: October 25, 2016
About the Author
Mitch Albom is the author of numerous books of fiction and nonfiction, which have collectively sold more than forty million copies in forty-seven languages worldwide. He has written seven number-one New York Times bestsellers – including Tuesdays with Morrie, the bestselling memoir of all time, which topped the list for four straight years – award-winning TV films, stage plays, screenplays, a nationally syndicated newspaper column, and a musical. Through his work at the Detroit Free Press, he was inducted into both the National Sports Media Association and Michigan Sports halls of fame and is the recipient of the 2010 Red Smith Award for lifetime achievement. After bestselling memoir Finding Chika and "Human Touch," the weekly serial written and published online in real-time to raise funds for pandemic relief, his latest work is a return to fiction with The Stranger in the Lifeboat (Harper, November 2021). He founded and oversees SAY Detroit, a consortium of nine different charitable operations in his hometown, including a nonprofit dessert shop and food product line to fund programs for Detroit's most underserved citizens. He also operates an orphanage in Port-Au-Prince, Haiti, which he visits monthly. He lives with his wife, Janine, in Michigan. Learn more at www.mitchalbom.com, www.saydetroit.org, and www.havefaithaiti.org.
1. Of what significance—literal or symbolic—is it that Frankie Presto was born amidst El Terror Rojo, the Spanish civil war? How do you think the cultural restrictions and political tensions affected Frankie's childhood?
2. Throughout the novel, we get glimpses of Frankie's story from people—both real and imagined—who knew Frankie through his music. What does this array of voices and characters add to the novel? How do they add to our understanding of Frankie?
3. Cast into the river as a baby, Frankie is saved by the hairless dog. What is the role of the dog in Frankie's life?
4. Very early in his life, Frankie shows "flashes of genius" with music. How much of genius talent is given, how much is earned?
5. Consider Frankie's music teacher, El Maestro. What does he value most about music? How did losing his sight affect him? How does getting Frankie into his life fulfill him?
6. Beyond teaching Frankie how to play the guitar, how does El Maestro impact Frankie's life? What does he teach him?
7. Franco's oppressive political regime in Spain created conditions under which "art suffers." How can art be limited by politics?
8. Consider the long, romantic, and complex relationship between Frankie and Aurora York. Why do they always return to one another? What does this say about the role of forgiveness in the novel?
9. Frankie "grew up all over the place: Spain, England, Detroit, Nashville, New Orleans, Louisiana, California." How does this influence him and his music? How might different places and landscapes affect an artist?
10. Despite all his talent and success, late in his life Frankie still doesn't believe he deserves applause. Why might this be so?
11. How does Frankie and Aurora's adopted daughter, Kai, change Frankie's life? His music? What does Frankie mean when he tells Paul Stanley that "the older you get, the more you want your kids to know about you"?
12. The narrator, Music, claims that "all humans are musical." Do you agree? In what ways might this be true? What do you think defines music and what role does it play in our everyday life?