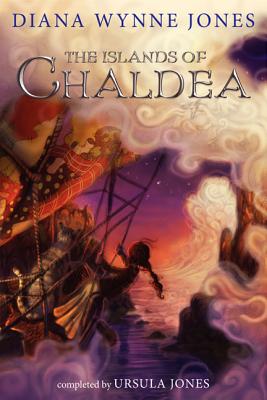 The Islands of Chaldea (Hardcover)
Greenwillow Books, 9780062295071, 368pp.
Publication Date: April 22, 2014
* Individual store prices may vary.
Description
A stand-alone novel of magic and adventure by the renowned fantasy author Diana Wynne Jones, who also wrote Howl's Moving Castle and the Chrestomanci books. Almost finished upon her death in 2011, the manuscript was completed by Diana's sister Ursula Jones, an acclaimed novelist and actress. Publishers Weekly called The Islands of Chaldea "a story to cherish" in their starred review.
Aileen comes from a long line of magic makers, and her aunt Beck is the most powerful magician on Skarr. But Aileen's magic has yet to reveal itself, even though she is old enough and it should have by now. When Aileen is sent over the sea on a mission for the King, she worries that she'll be useless and in the way. A powerful talking cat changes all of that—and with every obstacle Aileen faces, she becomes stronger and more confident, until her magic blooms. This stand-alone novel, by the beloved and acclaimed author of such classic fantasy novels as Howl's Moving Castle and the Chrestomanci books, will be welcomed by fans old and new. "Jones's imaginative vigor is unabated in this last, picaresque novel; her deft, fluid style and penchant for precise, characterful description are amply present," proclaimed The Horn Book.
Praise For The Islands of Chaldea…
"The best children's writer of the last 40 years."

"In the realm of other-world fantasy, this season's gem is the late Diana Wynne Jones's The Islands of Chaldea, completed by Ursula Jones. Humour, wisdom and inventive genius suffuse the tale . . . challenging readers' minds while creating a full world of sympathetic characters."

"Readers are treated to a nonstop plot, memorable characters, and signature DWJ touches. … For younger readers, a worthy introduction to the delights of the late, lamented master fantasist."

"Beautiful and intricate…A strong, elegant fantasy [that] will linger with readers."

Praise for Earwig and the Witch: "This funny story updates fairy tale conventions while highlighting Jones's subversive wit. … A fine introduction to the author's more complex YA novels."

"Earwig is a plucky, albeit bossy, heroine, and the story is packed with wit and humor."

"Only in an unorthodox children's book does a girl hope that she won't be … taken away from the orphanage. But then, Earwig isn't your typical orphan. … An amusing story in which it takes hard work as well as magic and cleverness to bring about a happy ending."