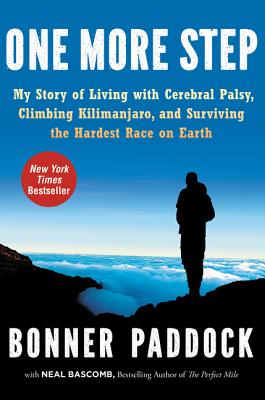 One More Step (Paperback)
My Story of Living with Cerebral Palsy, Climbing Kilimanjaro, and Surviving the Hardest Race on Earth
HarperOne, 9780062295606, 304pp.
Publication Date: March 8, 2016
Other Editions of This Title:
Hardcover (3/10/2015)
* Individual store prices may vary.
Description
In this exhilarating and inspirational memoir, the first man with cerebral palsy to climb Mount Kilimanjaro and complete the brutal Ironman competition shares the exhilarating adventure that led to his achievements—redefining our ideas of normal and proving that life is never truly limited for any of us.
Bonner Paddock summited 19,341 foot-high Mount Kilimanjaro, the world's tallest freestanding mountain. Four years later, he earned the elite triathlete title, Kona Ironman. Thousands have done each individually. Bonner is the first person with cerebral palsy to do both.
Diagnosed in his youth, Bonner swore he wouldn't let this neurological disorder limit him, and for twenty-nine years he guarded the truth about his health. But the sudden death of a friend's young son who also suffered from CP forced Bonner to reevaluate his life. No longer would he be content striving for normal. Instead he would live life to its fullest, pursuing one breathtaking experience at a time—while raising money for special needs children along the way—and never turn down a challenge for fear of his physical limitations.
His is a remarkable journey that has taken him across the globe and introduced him to a fascinating cast of characters who have supported his inspiring quest. An athlete, adventurer, and philanthropist, Bonner is today no longer defined by his limits, but by the moments that pushed him past them. Infused with his irresistible charisma, courage, and heart, illustrated with 16 pages of color photos, One More Step shows us that we can all conquer our own challenges and embrace every moment life has to offer.
About the Author
Bonner Paddock is a successful business executive and the founder of the OM Foundation® (OMF), serving the needs of children with all types of disabilities. He lives in Laguna Beach, California.
Neal Bascomb is a former international journalist and the award-winning author of six bestselling books, including The Perfect Mile and Hunting Eichmann.
Praise For One More Step: My Story of Living with Cerebral Palsy, Climbing Kilimanjaro, and Surviving the Hardest Race on Earth…
"Bonner Paddock is an amazing person with an unconquerable spirit. His story is beyond inspiring, and he personifies what true toughness and heart are all about. Through it all, Bonner Paddock keeps going, and takes all of us along with him."
— Jay Bilas, ESPN basketball analyst and author of the New York Times bestseller Toughness: Developing True Strength On and Off the Court

"Bonner Paddock's One More Step is the triumphant story of a man who accomplishes the impossible. On a deeper level, however, it's about the human bonds that can push us to become heroes. An instantly engaging and wonderful book."
— A. J. Baime, New York Times bestselling author of The Arsenal of Democracy and Go Like Hell

"One More Step is a courageous and heartwarming story of one man's trials and triumphs over cerebral palsy. Packed with adventure, this gripping narrative of summiting Mount Kilimanjaro and becoming a Kona Ironman both exhausts and uplifts the human spirit. An inspiring and irresistible book."
— Lars Anderson, author of The Storm and the Tide

"One More Step is a riveting story of overcoming the challenge of living with cerebral palsy and conquering the impossible. Bonner Paddock is an inspiration to everyone."
— Nolan Ryan, MLB Hall of Fame pitcher

"[Bonner Paddock's] story of training for these events and the mind-boggling pain he endured to achieve his goals will have readers crying and cheering all the way to the finish line. An emotion- and action-packed story of the author's tenacious, dogged pursuit of his goals."
— Kirkus Reviews

"Each step of Paddock's journey is described in vivid and compelling detail. Readers will cheer for this extraordinary man, whose story is solid evidence that limits fall away when confronted with resolve, service, and courage."
— Publishers Weekly
or
Not Currently Available for Direct Purchase