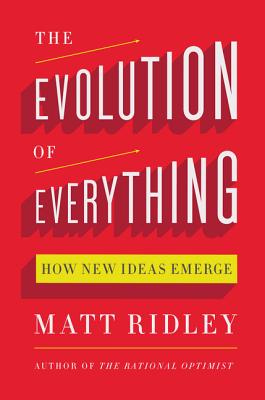 The Evolution of Everything
How New Ideas Emerge
Hardcover

* Individual store prices may vary.
Other Editions of This Title:
Digital Audiobook (10/26/2015)
Description
The New York Times bestselling author of The Rational Optimist and Genome returns with a fascinating, brilliant argument for evolution that definitively dispels a dangerous, widespread myth: that we can command and control our world.
The Evolution of Everything is about bottom-up order and its enemy, the top-down twitch—the endless fascination human beings have for design rather than evolution, for direction rather than emergence. Drawing on anecdotes from science, economics, history, politics and philosophy, Matt Ridley's wide-ranging, highly opinionated opus demolishes conventional assumptions that major scientific and social imperatives are dictated by those on high, whether in government, business, academia, or morality. On the contrary, our most important achievements develop from the bottom up. Patterns emerge, trends evolve. Just as skeins of geese form Vs in the sky without meaning to, and termites build mud cathedrals without architects, so brains take shape without brain-makers, learning can happen without teaching and morality changes without a plan.
Although we neglect, defy and ignore them, bottom-up trends shape the world. The growth of technology, the sanitation-driven health revolution, the quadrupling of farm yields so that more land can be released for nature—these were largely emergent phenomena, as were the Internet, the mobile phone revolution, and the rise of Asia. Ridley demolishes the arguments for design and effectively makes the case for evolution in the universe, morality, genes, the economy, culture, technology, the mind, personality, population, education, history, government, God, money, and the future.
As compelling as it is controversial, authoritative as it is ambitious, Ridley's stunning perspective will revolutionize the way we think about our world and how it works.
Praise For The Evolution of Everything: How New Ideas Emerge…
"A highly intelligent and bracingly iconoclastic view of the world. It forces us to see life through new eyes."
— New York Times Book Review

"A compelling argument...a fascinating work...The way the book frames the argument is delightfully novel...Ridley has amassed such a weight of fascinating evidence and anecdote that the pages fly by."
— The Times (Saturday Review)

"Ridley shows how hard it has been for even the most definite evolutionists to fully abandon the notion of a guiding intelligence…Yet that is what the hard evidence…that Ridley adduces in every chapter compels us all to do."
— Booklist (starred review)

"This penetrating book is Mr. Ridley's best and most important work to date…there is something profoundly democratic and egalitarian-even anti-elitist-in this bottom-up approach: Everyone can have a role in bringing about change."
— Wall Street Journal

"An exceptional book: exceptionally easy to read, easy to understand, easy to appreciate…Of the many good general texts on the subject, THE EVOLUTION OF EVERYTHING emerges as the fittest to champion the case for the ubiquity of evolution."
— Washington Times

"Ridley is a provocative, occasionally pugnacious writer and his book is intriguing and artfully argued."
— London Sunday Times

"Highly readable, invariably interesting…Ridley's laudable aim is to disenthrall us of our intuitive creationism and make us see evolution at work everywhere…Ridley succeeds in spades…He possesses the rare power to see the world in a different light - one made not by great men or women but by undirected, incremental change."
— New Scientist

"An ingenious study…fascinating…thought-provoking…difficult to put down."
— Kirkus, starred review

"Impressive…Readers of evolutionary theory, sociology, history, anthropology and philosophy shall be highly entertained by this thought-provoking read."
— Library Journal

"Building on the timeless insights of Lucretius, Ridley examines how civilization inexorably organizes itself. Wrong-headed social theories, he and Lucretius agree, just get in the way."
— Stewart Brand, Author, Whole Earth Discipline
Harper, 9780062296009, 368pp.
Publication Date: October 27, 2015
About the Author
MATT RIDLEY is the award-winning, bestselling author of The Evolution of Everything: How New Ideas Emerge, The Rational Optimist: How Prosperity Evolves, Genome: The Autobiography of a Species in 23 Chapters, and The Red Queen: Sex and the Evolution of Human Nature. His books have sold more than one million copies in thirty languages worldwide. He has written for the Wall Street Journal and the Times of London as well as the Economist. He is a member of the House of Lords and lives in Newcastle and London.
or
Not Currently Available for Direct Purchase