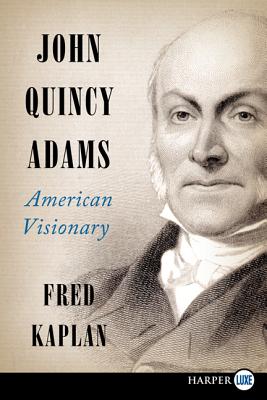 John Quincy Adams (Paperback)
American Visionary
HarperLuxe, 9780062298768, 1072pp.
Publication Date: May 27, 2014
Other Editions of This Title:
Paperback (6/9/2015)
Hardcover (5/6/2014)
MP3 CD (6/9/2015)
* Individual store prices may vary.
Description
Fred Kaplan, the acclaimed, award-winning author of Lincoln, returns with John Quincy Adams, an illuminating biography of one of the most overlooked presidents in American history—a leader of sweeping perspective whose progressive values helped shape the course of the nation.
In this fresh and lively biography rich in literary analysis and new historical detail, Fred Kaplan brings into focus the dramatic life of John Quincy Adams—the little known and much misunderstood sixth president of the United States and the first son of John and Abigail Adams—and persuasively demonstrates how Adams's inspiring, progressive vision guided his life and helped shape the course of America.
Kaplan draws on a trove of unpublished archival material to trace Adams's evolution from his childhood during the Revolutionary War to his brilliant years as Secretary of State to his time in the White House and beyond. He examines Adams's myriad sides: the public and private man, the statesman and writer, the wise thinker and passionate advocate, the leading abolitionist and fervent federalist who believed strongly in both individual liberty and the government's role as an engine of progress and prosperity. In these ways—and in his energy, empathy, sharp intellect, and powerful gift with words both spoken and written—he was a predecessor of Lincoln and, later, FDR and Obama. Indeed, this sweeping biography makes clear how Adams's forward-thinking values, his definition of leadership, and his vision for the nation's future is as much about twenty-first century America as it is about Adams's own time.
Meticulously researched and masterfully written, John Quincy Adams paints a rich portrait of this brilliant leader and his significance to the nation and our own lives.
About the Author
Fred Kaplan is Distinguished Professor Emeritus of English at Queens College and the Graduate Center of the City University of New York. He is the author of Lincoln: The Biography of a Writer, which was named a Best Book of the Year by the New York Times and Washington Post, among other publications. His biography of Thomas Carlyle was a finalist for the National Book Critics Circle Award and the Pulitzer Prize. He lives in Maine.
Praise For John Quincy Adams: American Visionary…
"Kaplan has produced a full-length narrative of this remarkable life, rendered in lucid and loving prose. . . . Kaplan rightly portrays Adams as a man ahead of his time. . . . A valuable book about an important American figure."
— Robert W. Merry, The New York Times Book Review

"An engaging, well-crafted, and deeply researched biography that puts particular emphasis on John Quincy's rich life of the mind."
— Susan Dunn, The New York Review of Books

"In undertaking John Quincy Adams, Fred Kaplan. . . clearly is trying to do for the son what David McCullough did for the father. . . . It was a notable life, marked now by a notable biography."
— The Boston Globe

"John Quincy Adams should be required reading inside the Beltway. . . . Kaplan has penned a richly detailed canticle to his subject. . . . Kaplan's narrative is both riveting and brimming with telling details."
— The Christian Science Monitor

"Well-researched and well-written. . . . An admiring and admirable account."
— The Wall Street Journal

"Insightful and engrossing. . . . As Kaplan makes plain in his own clear and finely chiseled prose, John Quincy Adams was, at his core, a writer. . . . A fine biography."
— Annette Gordon-Reed, The American Scholar

"An exemplary portrait. . . . Kaplan is accomplished at the art of biography."
— Louis P. Masur, The Los Angeles Review of Books

"Beautifully researched and written. . . . Biography fans, don't miss this one."
— The Washingtonian, Best Books of the Month

"As well-written, comprehensive, and satisfying account of Adams's personal life and career as we have seen in print."
— The Washington Times

"There is much to praise in this extensively researched book, which is certainly one of the finest biographies of a sadly underrated man. . . . These are the marks of a master historian and biographer."
— Carol Berkin, The Washington Post
or
Not Currently Available for Direct Purchase