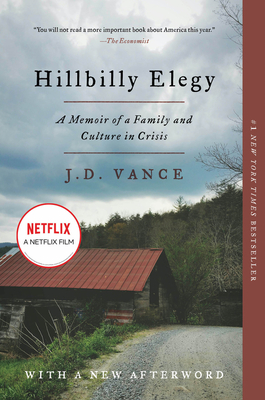 Hillbilly Elegy
A Memoir of a Family and Culture in Crisis
Paperback

* Individual store prices may vary.
Other Editions of This Title:
Digital Audiobook (6/27/2016)
Hardcover (6/28/2016)
Paperback (11/17/2020)
Compact Disc (6/28/2016)
Hardcover, Large Print (1/4/2017)
MP3 CD (6/28/2016)
Paperback, Chinese (9/27/2017)
Compact Disc (6/28/2016)
Description
THE #1 NEW YORK TIMES BESTSELLER IS NOW A MAJOR-MOTION PICTURE DIRECTED BY RON HOWARD AND STARRING AMY ADAMS, GLENN CLOSE, AND GABRIEL BASSO

"You will not read a more important book about America this year."—The Economist
"A riveting book."—The Wall Street Journal
"Essential reading."—David Brooks, New York Times
Hillbilly Elegy is a passionate and personal analysis of a culture in crisis—that of white working-class Americans. The disintegration of this group, a process that has been slowly occurring now for more than forty years, has been reported with growing frequency and alarm, but has never before been written about as searingly from the inside. J. D. Vance tells the true story of what a social, regional, and class decline feels like when you were born with it hung around your neck.
The Vance family story begins hopefully in postwar America. J. D.'s grandparents were "dirt poor and in love," and moved north from Kentucky's Appalachia region to Ohio in the hopes of escaping the dreadful poverty around them. They raised a middle-class family, and eventually one of their grandchildren would graduate from Yale Law School, a conventional marker of success in achieving generational upward mobility. But as the family saga of Hillbilly Elegy plays out, we learn that J.D.'s grandparents, aunt, uncle, sister, and, most of all, his mother struggled profoundly with the demands of their new middle-class life, never fully escaping the legacy of abuse, alcoholism, poverty, and trauma so characteristic of their part of America. With piercing honesty, Vance shows how he himself still carries around the demons of his chaotic family history.
A deeply moving memoir, with its share of humor and vividly colorful figures, Hillbilly Elegy is the story of how upward mobility really feels. And it is an urgent and troubling meditation on the loss of the American dream for a large segment of this country.
Praise For Hillbilly Elegy: A Memoir of a Family and Culture in Crisis…
"[A] compassionate, discerning sociological analysis…Combining thoughtful inquiry with firsthand experience, Mr. Vance has inadvertently provided a civilized reference guide for an uncivilized election, and he's done so in a vocabulary intelligible to both Democrats and Republicans. Imagine that."
— Jennifer Senior, New York Times

"[Hillbilly Elegy] is a beautiful memoir but it is equally a work of cultural criticism about white working-class America….[Vance] offers a compelling explanation for why it's so hard for someone who grew up the way he did to make it…a riveting book."
— Wall Street Journal

"[Vance's] description of the culture he grew up in is essential reading for this moment in history."
— David Brooks, New York Times

"[Hillbilly Elegy] couldn't have been better timed...a harrowing portrait of much that has gone wrong in America over the past two generations...an honest look at the dysfunction that afflicts too many working-class Americans."
— National Review

"[A]n American classic, an extraordinary testimony to the brokenness of the white working class, but also its strengths. It's one of the best books I've ever read… [T]he most important book of 2016. You cannot understand what's happening now without first reading J.D. Vance."
— Rod Dreher,The American Conservative

"J.D. Vance's memoir, "Hillbilly Elegy", offers a starkly honest look at what that shattering of faith feels like for a family who lived through it. You will not read a more important book about America this year."
— The Economist

"[A] frank, unsentimental, harrowing memoir...a superb book..."
— New York Post

"The troubles of the working poor are well known to policymakers, but Vance offers an insider's view of the problem."
— Christianity Today

"Vance movingly recounts the travails of his family."
— Washington Post

"What explains the appeal of Donald Trump? Many pundits have tried to answer this question and fallen short. But J.D. Vance nails it...stunning...intimate..."
— Globe and Mail (Toronto)
Harper Paperbacks, 9780062300553, 288pp.
Publication Date: May 1, 2018
About the Author
J.D. Vance grew up in the Rust Belt city of Middletown, Ohio, and the Appalachian town of Jackson, Kentucky. He enlisted in the Marine Corps after high school and served in Iraq. A graduate of the Ohio State University and Yale Law School, he has contributed to the National Review and the New York Times, and works as an investor at a leading venture capital firm. Vance lives in Columbus, Ohio, with his family.
1. What is Jackson, Kentucky like? Why does Vance have such an affection for the place? How is Middletown, Ohio similar and different?
2. In Chapter Two, we learn about the migration of people out of Appalachia in search of jobs. What does this migration do for communities?
3. Class disloyalty is something Vance's grandmother, Mamaw, dislikes. How does she define class disloyalty? Why does she dislike it so much? Why does she think loyalty is so important? Thematically, in what ways is loyalty celebrated and in what ways is loyalty problematic?
4. Are you surprised at the kinds of violence Vance encounters at home? Do you think the family themselves consider their behaviors violent?
5. In Chapter Eight, Vance discusses education reform to help children in poor Appalachia communities. How do you fix the issues in these school systems when the problems these children face also stem from their lives at home?
6. From Vance's analysis, why are people in places like Middletown, Ohio so distrustful of contemporary America?  In what ways does the media and internet feed into these anxieties?  How do these perceptions and views feed into attitudes towards government and aspects of American society?
7. How does the Marine Corps change Vance? What does it teach him? In what ways does being at Yale Law challenge Vance's identity?
8. On page 231, Vance talks about the difference between personal choice and cultural inheritance. How do you distinguish between actions and reactions based on personal choice versus cultural inheritance?
9. The ability to adapt is a significant theme in Hillbilly Elegy. In what ways is the adaptability, or lack thereof, of people or towns to certain circumstances present in the book?
10. Vance talks about hillbilly culture suffering from a lack of agency and a willingness to blame everyone but yourself. How do we see Seligman's "learned helplessness" in Hillbilly Elegy? How does it deepen this community's crisis?
11. What public policy lessons does Vance outline from his experiences? How could they help the hillbilly community?