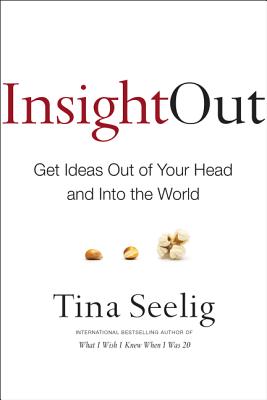 Insight Out (Hardcover)
Get Ideas Out of Your Head and Into the World
HarperOne, 9780062301277, 256pp.
Publication Date: May 26, 2015
Other Editions of This Title:
Digital Audiobook (5/25/2015)
Paperback, Vietnamese (4/1/2019)
Compact Disc (5/26/2015)
Compact Disc (5/26/2015)
* Individual store prices may vary.
Description
In this revolutionary guide, Stanford University Professor and international bestselling author of inGenius adopts her popular course material to teach everyone how to make imaginative ideas a reality.
As a leading expert on creativity, Tina Seelig has continually explored what we can each do to unleash our entrepreneurial spirit. In Insight Out, she offers us the tools to make our ideas a reality. She clearly defines the concepts of imagination, creativity, innovation, and entrepreneurism, showing how they affect each other and how we can unlock the pathway from imagination to implementation, where our ideas then gain the power to inspire the imaginations of others.
Drawing on more than a decade of experience as a professor at the Stanford University School of Engineering, Seelig shows readers how to work through the steps of imagination, ideation, innovation, and implementation, using each step to build upon the last, to ultimately create something complex, interesting, and powerful. Coping with today's constant change, everyone needs these skills to conquer challenges and seize the opportunities that arise. Seelig irrefutably demonstrates that these skills can be taught, and shows us how to mobilize our own energy and bring new ideas to life.
About the Author
Tina Seelig earned her Ph.D. in neuroscience from Stanford University Medical School and is Professor of the Practice in the Department of Management Science and Engineering at Stanford's School of Engineering and executive director of the Stanford Technology Ventures Program. She is the international bestselling author of What I Wish I Knew When I Was 20 and inGenius: A Crash Course on Creativity. In 2009, Seelig was awarded the prestigious Gordon Prize from the National Academy of Engineering for her pioneering work in engineering education. Follow her on Twitter at @tseelig.
Praise For Insight Out: Get Ideas Out of Your Head and Into the World…
"The Silicon Valley entrepreneurship story has taken an outsized place in our understanding of innovation. Tina Seelig explains how the skills of creativity, invention, and entrepreneurship can be pursued in every walk of life, and even better, how they can be taught."
— Tim O'Reilly, founder and CEO of O'Reilly Media Inc.

"Insight Out elegantly illustrates how to move from imagination to innovation, and inspiration to implementation."
— Adam Grant, Wharton professor and New York Times bestselling author of Give and Take

"Tina Seelig presents a provocative pathway for bringing your ideas to fruition. Illustrated with inspiring examples, this book leaves plenty of room for defining your own choices as you move through the entrepreneurial process."
— Geoff Moore, author of Crossing the Chasm

"This book will make you smarter, more creative, more original and more innovative. It's valuable both for individuals who want to turbo-charge their own performance, as well as companies and the leaders within these companies: anyone who is looking for more innovation MUST read this book!"
— Olivia Fox Cabane, author of The Charisma Myth

"Tina Seelig draws from the halls of Stanford to the walls of start-ups to distill the secrets of successful entrepreneurs. Whether you are an aspiring entrepreneur or an established professional, Insight Out will be your essential guide for converting your ideas into impact.
— Liz Wiseman, bestselling author of Multipliers and Rookie Smarts

"A practical handbook for turning ideas into action, Insight Out is a fast-paced ride from imagination and creativity to innovation and entrepreneurship. Use this book to bring your ideas to life."
— Tom Kelley, co-author of Creative Confidence

"Many of the current generation of leaders in Silicon Valley were once students that she personally mentored. With Insight Out, Tina uses her characteristic analytic insight to unpack creativity and innovation, helping dispel the myth that these are magical powers available only to a lucky few."
— Justin Rosenstein, Co-Founder Asana

"If you care about driving innovation in your company or your community, you'll benefit from this book."
— Chip Health, author of the bestselling Made to Stick: Why Some Ideas Survive and Others Die
or
Not Currently Available for Direct Purchase